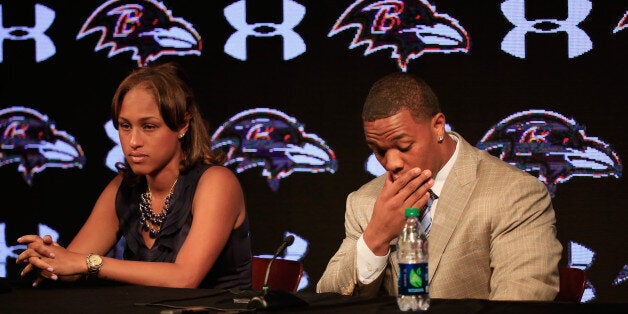 Ray was promptly dismissed by his team, the Baltimore Ravens, and media outlets and Twitter exploded in fury. But after the initial shock of the attack subsided, the world's focus shifted - as is typical in domestic abuse situations - to the victim.
Why did Janay stand by her husband? Why did she go ahead with the marriage? Why didn't she just leave him?
But for those in abusive relationships, the solution isn't as straightforward as it may appear from the outside.
American author and domestic violence survivor Beverly Gooden knows this too well and, in the midst of victim blaming of Janay Rice, she decided to step in.
"When I saw those tweets, my first reaction was shame," Beverly told Mic.
"The same shame that I felt back when I was in a violent marriage. It's a sort of guilt that would make me crawl into a shell and remain silent. But today, for a reason I can't explain, I'd had enough. I knew I had an answer to everyone's question of why victims of violence stay. I can't speak for Janay Rice, I can only speak for me."
Beverly then started sharing her own experiences, using the hashtag #WhyIStayed to explain why she couldn't 'just leave'.
Beverly then invited other domestic violence victims to share their stories:
The hashtag soon took off, tweeters have taken to combining the #WhyIStayed hashtag with #WhyILeft, to explain the trigger that eventually made them leave their abusive partner:
If you are affected by domestic abuse, please use the Freephone 24 hr National domestic violence helpline on 0808 2000 247