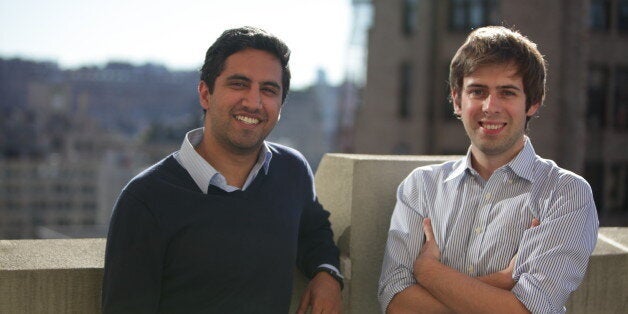 29-year old Oisin Hanrahan got the idea for his business when he and his flatmate, Umang Dua, needed to find someone to help clean up their apartment.
Hanrahan, who had previously set up a property development firm, has managed to attract over £30 million in funding for Handybook, an service that allows you to book handymen like electricians and plumbers online or via an app.
Handybook's audience has been steadily growing in America, spreading to 27 cities worldwide, with the site now making its debut in London.
HuffPostUK caught up with the young entrepreneur to find out how his business took off and where he is aiming to get to next.
Tell me how you got the idea for Handybook?
We started Handybook because we experienced pain points that people face with home services every day. While at Trinity College Dublin, I set up Clearwater Group, a real estate development company in Budapest, Hungary that managed the real estate assets and rental needs of buyers.
It was in Budapest that I first struggled to find responsible and reliable handymen and cleaners to fix up apartments. This continued when I moved to the U.S. and met Umang Dua, my co-founder. We were roommates in Boston and looking to find people to clean our typical college-style messy apartment.
It was then we started to think about home services and how we could solve the problem of finding trusted home professionals. With Handybook, we streamline the process so you can find a trusted, background-checked home service professional in under a minute.
Was it easy to set up? Tell me what you've learned in the process?
The idea for Handybook really grew and evolved in our first year. When we first started building it, we thought we were creating a tech platform that would streamline the booking process, but within a few months we realized that it was much, much more than that -- it became about building a brand that people could trust for their home.
That involves much more than tech -- operations, customer service, etc.-- essentially, real people and a real business that people trust.
Handybook grew out of Harvard's Innovation Lab in May 2012. Since then we've raised over $49 (£30m) million in capital from Revolution Growth, General Catalyst, Highland Capital and David Tisch.
Tell me about the process of deciding when to start in the UK. How well has it been doing in the US before?
Our launch in London was an incredible milestone for the brand. It marked our first expansion outside of North America and our decision to bring Handybook overseas was a result of tremendous growth throughout 2014 including 60% month over month growth. A year ago in August 2013, Handybook was in seven cities. Today, Handybook is in 27 cities with over 150 full time employees and over 3,000 professionals.
What's the aim for Handybook over the next few years?
Our goal for 2014 is keep growing in the markets we're already in and providing the best customer service experience from start to finish.
Our aim is to redefine the service industry and be a one-stop shop for all of your household needs, allowing you to turn your mobile phone into a remote control for getting things done around the home. Our vision isn't just to build a home cleaning and repair service company, but a brand that takes care of your entire home.
Who/what are your entrepreneurial inspirations?
I've had many been lucky to have some incredible mentors throughout Handybook's growth. We've learned so much throughout this process and wouldn't be where we are today without the guidance, motivation and inspiration of many different mentors. Our mentors help us scale the business and grow in new and innovative ways.
Is there anything you wish you knew back when you starting the business?
The importance of customer service cannot be overstated. Customers are our most important assets! No matter how well designed a website or app is, if you don't have the right customer experience, people won't come back and that is what we are most proud of - our incredible number of repeat users.
Popular in the Community