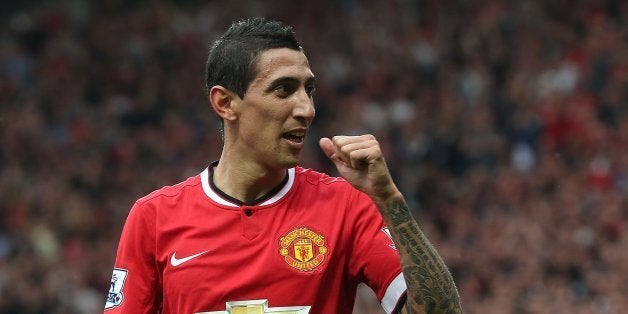 So, what was the system this week? MUTV claimed Louis van Gaal was persisting with 3-5-2 but the personnel he chose suggested it could be a Total Football-flavoured 4-3-3. It turned out the diamond endemic had spread to Old Trafford and Ángel di María sparkled as Manchester United blew away the cobwebs, along with QPR.
Running down the wing, feared by the Rs as he heard United fans sing, British football's most expensive acquisition charmed the natives on a virtuoso home debut. Down the left or through the middle, Di María evoked memories of the world-class wingers that have captivated United's following over the decades. It was his name emblazoned on the majority of the replicas walking down the Warwick Road, rather than Radamel Falcao's.
Falcao's omission from the 11 intensified the focus on Di María and he produced the type of display that might persuade Sky to resurrect their interactive Player Cam option. Di María scored one, made one and was instrumental in the move that culminated in Ander Herrera's first United goal. Argentinean United players have always enjoyed an excellent rapport with the supporters and Di María is another name that can be added to that list. His dexterous display was blemished only by a bout of cramp.
"When you prepare three goals and make the first goal by yourself, then you cannot play bad," Van Gaal said of Di María. "But he had a lot of unnecessary [possession] losses, so he can do better. But can you do it better when you prepare three goals and make one? It's impossible but I am the coach and have to analyse."
"Now let's get going!" implored United's official magazine front cover, decorated with their six summer signings. On a weekend in which several of their would-be competitors dropped points, it was essential United atoned for their tepid trio of League games in August. Wayne Rooney capitalised on his auspicious display for England, Juan Mata excelled in the playmaker role, Herrera flourished, while the debutants and recovered Rafael da Silva played with conviction. This has been one international week United fans will be grateful for.
At times, United resembled the classic United of lore. Not the Carlos Queiroz-tweaked European champions or Sir Alex Ferguson's utilitarian pragmatists of his latter years, but the vibrant teams of 1994 and 1999. The supporters won't mind it was only QPR; this was the day United began to rebuild the fortress.
"This is the new start," Van Gaal proclaimed. The scoreline contributed, but Old Trafford had not hosted a more buoyant atmosphere since Ferguson's 13th title coronation day last year. The supporters went through their repertoire of former players' songs, heralded the arrival of a new hero and, crucially, actually enjoyed themselves. The spiky vitriol of 2013-14 was replaced with a cocksure chirpiness.
Ron Atkinson, the last manager to preside over a four-game opening winless streak 28 years ago, was in attendance and any chance of Van Gaal repeating his feat seemed remote the moment the teamsheets filtered into the press box. The Dutchman will still be sat in the home dugout in November.
United's manager didn't crowbar all the Van Gaalacticos into the team, however five United players signed this year lined up from the start. The transition was symbolised by the returning Rio Ferdinand, who brought the stadium to its feet with a belated farewell tribute before kick-off, to find his No.5 had already been inherited by debutant Marcos Rojo.
Van Gaal will demand more, though. Blind's languid appearance prompted a couple of anxious cries and despite United's pacy play there was plenty of evidence to corroborate Van Gaal's demands for a dominant midfielder, as Di María began the game on the left. It was from the right that he opened his United account, whipping in a dicey free-kick that evaded everyone to nestle into the corner of the net.
"Argentina! Argentina" reverberated around Old Trafford again. Ferguson wrote unflatteringly about the three South Americans he managed, however Di María and the marauding Marcos Rojo displayed the kind of verve that has been absent from United since Cristiano Ronaldo and yes, Carlos Tévez, illuminated Old Trafford.
"Attack, attack, attack attack attack!" United's support demanded. They were kind on QPR's 10 men two-and-a-half years ago but now they were baying for blood, irrespective of how ignominious it would be for Ferdinand in the away dressing room. Herrera struck crisply past Green before Rooney, who earlier spurned a presentable opportunity, didn't repeat the error with a strike rifled into the left-hand corner.
"We're gonna win the league," the Reds hollered. A day after Liverpool's defeat to Aston Villa, there was schadenfreude at Steven Gerrard's expense - again - when referee Phil Dowd comically slipped over. "Are you Gerrard in disguise?" 70,000 fans asked.
QPR arrived as plucky opponents but were plucked apart again after the pause. Di María's speculative drive was trapped and finished by Mata on 58 minutes to make it two successive four-goal concessions for Redknapp and Glenn Hoddle away from home. His eighth goal in nine, Mata had made a timely point.
Falcao emerged to forge a terrifying triumvirate with Van Persie and Rooney for the last quarter. He should have punished Green for fumbling Blind's drive but the England goalkeeper recovered alertly, while Adnan Januzaj also wasted a shot. The bumbling Antonio Valencia, also introduced, served as the token, lingering memory of just how bad it became under David Moyes. He never did win a League game 4-0.