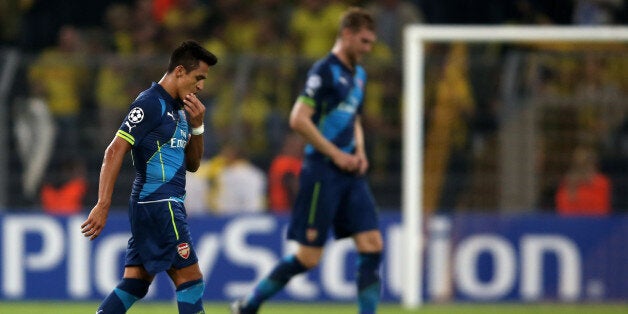 Here are four talking points...
REALITY BITES FOR REVISIONISTS
Danny Welbeck didn't finish like a £6m striker in Dortmund, let alone a £16m forward. His maligned end product at Manchester United resulted in his exit and on Tuesday night he wasted three excellent chances at 0-0, 1-0 and 2-0; further fuelling concerns he loses his bottle in big games. In just two Arsenal appearances, Welbeck's profligacy has cost his new side potential points and it is unlikely Olivier Giroud will be concerned about his place up front.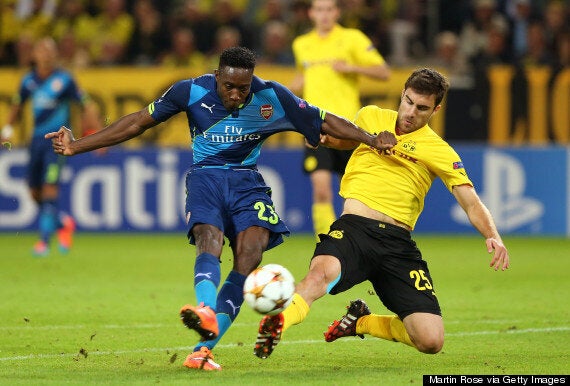 Welbeck was reliably unreliable again
WENGER IS STILL TOO STUBBORN
At least Wenger added a striker to the Arsenal squad, yet he was punished again for not signing a an accomplished defensive midfielder. Mikel Arteta was reliably abysmal and his fitness cannot be cited as an excuse; Arsenal fans have become accustomed to such ineffectual displays from the new skipper.
Arteta, admittedly, is not a defensive midfielder, and it is Wenger's fault for persisting with him. The Mesut Özil experiment on the wing backfired again, predictably, and two wins from seven competitive games this season suggests something should change, be it the personnel or the system.
DORTMUND SPRING A SURPRISE
Teamsheets will continue to lull spectators, players and managers into a false sense of security and Dortmund's line-up did that. Sebastian Kehl, Kevin Großkreutz and Sven Bender isn't the paciest of midfield trios but from the first whistle Arsenal were overwhelmed by their swiftness in the tackle. The pressing was incessant and Arsenal ceded possession time and again, which enabled Pierre-Emerick Aubameyang, Ciro Immobile and Henrikh Mkhitaryan to wreak havoc. The scoreline flattered the visitors against a Dortmund bereft of Marco Reus, İlkay Gündoğan, Nuri Şahin and Shinji Kagawa.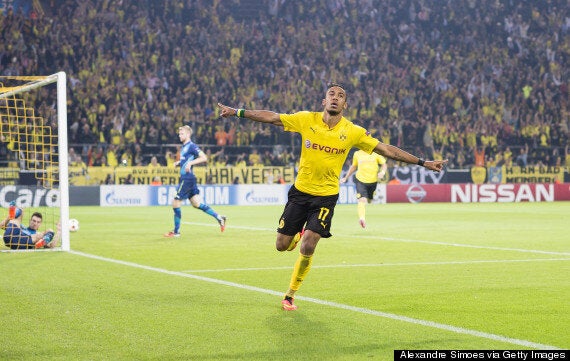 Aubameyang caused Arsenal numerous problems
THIS ARSENAL TEAM NEEDS MORE PACE
A number of clubs in Europe look top heavy, from the champions (Real Madrid) to non-competitors (Manchester United). Arsenal are brimming with pace up front, especially when Theo Walcott returns, but the ease with which Immobile bypassed Laurent Koscielny and Per Mertesacker for the opener reaffirmed Wenger's complacency. Few footballers are as quick as Aubameyang, but he was afforded so much space for his goal it seemed as though he had a restraining order against the two centre-backs.