The referendum will be the "most exciting day in Scottish democracy", Alex Salmond declared as he called on voters to "seize the opportunity" and back independence. The First Minister made a passionate appeal at the end of what had been a final, frenetic day of campaigning in the run up to the historic ballot.
A new poll earlier tonight put the Yes campaign narrowly behind its rival No, with 49% of people favouring independence and 51% wanting Scotland to stay part of the United Kingdom. Mr Salmond said that meant the pro-independence campaign is still the "underdog" in the referendum.
He told a packed rally of 1,500 Yes activists at Perth Concert Hall: "Therefore it beholds each and every one of us to campaign with our utmost till 10 o'clock tomorrow evening to persuade our fellow citizens that independence is the right road forward for Scotland."
He added: "Let us send a message to everyone watching, listening and deciding across Scotland - tomorrow is our opportunity of a lifetime. This is our opportunity of a lifetime and we must seize it with both hands."
Mr Salmond began his crucial speech by declaring the Yes movement to be the "greatest campaign in Scottish democratic history". He then told cheering supporters, many of whom were waving Saltire flags: "It follows therefore that you are the greatest campaigners in Scottish democratic history." His address came on the "eve of the most exciting day in Scottish democracy", he said.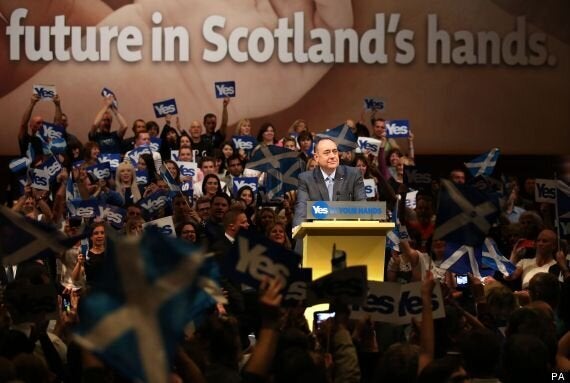 Salmond speaking at the final YES rally at Perth Concert Hall
Earlier in the day, former prime minister Gordon Brown - who has been key in securing a fast-tracked pledge for more powers for Holyrood if the result is No - made a passionate appeal to Scots to vote to stay in the union. He told a Better Together rally in Glasgow that the SNP's main aim is to ''break every single constitutional and political link with our neighbours and friends in the United Kingdom''.
But Mr Brown insisted: ''We will not have this.'' The Labour MP said of tomorrow's referendum: ''The silent majority will be silent no more.''
Meanwhile, as opinion polls continue to suggest that the referendum contest is going down to the wire, Mr Salmond said: "We are still the underdogs in this campaign. Each and every one of us has a job tomorrow to convince our fellow citizens to vote by a majority for a new dawn for Scotland, for that land of prosperity but also of fairness."
His message to the remaining undecided voters was a simple one - don't give the power Scotland now has back to Westminster. Mr Salmond said: "Tomorrow for a few precious hours during polling day the people of Scotland hold in our hands the exclusive, sovereign power to define our nation for good.
"It's the greatest, most empowering moment that any of us will ever have. Scotland's future, our country, in our hands. For my part I ask only this - make this decision with a clear head and a clear conscious. Know that by voting Yes we take into our hands a responsibility like no other, the responsibility to work together to make Scotland a better nation."