We've seen contestants battle it out over bagels, had their soggy bottoms checked by a neon-number clad Mary Berry, and our baking beliefs shaken to their very foundation by the great Baked Alaska meltdown. Perhaps one of our favourite things to come out of the retro baking tent though is Edd Kimber, aka The Boy Who Bakes.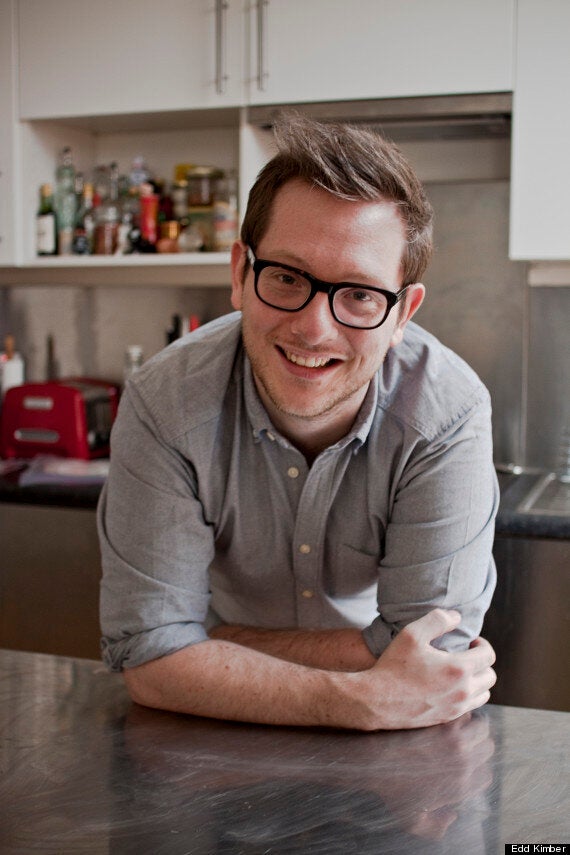 When he first appeared on (and subsequently won) 2010's Great British Bake Off (in a time before 'bin gate'), he blew the judges (and us) away with his macarons and penchant for French baking.
Since then, the former debt collector has worked in the pastry kitchen of Raymond Blanc's Le Manoir and has two (soon to be three) cookbooks under his belt – what this man doesn't know about patisserie is probably not worth knowing.
Now splitting his time between writing (we've had a peek at his upcoming book, Patisserie Made Simple: From Macaron to Millefeuille and More, and, trust us, you need it in your life), testing recipes, teaching classes and appearing on numerous TV shows and at foodie festivals, we caught up with the baker who never fails to make us hungry …
I don't think I really have a typical day. This week, for example, included working in Paris, filming a trailer for my new book, trying out new recipes in my kitchen at home and interviewing for a potential new TV job, so every day is varied and different. I'm very thankful for that as I get bored very easily.
The best thing about my job is that I get to bake almost every single day and that is all I have ever wanted; to make a living from what I love.
You're well known for your macarons, do you ever tire of baking them?
The honest answer to that is absolutely! I actually haven't made them in months as I was getting a little bored. Saying that, I am itching to make some again soon.
Why do you love French patisserie so much (not that we're blaming you)?
I have been a little obsessed with France since I was a little boy, when my parents took us on numerous holidays to Brittany and Bordeaux, but it was when I was 18 that I first visited Paris and fell in love with Patisserie and Paris itself.
It's a magical city that always inspires me and is always guaranteed to lift my spirits.
What are your failsafe baking tips?
Don't worry about making mistakes; you learn more from failure than success.
Weigh all your ingredients out before you start, this way you won't forget anything or realise you don't have any baking powder when it's too late.
Is there really anything you can do to make your bakes a little healthier? Does coconut oil really work?
The only time I've used coconut oil is to make chocolate shell for ice cream but I'm not sure that counts as healthy. I often bake a lot of savoury recipes - like my cheese scones - and I like using Flora instead of butter as it has less saturated fat than butter. Also, it's really convenient for quick bakes as it can be used straight from the fridge.
Off the back of this year's GBBO, we've seen a rise in sales of bread making ingredients, why do you think people have latched onto this in particular?
Bread is a staple, so it makes sense that if you were to bake anything it would be bread as it's the one thing most of us eat every day. Homemade bread is also better for you than overly processed bread – which isn't really good for you at all – and it also tastes a million times better.
Also, there is something really therapeutic about the kneading and the slow proofing.
What's the hardest cake or dessert to prepare and why?
I think that varies person to person. I love tackling something I have never made before and trying to master a new skill. I know a lot of people think that French baking – Patisserie - is really hard to master, and that's what my new book is all about; demystifying and trying to make patisserie approachable and achievable for the home baker.
With all the testing of recipes you do, do you ever get sick of eating cake?
I would say it's less common for me to sit down with a slice of cake these days. That's not to say I don't eat cake, it's just that I end up trying lots of little bits when I'm testing new recipes instead of consciously choosing it.
I have found that since making baking a career I've developed a much stronger savoury tooth.
What's your favourite thing to eat on your day off?
If I have had a really busy couple of days, it's not necessarily about the food but the company. There is a fab little restaurant very near to my house that serves great wine and little plates of food, and an evening spent there with friends is the best relaxation I can ask for.
What advice would you give yourself if you were starting again?
I would probably say 'you're going to make some mistakes but don't worry, keep doing what you love, it makes you happy and that's the most important thing'.
What baking trends do you think we're going to see coming through this autumn/winter?
I'm hoping its Patisserie! But I also think savoury baking is due for a bit of attention, and I've noticed more and more people taking interest in where their ingredients come from. I love to bake with fresh, seasonal produce, and am passionate about local sourcing.
Edd Kimber's Bacon Cheese and Spring Onion Scones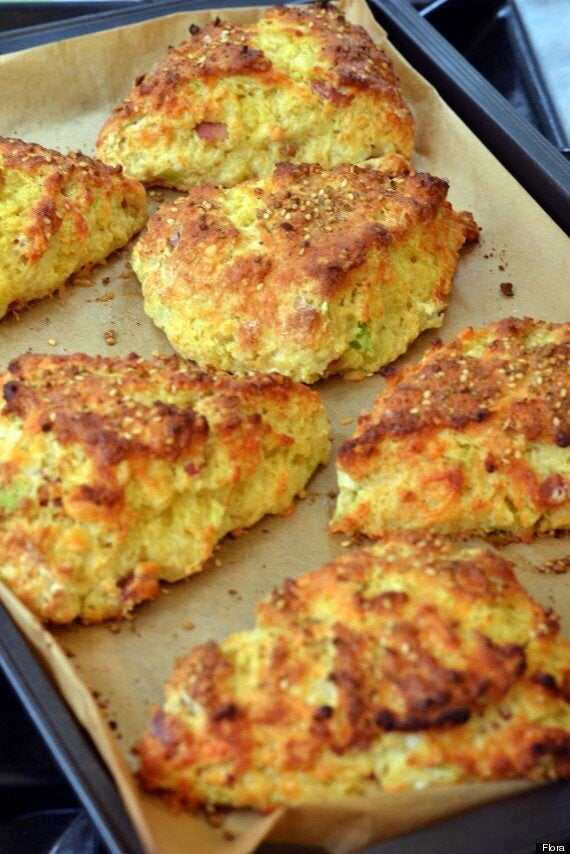 8 rashers streaky bacon, diced
150g mature cheddar, grated
85g flora baking block, diced and chilled
1 large egg (plus extra for glazing)
1.To make the scones preheat the oven to 180C (160C fan) and line a baking tray with parchment paper.
2. Place the bacon into a non-stick frying pan and cook until beginning to crisp. Tip out onto a plate and allow to cool, before mixing together with the spring onions and the cheese.
3. Place the flour, baking powder and sugar into a large bowl and mix together to combine. Add the diced flora block and using a pastry blender or two knives cut in the fat until it resembles coarse breadcrumbs - some pieces should be about pea sized. Add the bacon, spring onions and cheese and mix together. In a jug whisk together the milk and the egg.
3. Make a well in the flour mixture and pour in the liquid. Using a knife bring the mixture together. Once a shaggy dough has been formed tip out on a lightly floured work surface and bring together into a uniform dough - don't work too much or your scones will be tough.
4. Pat the dough into a flat round a couple centimetres thick then use a knife to cut into 8 equal sized pieces. Place onto the prepared baking tray and brush the tops of the scones with a little egg or milk and sprinkle with the dukah. Bake in the preheated oven for 25-30 minutes or until golden brown. Allow to cool for a few minutes before serving. Best served warm on the day baked.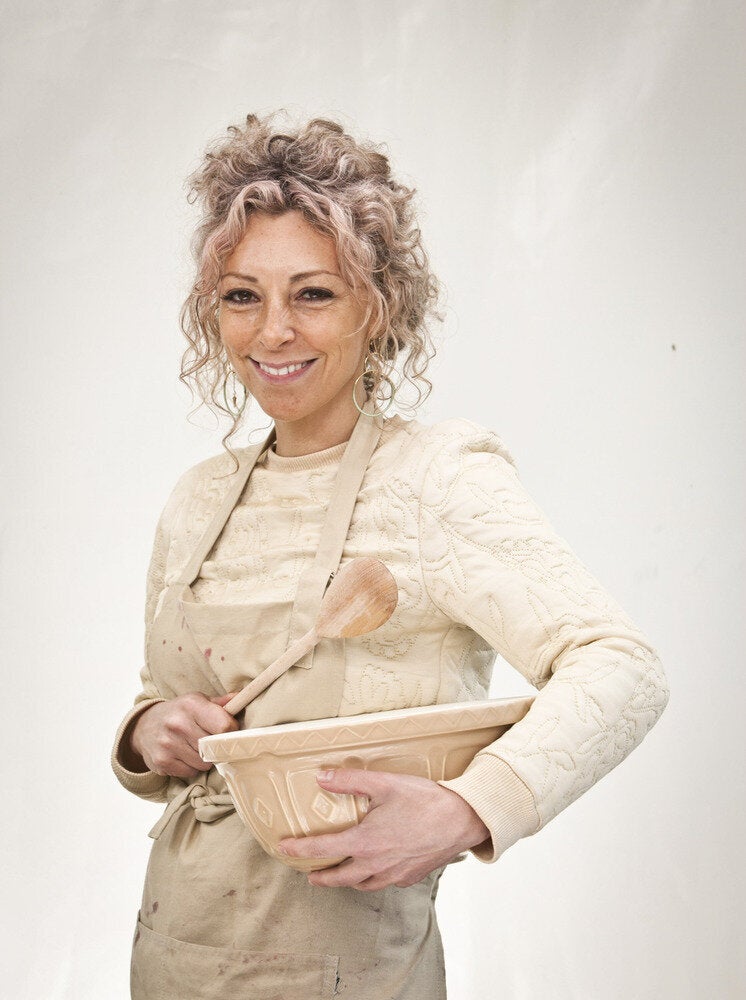 The Great British Bake Off 2014