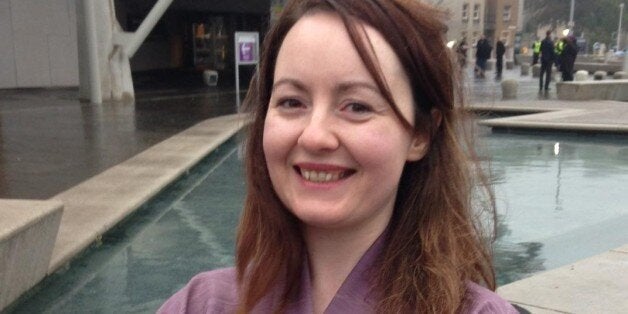 EDINBURGH - As polls closed at 10pm last night, hundreds of vocal Yes campaigners singing the Scottish national anthem and waving flags descended on the parliament building at Holyrood. They were confident Scotland would wake to independence. But in the morning drizzle, with the No campaign celebrating a convincing win, only a few disbelieving sad stragglers remained.
Siobhain McGann, still sporting her Yes badge, can not quite believe over half her fellow Scots chose to reject independence. "I'm devastated," she says. "I think this was our chance. I feel I will be embarrassed to say I am Scottish in the world. You know, everyone here was singing Flower of Scotland blah, bah, blah - then we voted against independence!"
The Edinburgh native says, despite the clear margin of victory for the unionists, 55% to 45%, many in the Yes campaign will not give up. "This is not the end. You can't have a population that has 50% saying 'we hate you we want to leave'.
"What annoys me, what really drives me crazy, isn't the fact people have voted No, I get that, it's that they voted No with misinformation. I feel very disillusioned that Scotland has believed the crap from Westminster, and it has been crap, and it has been thrown at us for months."
Outside the Scottish parliament on Thursday evening
Behind McGann as she vents her frustration, is another Yes voter wearing a mask of Nick Robinson, the BBC political editor. A little further away is one of the BBC's broadcasting positions. "The BBC has been a disgrace. I'm disgusted with it's coverage, it's been biased, it's been misleading, it's lied," she insists. "The BBC has turned into Fox News."
McGann smiles for a picture in front of the parliament, which will now not host MSPs of a fully independent country, but it's a forced grin. There was supposed to be a party in this spot to celebrate the birth of a new country. Not a post-mortem.
Not all Yes campaigners are SNP fans. But McGann feels personally sad for the Scottish deputy first minister. "If I had to say there was one person who I wanted to lead my country it's Nicola Sturgeon I'm devastated now she is going to be feeling upset," she says. "Nobody trusts Alex Salmond, but he was the man to get us there. He was the man to lead us to independence."
Related