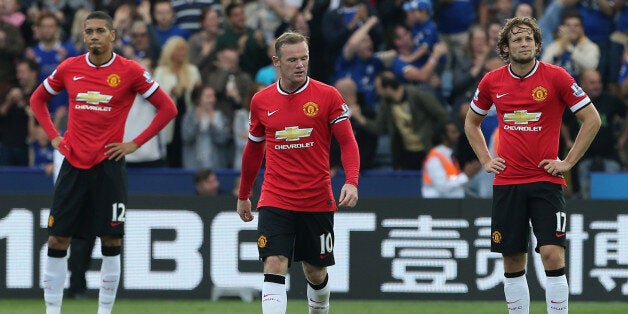 United have won one and lost two of their opening five League matches in what is their worst start to a Premier League season, despite a kind opening set of fixtures.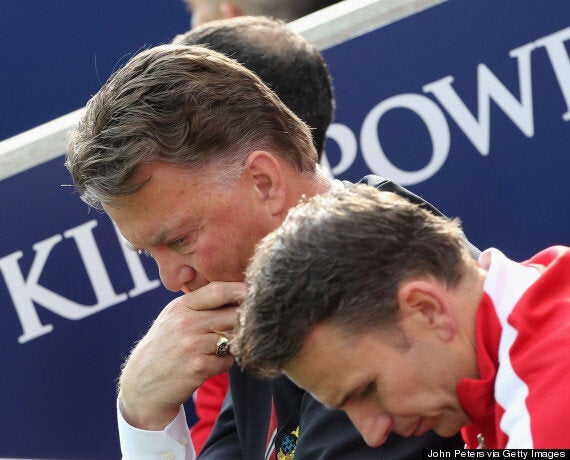 Van Gaal and United suffered their second League defeat of the season
Here are just a few issues Louis van Gaal has to address...
United sieved as many at Leicester as they had on their seven previous Premier League visits to the Foxes. Jamie Vardy, a non-league striker two years ago, harried title winners and World Cup finalists with staggering ease, exposing United's worst defence in 12 years. In 2002, Sir Alex Ferguson perplexingly sold Jaap Stam and replaced him with Laurent Blanc, whereas this year Nemanja Vidić and Rio Ferdinand have departed only to be replaced by Tyler Blackett and Marcos Rojo. Vardy would not have bullied Stam, Vidić or Steve Bruce at their zenith.
It was negligent of United not to acquire a proven centre-half when Vidić's departure was confirmed in February and Ferdinand's three months later. United's sports science team expected Phil Jones, Jonny Evans and Chris Smalling to have their "most available" seasons yet, tragicomically, each defender has suffered an injury already.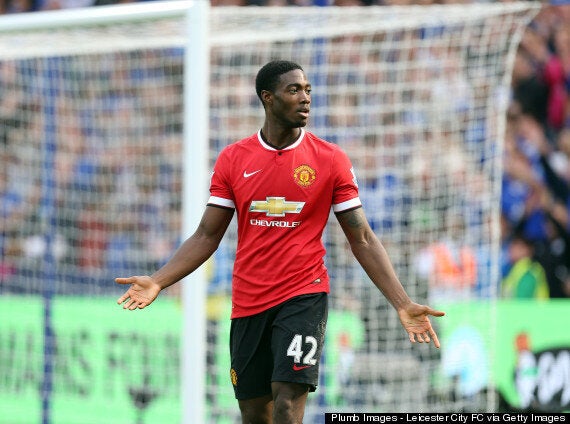 Blackett has rarely looked comfortable in United's defence
Rojo, an expensive acquisition, is yet to start at centre-back but it would represent a surprise if he turns out to have a long-term future at the base of United's. It is essential United make a concrete offer for Mats Hummels next year however the difficulty for clubs seeking defensive reinforcements is world-class centre-backs are scarce, let alone available. Raphaël Varane signed a new contract at Real Madrid last week and, like Hummels, is a reliable distributor, and United also need steel to complement the silk.
Ranting and raving like a Scouse John Terry following Esteban Cambiasso's equaliser, Wayne Rooney launched the pram, rather than the toys, as he moaned at Rojo, Blackett and Daley Blind. The irony was Rooney was to blame for Leicester's leveller.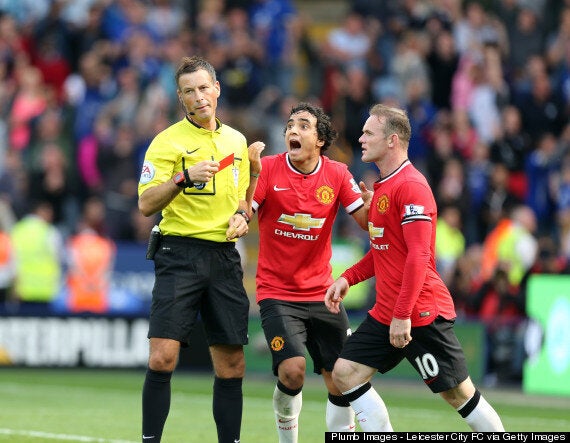 Rooney is struggling as United skipper
Van Gaal's peculiar substitutions upset United's shape, deprived them of Ángel di María's pace and left Rooney on the pitch. The United captain is adamant his best position is "behind" the strikers but even Van Gaal doesn't sound convinced. Rooney was poor again at Leicester as the No.10. Careless on the ball, he slowed down the play, wasted oxygen moaning at the referee, and began to resemble Jack Nicholson's increasingly volatile temper in A Few Good Men. He couldn't handle the truth.
Already, Van Gaal has said "my captain shall always play". Rooney is fortunate to have that privilege after an at times acrimonious four years, irrespective of his increasingly ineffectual performances and he has not revelled as a playmaker since a stint behind Javier Hernández over three years ago.
United's lead never appeared secure at the King Power Stadium and they became complacent as soon as Ander Herrera regained their two-goal lead on the hour mark. The in-vogue diamond system is, arguably, too porous for the best defensive sides, never mind United's defensive dunces and several players seemed unnerved that a newly-promoted side could be so resilient and physical.
Chelsea and Manchester City, the country's two best sides, seem to have settled XIs for home and away matches and Van Gaal could turn to Michael Carrick to offset United's top-heavy team when he returns to full fitness for select games. West Ham will pose a similar physical threat to Leicester on Saturday and, in the umpteenth effort to crowbar Rooney into the United side, the skipper might even provide an interim solution beside Blind.
Related