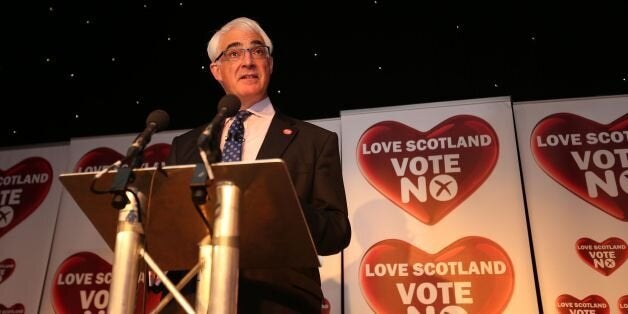 MANCHESTER - Alex Salmond's suggestion that Scottish nationalists could try again to break-up the United Kingdom despite last week's referendum result shows he has "lost the plot", Alistair Darling has said.
Addressing the Labour Party conference in Manchester on Monday afternoon, the former leader of the Better Together said Salmond had to accept that the No campaign had won. "You lost the argument, you lost the referendum, you lost office and now you've lost the plot," he said.
Yesterday Salmond, who announced on Friday he would resign as Scottish first minister and SNP leader, said a referendum was "only one of a number of routes" that Scotland could take to independence. His comments suggest some in the Yes camp see the 55% to 45% defeat as a bump in the road rather than a decisive decision against independence.
Jim Murphy, Labour's shadow international development secretary who took a leading role in the No campaign, told The Huffington Post yesterday that it would take a "while" for the divisions within Scottish society to heal.
Johann Lamont, the leader of Scottish Labour, told the same event that that she found Alex Salmond's response to the No vote "troubling" given democratic decision of Scots to reject independence. She said "over two million people voted in Scotland, more than voted in 2011 full stop, to say Scotland should stay in the United Kingdom".
Popular in the Community