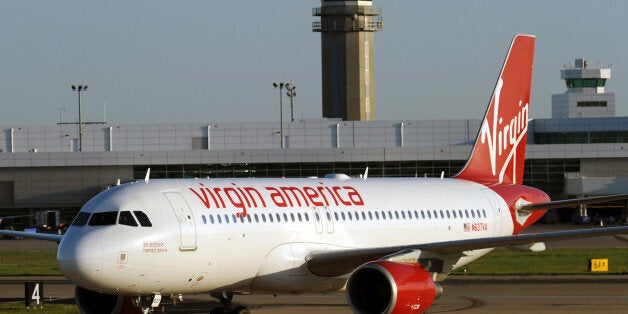 A Virgin America flight bound from Boston to Los Angeles was forced to make an unscheduled stop in Nebraska after a passenger began masturbating on board.
The plane touched down on Monday morning at Omaha's Eppley Airfield following the incident, which also saw the man allegedly try to open an emergency exit.
It adds Adams was taken to hospital for observation after the plane landed.
Passenger Willem Ban Den Bosch told the channel: "About an hour into the flight an attendant came on the speaker and said there was a medical emergency on board and asked if any doctors could come up."
He added the passenger was not loud or violent.
Sam Slater, an LA film producer who videotaped police officers boarding the plane in Omaha and taking a man away in handcuffs, said the passenger was wearing a hospital bracelet and sat behind him on the plane.
"He asked if he could use the restroom. He'd been mumbling about not wanting to be violent," Slater told KCAL-TV.
Slater's business partner, Paul Bernon, said the man returned from the bathroom and began arguing with a woman sitting next to him and tried to tell an attendant that he wanted her to move.
A doctor examined the passenger, who was taken to a back row of seats that had been cleared for him.
"He at that point was fidgeting and began to remove the plastic covering from the emergency exit door and tried to pull to open the door," Slater said.