It's been quite the turnaround for controversial Indian prime minister Narendra Modi.
The new leader was banned from entering the US until four months ago for his alleged involvement in riots that killed at least 1,000 people. US officials called him a monster and a demagogue.
But last night he appeared in front of 18,000 rapturous supporters at New York's Madison Square Garden, in a Bollywood-style show featuring dancers and a speed portrait painter.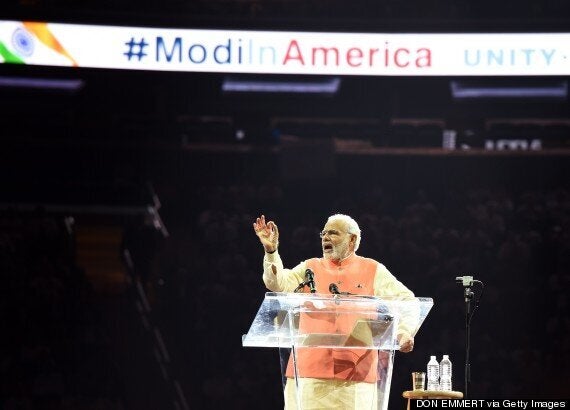 Modi speaks to cheering crowds
Modi's sell-out night at Madison Square Garden followed a set by Swedish DJ Eric Prydz.
At the event, which had the air of a political rally mixed with a variety show, Modi entered the auditorium under a spotlight while around 30 American politicians stood around the stage.
He spoke from a platform in the center of the stage that occasionally rotated.
British TV host John Oliver pointed out Modi was doing "weird, inexplicable things" on the trip on his HBO show Last Week Tonight. But as Oliver noted, the Madison event wasn't the most surreal moment of the day.
Modi's "crowning glory" may have been at the Global Citizen Concert in Central Park, when he concluded a speech standing with X-Men actor Hugh Jackman by saying "Thank you once again for having me.
"Thanks in particular to Hugh Jackman. God bless you. May the force be with you."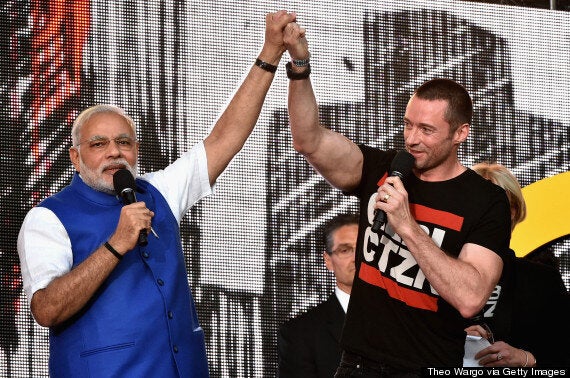 Modi and Jackman at the concert
"That is a power move right there: standing next to Wolverine and throwing out Star Wars quotes," said Oliver.
If he was talking to Jackman, Modi may have confused his films and actors, as Star Wars didn't star the Wolverine performer.
The frenzied audience at the Madison Square Garden event had won tickets in a free ballot.
In his speech, Modi promised to fight corruption and champion India's poor people. He also boasted of the country's rising status as a technology giant, joking that it was no longer known a place of "snake charmers."
"Our country used to play with a snake, now we play with the mouse," he said, to laughter.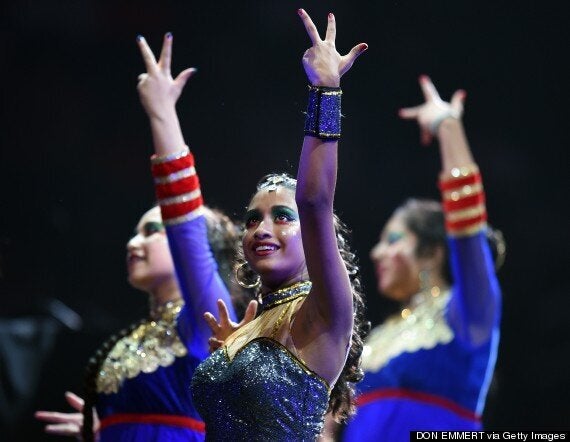 Dancers at Modi's Madison Square Gardens address
About 800 people also gathered to watch a live feed of the speech in New York's Times Square.
Modi, who became prime minister of the world's largest democracy in May, was banned from the US before then.
He was denied a visa for alleged involvement in sectarian riots in Gujarat.
Modi is not unfamiliar to showmanship, after deploying holograms of himself at rallies around the country in his slick election campaign.
His visit was not received positively by everyone: hundreds of protesters gathered outside the Madison Square Garden event to call for him to be arrested for human rights abuses against minority groups.
In 2002, when Modi was chief minister of the Western Indian state of Gujarat, more than 1,000 people, predominantly Muslims, were killed in sectarian riots in the state.
Modi was refused a visa in 2005 under a US law barring entry to foreigners who have committed "particularly severe violations of religious freedom."
On Monday, nine years after being prevented from even entering the country, Modi will meet with Barack Obama at the White House.
Just before he arrived in New York, a US court issued a summons for him to respond to a lawsuit accusing him of rights abuses connected to the riots.
He has immunity to the summons as he is a visiting head of government, but it was a reminder that his glitzy showmanship belies a contentious past.