We like the base, base, base, base, we like the buttery biscuit base.
Parodies which mix together clips from music, films or TV shows, have now become legal, thanks to a change in the law which makes them exempt from copyright rules.
From 1 October, creators like Swede Mason, who made the "buttery biscuit base" mashup music video using clips from the BBC's Masterchef, could no longer be at risk of being sued by the copyright owner.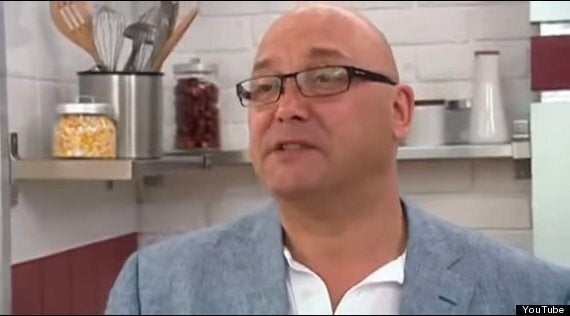 Greg Wallace in the Masterchef spoof music video by Swede Mason
The guidelines from the Intellectual Property Office mean parts of someone else's work can be used to create a parody, as long as it falls within 'fair dealing' rules which state creators can use "a moderate amount" of the original and mustn't cause the copyright holder to lose money as a result.
But creators could still be sued under libel and slander laws, if a parody damages the reputation of whoever made the original work.
If the creator of a parody video was taken to court, a judge would have to decide if the parody work is funny.
One of the best-known UK mashups is The Apprentice spoof created by the YouTube duo Cassetteboy, who do not reveal their full names. It has more than five million views on YouTube.
Mike from Cassetteboy told The Huffington Post UK that the copyright change was good for freedom of speech.
"As I understand it, all our work has been in breach of copyright up until now," he said.
Cassetteboy has never yet been sued, but Mike suspects this is only because their videos are distributed for free.
"We've never made any money. The fact that we give videos away for free on YouTube means there's less incentive for the copyright holder to sue us. If our Apprentice video had somehow made us rich, I'm sure Lord Sugar's lawyers would have come knocking. I don't think we were ever likely to get sued, but the change in the law is good from a general freedom of speech point of view.
"Until now our chosen means of artistic expression was illegal. Now it's legal as long as we're making a parody, which is a start."
Cassetteboy has always been a hobby for the pair, but it could now become a career. "Instead of having to give our work away for free on YouTube, we might get commissioned to make videos for other websites, or maybe even TV or radio channels," said Mike.
"That could mean we'd be able to make new videos every month, instead of maybe making one or two a year depending on how much free time we have."
"However, if we use copyrighted material to make the most beautiful knob gag the world has ever seen, and it's not contained within a parody, that's still illegal."
He added: "I would like to see all copyright opened for any work that is sufficiently transformative - as long as the work you create is different enough from the source material you use, that's fine."
He said the idea of asking a judge to decide if a video is humorous "sounds like a parody of law-making in itself."
TEN PARODIES THAT ARE (PROBABLY) NOT ILLEGAL ANY MORE
1) The buttery biscuit base Masterchef mashup
2) Boris Johnson's Olympic Welcome
4) Gangnam Style vs Ghostbusters
5) One Direction's foreign film
6) Bill Clinton singing Blurred Lines
7) Star Wars meets Frozen
8) Brett Domino's Justin Timberlake medley
9) The honest trailer for Game of Thrones (spoiler alert)
10) John Lennon's Imagine mashed with Band On The Run by Wings