Wrapped in cling film and huddled under umbrellas, these are some of the extraordinary lengths Hong Kong's protesters are going to to protect themselves as the Occupy Central movement gears up for a national holiday marking the founding of communist China.
As Hong Kong's "umbrella revolution" enters its fifth day, thousands of pro-democracy protesters are continuing to peacefully show China they will not be deterred by demands to disperse, having spent the night sleeping on the streets in an unprecedented show of civil disobedience.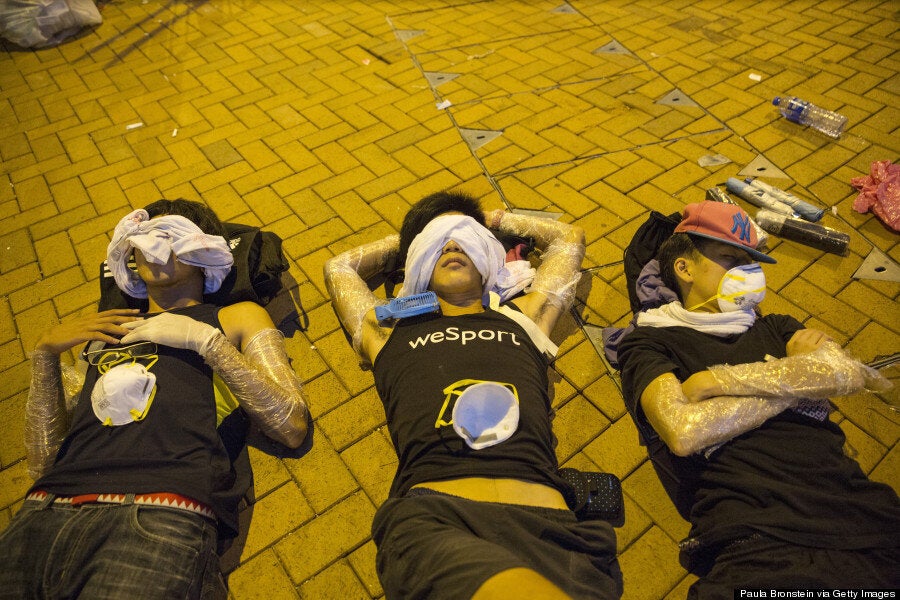 Protesters sleep on the streets outside the Hong Kong Government Complex
One day after police caused global outrage by bombarding the crowds with tear gas and pepper spray, the Occupy movement passed a peaceful night Monday singing anthems calling for freedom as they blocked streets in several parts of Hong Kong.
Dubbed "the world's politest protesters", the group also staged a brief "mobile light" vigil, waving their glowing phones before hunkering down for the night propped up against barricades, and lying in the middle of roads.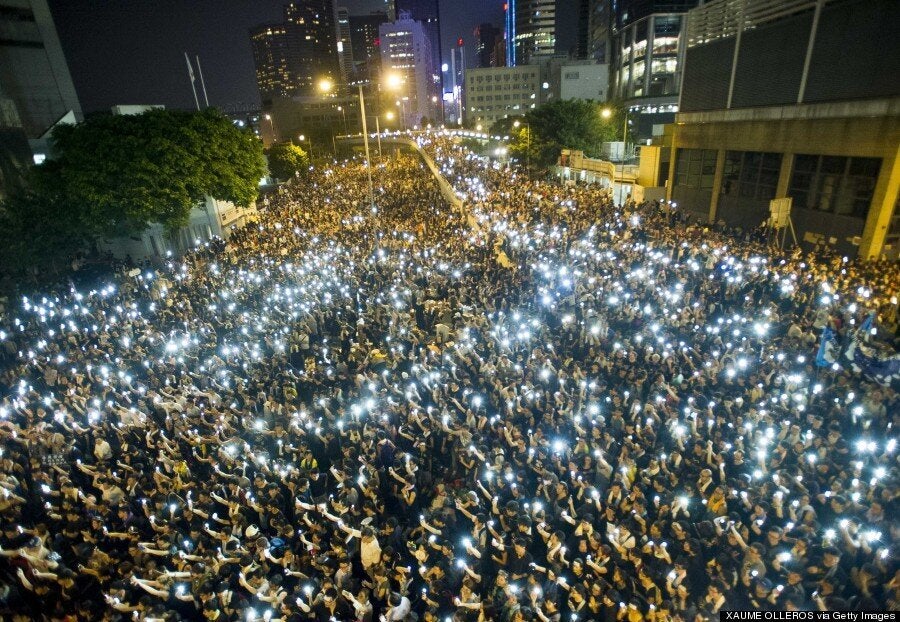 Protesters take part in a 'mobile light' vigil
"The morning is being spent mostly removing rubbish left over from last night's huge crowd. Students are picking up cigarette butts and plastic bottles, others are distributing breakfast buns," said Saira Asher reporting for BBC News in Hong Kong.
But police have threatened to use a "higher degree of force" if the demonstrators, who want Beijing to give Hong Kong a free vote for its next leader, do not disband.
China's communist leaders take a hard line against any threat to their monopoly on power, including clamping down on dissidents and Muslim Uighur separatists in the country's far west, but it cannot crack down too harshly on the semi-autonomous territory where a freewheeling media ensures global visibility.
Numbers of protesters are expected to swell for Wednesday's national holiday, prompting Hong Kong's leader, Leung Chun-Ying, to urge the pro-democracy protesters to stop their campaign "immediately."
But these powerful images show a region discontent with oppression and autocracy that will not be threatened into silence.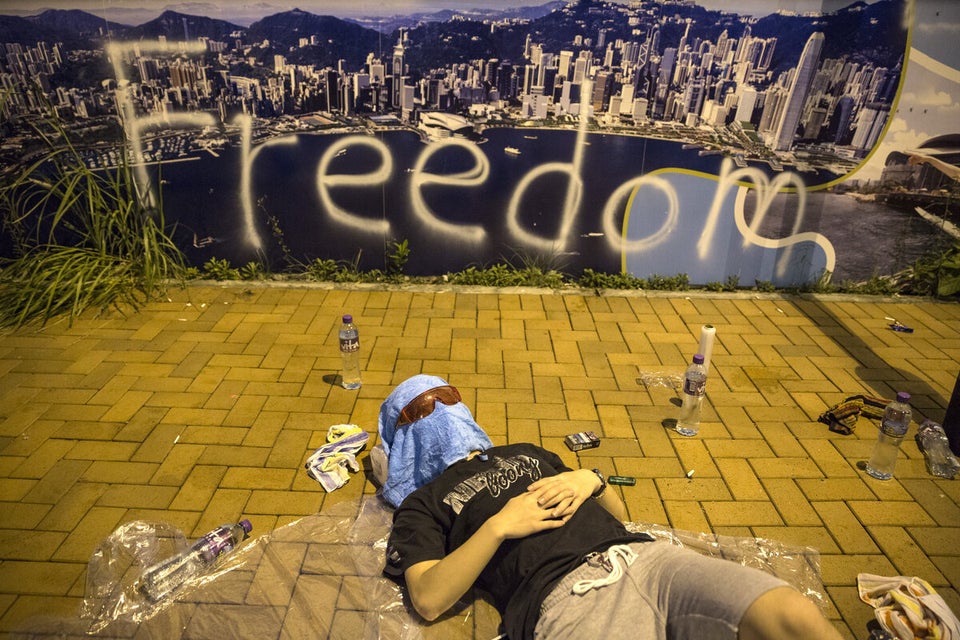 Hong Kong Protestors
When China took control of Hong Kong in 1997, it agreed to a policy of "one country, two systems" which allowed it a high degree of control over its own affairs and kept in place liberties unseen on the mainland.
It also promised that the city's leader would eventually be chosen through universal suffrage and Hong Kong residents have long felt their island stood apart from mainland China thanks to those civil liberties and separate legal and financial systems.
But now, Beijing's insistence on using a committee to screen election candidates for the post of chief executive on the basis of their patriotism to China has stoked fears among pro-democracy groups that Hong Kong will never receive genuine democracy.
The unequivocal statement from chief executive Leung on Tuesday has dashed hopes that the standoff between demonstrators and authorities could be resolved quickly through negotiations.
But it does not come as a surprise given that showing a willingness to talk would have made the Chinese leadership appear weak, which could embolden dissidents, critics and separatists on the mainland.
Leung, a Beijing appointee who is deeply mistrusted by Hong Kongers, also said that mainland communist leaders would not reverse their stance requiring a pro-Beijing panel screen candidates in the territory's first direct elections, scheduled for 2017, adding he wouldn't resign before then.
"The central government will not rescind its decision," Leung said.
Meanwhile, the highest-ranking civil servant under the last British Governor of Hong Kong has condemned the use of riot police against pro-democracy protesters as "totally unfounded" and called on the world to sit up and take notice.
Anson Chan, sometimes described as Hong Kong's Iron Lady, said she could not believe her eyes when she saw tear gas was being fired at "defenceless" unarmed demonstrators outside government headquarters at the weekend.
They had been trying to reach a mass sit-in being held to demand Beijing grant genuine democratic reforms to the former British colony.
"It's a very, very sad spectacle, " she told the BBC Radio 4 Today programme this morning.
"I could not believe my eyes when I saw fully kitted-out riot police firing tear gas and also pepper spray and wielding batons against unarmed protesters, many of whom were young people. They were totally defenceless and they were protesting peacefully.
"They should never have turned out the riot police in the first place. We have a long tradition of very peaceful protests and demonstrations.
"There was absolutely no need to use this sort of force against the Hong Kong people."
Popular in the Community