Girls as young as 15 may have been "matched" with jihadi husbands online through a dating service that advertises for those seeking marriage in Syria.
Missing schoolgirl Yusra Hussien, who is believed to have boarded a flight to Turkey with her as-yet-unidentified 17-year-old friend, is thought to have sought to become a jihadi bride. The Mirror reported that Hussien contacted "Jihadi Matchmaker".
The Twitter feed says it will help "those seeking marriage in Syria in a halal manner" and encourages interested parties to send it private messages.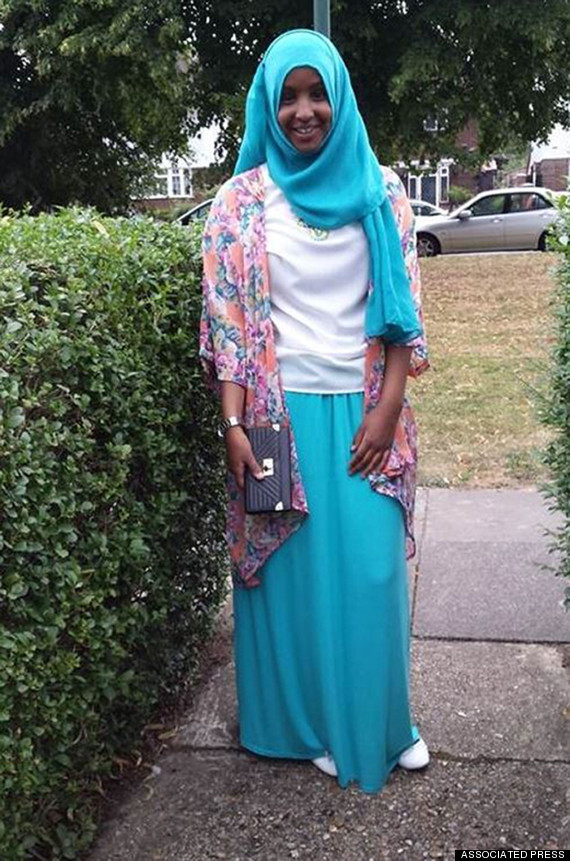 15-year-old schoolgirl Yusra Hussien who is believed to be heading to Syria after becoming radicalised
The site denies it is specifically an Islamic State matchmaking service but says it can link up women with potential husbands fighting in "freed areas" of Syria. It asks for information on their background, status and their current location.
@ummmuthannah77 For all Muslims living in freed areas of Syria and not exclusively one group.

— Jihad Matchmaker (@JihadMatchmaker) September 6, 2014
Those seeking marriage in jihad (in Syria,) direct message info on your background, status, and location. Allah bless this initiative. Amin

— Jihad Matchmaker (@JihadMatchmaker) September 5, 2014
The vast majority of women who arrive in Syria in order to contribute to the jihadist efforts are married almost immediately, according to those already there.
Blogger Umm Layth, who is believed to be 20-year-old Glasgow student Aqsa Mahmood, outlined the need for women wanting to come to Syria to get married. "I have stressed this before on twitter but I really need sisters to stop dreaming about coming to Shaam [the Islamic State's name for the area of Syria they control] and not getting married.
"Life here is very difficult for the Muhajirat [immigrants] and we depend heavily on the brothers for a lot of support. It is not like the west where you can casually walk out and go to Asda/Walmart and drive back home… even till now we have to stay safe outside and must always be accompanied by a Mahram [male relative].
"I have come across online many sisters who want to make hijrah [emigrate] but are living in a day dream where they expect to live with you and your husband… lol there's only so long one is treated like a guest and until your morals kick in and you realise how much of a burden you are upon people. The reality is that to stay without a man here is really difficult."
SEE ALSO
But not all women who travel there are matched in advance, according to one prolific British blogger who writes 'Diary of a Muhajirah' described how she married an IS fighter when she arrived in Syria, through a connection with a friend's husband.
She describes deciding to search for a husband after two months, because life without a male family member to accompany her has made going out difficult.
Within two days, her potential husband arrives to see her and they are married within hours.

When she [her friend] told me about this matter, I was nearly fainted. I couldn't believe it could be this soon, and I wasn't ready at all. She comforted me and told me everything will be alright.

My emotions were mixed. When he noticed my arrival, he gave salam and introduced him self, so did I. Then, it was a long awkward silence. After few minutes, I flipped my Niqab. He looked at me, our eyes catches each others'. I had palpitation that is faster than the speed of light.

He smiled. And he asked a question that I shall never forget for the rest of my life.

"Can we get married today? After Asr?"

Deep inside my heart shouted, noooo. But I have no idea why I answered "Yes".
She later describes calling her father and mother from an internet cafe and asking their permission for the marriage, and hearing her mother "shout with joy". The marriage takes place at a friend's home, with no festivities or "special dress".
Hussien is believed to have been radicalised online, and was described by her parents as a "typical teenager... a very young bright bubbly girl who is loved by not only her family but also her peers, teachers and her community".
There has been a significant crackdown on jihadist-linked websites and social media accounts. In the past nine months, the Home Office has authoristed the 'take-down' of more than 30,000 terror-linked websites.
Ask.fm has also been named a key site for potential jihadi brides to communicate anonymously with contacts living in areas controlled by Islamic State, and ask to be matched with fighters. Many also advertise ways to contact them through 'Kik', an instant messaging service.
The anonymous Q&A site has taken down hundreds of profiles from those actively recruiting would-be fighters and brides, but many are still accessible. Users of the site who claim to be living in those areas are bombarded with offers of marriage.
Some of the conversations that take place on the site