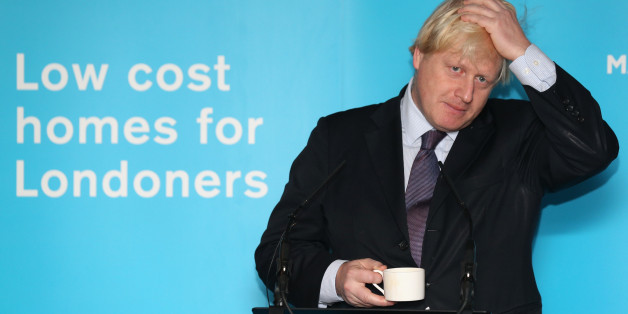 Oli Scarff via Getty Images
Boris Johnson has come under fire amid reports he is set to approve plans for 98 "affordable" flats that could cost up to £2,800 to rent.
The London Mayor is expected to consent to the building of these "affordable rent" apartments on the site of the Royal Mail's Mount Pleasant sorting office in central London, according to the Guardian, in a move which critics said undermined the idea of providing housing to the most needy.
Liberal Democrat member of the London Assembly Stephen Knight told the Huffington Post UK: "It is shameful that the Mayor does not see it is a priority to ensure truly affordable homes are built in central London.
"The failure to ensure truly affordable homes are available in central London will lead to a segregated and ultimately dysfunctional capital where key workers such as classroom assistants, office cleaners and security staff have to live many miles from where they work. To live and work in your community is not just desirable, but essential, for London's long term future."
See also:
Tenants could be charged up to £1,170 a month for a one-bedroom flat, with a family occupying a four-bedroom flat would potentially pay £660 a week, according to estimates of market rents. The family would need to have an income of around £100,000 for the property to be judged good value, according to an estimate used by housing experts which says that housing should be a third of income for it to be deemed affordable.
James Murray, executive member for housing on Islington council, said: "This is not affordable at all to most people who need it … [Boris Johnson] has perverted the definition of 'affordable' and made a mockery of the whole idea that affordable housing is there to help the people who need it most."
Meanwhile, City Hall said that it was happy that "the price per square foot for the affordable housing is reasonable and that a reasonable forecast of sales, rents and costs is set out".
Sir Edward Lister, deputy mayor for planning, said: "Providing more affordable homes, both to rent and buy, is one of the mayor's top priorities, and the report to be considered by the mayor proposes to double the amount of affordable housing in these planning applications.
"The mayor is on track to build a record 100,000 low cost affordable homes for Londoners over his two terms, with more than 77,000 already completed. This year alone, more affordable homes are being built than in any other year since 1980. Methods for calculating how affordable rent levels are set are specified in national policy and we would expect the final figures to reflect that guidance."