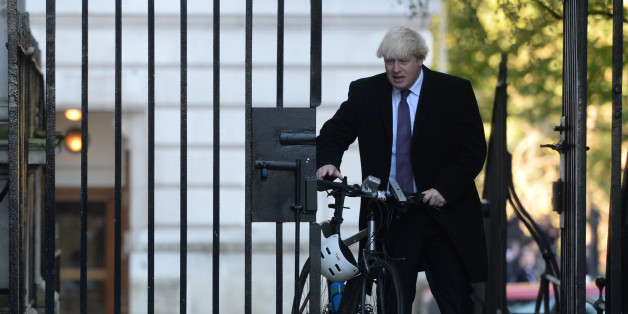 Stefan Rousseau/PA Archive
Boris Johnson has his sights set on returning to Parliament, hoping to win the seat of Uxbridge. But the Mayor barely hides the fact that he wants to do much more.
"I think I understand the business of government pretty well now,' he told the Evening Standard. "And I hope very much at some stage to be doing it."
Although Johnson repeatedly denies angling to be Tory leader, and by extension Prime Minister, his allies know his ambition too well.
"Boris has set his sights on leading the country, there's no doubt about it," Tory London Assembly member Richard Tracey, who serves as the Mayor's ambassador for river transport, told the Huffington Post UK.
"Boris is only returning to parliament to be in government. He's not going back just to be your average backbencher," a former City Hall colleague makes clear.
The question few have asked is how Johnson would perform as a minister in government. At Tory party's conference this week, home secretary Theresa May made a serious play for the hearts and minds of the media and party activists with a heavyweight speech about how British values would defeat extremists, while Johnson turned up with a brick.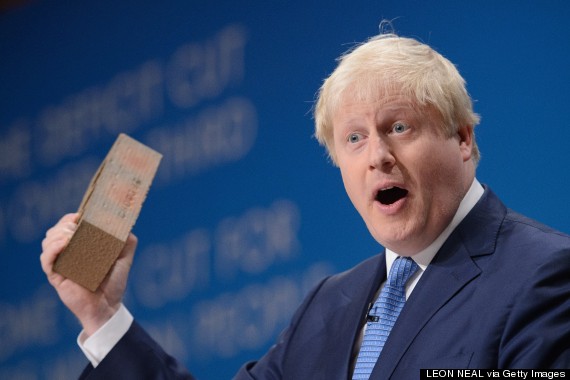 Those who have worked with him worry about his flightiness, but know that he can be brilliant, when he applies himself. His opponents, meanwhile, see him as a ruthless political opportunist who will stop at nothing to climb the greasy pole.
HuffPostUK spoke to those who have worked alongside, or against, him at City Hall to find out: is Johnson cut out to lead?
'Many Of Boris' Own Team Could Not Recall What Had Been Achieved'
It is difficult to predict though what exactly Johnson would offer as Prime Minister, as he has struggled to sketch out his own vision for London while at City Hall. Johnson's campaign staff had difficulty remembering what he had actually done in his first four years as mayor when they met to consider his re-election manifesto, to his exasperation.
Alex Crowley, who served as political director for Johnson's campaign, recalled: "It was obvious that many of Boris' own team, like the public, could not recall what had been achieved."
Writing about the gathering in his book "Victory in London", Crowley went on: "Frequently one person would suggest an idea only for someone else to say it had already happened before, someone else would disagree. No one could agree on what had been achieved."
Critics regularly accuse Johnson of "not doing detail", arguing that many of his schemes, like the Boris Bikes that now litter London, were originally pioneered by his predecessor Ken Livingstone. "Boris always said 'If it's a good thing that Ken was doing, it's no use chucking it out,'" a former colleague recalls.
Other schemes started by the London Mayor have been ridiculed for their poor value for money, like Johnson's £60 million cable car across the Thames, which was revealed to have only had four regular commuters using it, while his new Routemaster buses were £50,000 more expensive than comparable double deckers.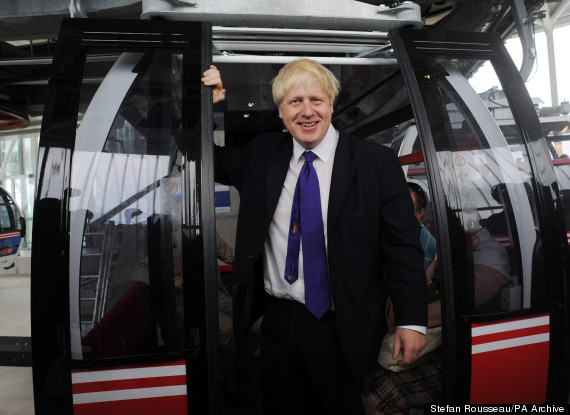 The London Mayor has thus been dogged by the problem of sketching out his political vision. Len Duvall, head of Labour's group in the London Assembly, tried to find out what exactly he believed in vain.
"I did go up to him once and say 'Sorry Boris, I'm not quite sure what you are. Are you one of these Christian Democrats? Or are you a social democrat? Or are you some one-nation Tory? Which one are you?' and he started laughing and didn't answer it," he recalls.
Johnson has previously described himself as a "one-nation Tory", but allies accept he is hard to pin down politically.
"Asking what type of Tory he is, really, is to fundamentally misunderstand Boris," one Tory assembly member explains, who sums up his philosophy as "pragmatic". "Boris does have a big enough ego that if you say 'define yourself by other people's Conservatism', you might as well be asking him: 'If you weren't you, who would you be?'"
"Pragmatic" is in this case another way of saying politically flexible, as Johnson manages to contradict himself and change tack whenever it suits him.
Johnson savages Ed Miliband for threatening property developers failing to build on their land with "Mugabe-style" land grabs, while making the same threat himself. He backs an limit on migration, but regularly rails against the government's "damaging" migration cap. This is just two of the contradictory positions Johnson has freely adopted.
The Mayor's political flexibility is unsurprising. Asked once if he had any convictions, he responded: "Only one - for speeding, but a very long time ago."
The Mayor has freely adapted his ideology to suit the political weather, meaning that it is almost impossible to predict what exactly he has planned if he gets the top job.
"There certainly isn't a 'Johnsonism', says Sonia Purnell, author of the biography "Just Boris". "If he does have a programme planned for when he is Prime Minister, it's so secret that no-one appears to know about it".
Is He Cut Out To Be Prime Minister? 'That's The Question That Could Stop Him'
As speculation over Johnson's ambitions reaches a new high, the question few consider is how he would actually cope if he was to enter Downing Street as Prime Minister. "There's a question mark about his temperament," says Purnell. "It's the question that could stop him becoming Prime Minister."
Does he put the hours in? Critics say he is a "part-time mayor" who only spends three days a week working at City Hall , but his supporters argue that when does his job excellently when he gets down to it.
"When he puts his mind to something, it can be amazing how much we can achieve," one source close to Johnson says.
According to insiders, the Mayor tends to start his days with a morning jog at around 6 o'clock, then after reading through his briefings, he embarks on a 45-minute cycle ride to City Hall to, in his words, "blow the cobwebs" out of his mind. The Mayor carries all the papers he needs for the day in his backpack, which one former aide compares to a minister's red box.
Once he gets in, he usually stays at work until 6 o'clock in the evening, frequently going off to speak at a dinner or an engagement. He also has a well-developed skill for disappearing after making an appearance. The Mayor, one ally suggests, has become "very conscious that his wife Marina expects him back at home and to see the children".
However Labour assembly member Len Duvall bemoans how "the rules do not apply" to the Mayor, adding: "He has been coming in only three days a week. You're really on duty for 24 hours though."
His biographer Purnell says his absences are due to his other commitments, such as writing a book on Winston Churchill. "He has been managing to find time, he's got the measure of the job now."
The Mayor was forced to admit that he sometimes does not "go in" to work on Fridays, but stressed that he did not work from home, after being accused of never coming in at all by his predecessor Ken Livingstone. He reportedly told aides that he would unofficially work part-time after the Olympics.
Supporters say that Johnson's charisma and drive carry him through, while his detractors paint a picture of a flighty egotist who would struggle to work with a team.
Kulveer Ranger, who worked with Johnson in his first term as mayor, as director for transport policy and then the environment, lavishes praise on the Mayor's "dedication" and his "extremely hands-on" management style.
Johnson attended meetings in the early days of his mayoralty with Transport for London officials for a "very long" briefing every week "that could go on for three or four hours', says Ranger.
How does the Mayor cope with the challenges? One of his former colleagues suggests he has been prone to get "obsessive" about ideas and go off "into blind allies.
Ian Clement, who was one of Johnson's early deputy mayors, recalls: "He was obsessed with public toilet provision for a while in London - 'freedom to pee' - and in the scheme of things, what should he be more concerned about? I hope he has managed to rein it in."
The Mayor is actually a cavalier figure who hates to get pinned down over detail, his opponents say. In a heated exchange last year over the impact of Johnson's cuts to London's fire service, the Mayor ended up telling one Labour London Assembly member to "get stuffed".
Labour's Duvall, who used to chair the Metropolitan Police Authority before Johnson used his mayoral powers to take over in 2008, sparked a vicious response from the Mayor after complaining about his contact with fellow Tory Damian Green, who had been arrested over Home Office leaks.
Johnson, he says, came up to him at a Christmas party in City Hall and bluntly told him: "You're a dead man walking".
"He said that in front of my staff and then just walked off," Duvall recalls with a laugh. "'Merry Christmas!' I thought..."
His allies defend such moments as indicative of his sense of humour, with a former deputy admitting: "His sense of humour can be very Sicilian."
Boris 'Likes To Be Popular', But Is He Strong Enough To Be PM?
If elected Prime Minister, of course, Johnson would be much more involved in the national issues on which he has been able to pontificate freely as Mayor. For a man who, as his own allies agree, "wants to be loved", does he have the mettle to drive through tough decisions?
One City Hall colleague admits that Johnson's team put off cutting "a whole load of public services" until they were well into their second term as "the last thing anyone wanted to do was embark on them in the run-up to the Olympic games and ruin the goodwill".
"He can't deal with bad news," observes biographer Purnell. "He's not a particularly empathetic person."
Johnson was left floundering when he had to deal with one major crisis as Mayor - the London riots of 2011. After much delay, Johnson finally returned from his holiday caravanning in Canada after the riots broke out, but when he visited Clapham to survey the damage, he was booed and heckled.
Stunned by the bad reception, Johnson finally won around locals by picking up a broom as he lead the clean-up. What was clear was that Johnson was slow to respond, rather than capturing the national mood, as his predecessor Ken Livingstone did when the capital was hit by the 7/7 bombings.
Johnson's allies depict the Mayor as a thoughtful man who allows his colleagues to get on with the job of delivering his agenda. Ranger, who worked with Johnson on rolling out the Boris Bikes across London, praises him as a "very sane man" who 'will always take in all the arguments".
"The cycle hire scheme was seen a huge risk for him," he said. "Every adviser and everyone at TfL [Transport for London] was saying it was really challenging and many were saying we shouldn't do this.
"Boris would look and me and say 'Kulveer, are we doing the right thing?' I'd reassure him "Boris, on this I can say there is a risk here, but we'll get it done."
Tory assembly member James Cleverly, who had to drive through Johnson's cuts to the capital's fire service, which saw the closure of several fire stations and hundreds of firefighters losing their jobs, has similar praise for Johnson.
After being appointed chairman of the London Fire and Emergency Planning Authority (LFEPA), Cleverly warned the Mayor that he would have to choose between two highly unpopular options, closing fire stations or "kicking it into the long grass" by cutting fire engines and firefighters.
"Most people get very tetchy about the number of fire stations but significantly less aware about the number of fire crews," he explains.
Urging Johnson to "grasp the nettle" by closing fire stations, Cleverly presciently warned: "It's going to cause a massive row, quite possibly a fire strike. You, or at least we, are going to become very unpopular in the short term."
In response, Boris only needed to know one thing 'Do you believe this is the right thing to do?' Once he saw Cleverly's confidence, the Mayor toughed out the inevitable maelstrom of criticism.
Johnson had a shaky start as Mayor losing six advisers in just over a year for a litany of reasons.
Insiders place the blame for the early problems on the lack of administrative experience among the Tory leadership. Johnson was forced to rely on arch Tory moderniser Nick Boles, who headed an "implementation unit" that managed the blueprint for the Johnson mayoralty.
"The problem was that no-one in the Conservative Party had actually run anything for a decade. Nick had never run anything and now Nick was running the back office of City Hall," says one City Hall source. "This meant there were various people appointed in the first mayoral term who just didn't work out. They just weren't strong enough."
If Johnson failed in London, officials at Tory HQ worried, the party would look like a bunch of amateurs who should not be voted back into government. "They had this idea that while Boris was a great public persona, he couldn't run a whelk stall," the source recalls.
Another Johnson ally admits Tory officials saw him as an "unknown quantity" who "suddenly was governing one of the biggest and most demanding and high profile cities in the world."
Now, nearing the end of Johnson's second term, his allies are confident that he has proved himself well.
"Boris has effectively been doing the third biggest job in the country. After being Prime Minister and Chancellor, it's certainly the rank of a senior cabinet job," says Tory assembly member Richard Tracey. "He's certainly as well equipped as David Cameron to lead the country."
Other Tories worry about whether Johnson could be bothered to do the necessary work as Tory leader. Tory MP Brian Binley told the Huffington Post UK: "His mind is sometimes like his hair - all over the bloody place! William Hague was considered to be a great performer and a joker, but it didn't really do it, did it?"
Another Tory MP is similarly sceptical: "Boris is obviously a strong candidate but he's such a maverick that I do wonder whether the party would be prepared to put all their faith in him."
Johnson's City Hall colleagues are bullish about his prospects though, with one arguing that his success will come from the ability he has perfected to assemble a top class team.
"Boris would certainly make sure that his appointments were good in his private office," Richard Tracey says." And equally who he might choose as his cabinet ministers."
But with an inability to define a potential prime ministerial programme, and a preference for witty one-liners and clownish behaviour, Prime Minister Johnson could turn out to be a maverick, with little control over his Downing Street operation or his Cabinet.
As biographer Sonia Purnell predicts: "Boris might be quite interesting and good fun as Prime Minister, but I don't know how long he'd last."