Boris Johnson said he was "thrilled" that his Commons comeback had moved a significant step closer after winning selection to fight a safe Tory seat at next year's general election.
The London mayor saw off the challenge of three rivals to secure the support of party members in Uxbridge and South Ruislip as their pick for 2015 after seeing off concerns over his determination to also see out his full City Hall term, which runs to 2016.
"I am obviously thrilled," he said after winning the contest outright in the first round of voting following behind-closed-doors presentations to the local association in a school hall.
He sought to play down suggestions it marked the latest stage of a mission to succeed David Cameron as Tory leader. "No, this is the first stage in the campaign to retain the seat of Uxbridge and South Ruislip for the Conservatives and to get across the message of what the Conservatives have achieved not just in London but across the country as a whole in turning the economy around," he said as he emerged.
"And urging people not to throw it all away by allowing Ed Miliband and the Labour Party to get in. It will be a tough fight, it will be a long fight. But I have no doubt whatever that we are going to be able to return David Cameron and the Conservatives with an absolute majority in 2015.
"This is Act One, Scene One of a very long process and what I have got to do now is have a lot of talks with people here in Uxbridge and South Ruislip, get to know people, get to know the association better. There's a lot of digging in to be done."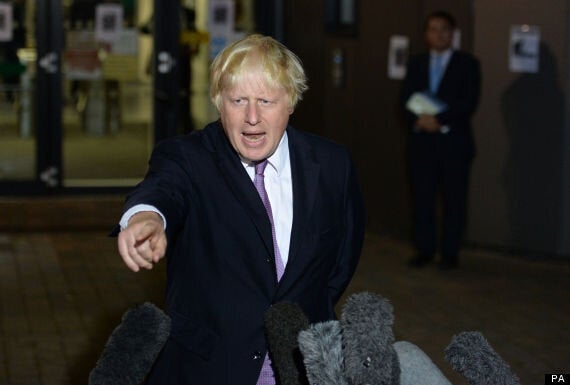 Johnson leaves Ruislip High School where he was selected
Mr Johnson insisted it was not a problem to be an MP and continue running London until 2016. "It has been done before and I see no reason why it shouldn't be done again," he said. "I would point out that it is possible to be both an MP and have a very big job such as foreign secretary or prime minister at the same time."
He admitted that he had no immediate plans to relocate to the constituency. "I live in London. I have got a home in London. I don't rule it out but it won't happen immediately," he said. Praising the quality of his opponents, he said: "It was a very enjoyable selection process and I want also to pay tribute to the other three candidates who were here tonight who were all very good indeed and I am sure they will go on to get good seats."
The others in the frame were the deputy leader of the local council David Simmonds, another senior councillor Simon Dudley, the deputy leader of Windsor and Maidenhead council who was born in the constituency, and Harrow-born barrister Suella Fernandes.
Mr Johnson previously served as MP for Henley for seven years before leaving to take up the City Hall reins in 2008. He will defend a majority of 11,216 in the north-west London constituency held by former deputy chief whip Sir John Randall, who is stepping down.
Shadow minister for London Sadiq Khan said: "The fact that Boris Johnson is so openly campaigning to replace David Cameron shows just how weak the Prime Minister has become. Rather than tackling the rising cost of living the Tories are turning in on themselves, jockeying for position in a future leadership contest.
"When Boris Johnson should be fixing London's desperate housing crisis, he will instead be spending the next two years campaigning to be an MP and Tory leader. He will be a lame duck mayor who has put his personal ambitions above the needs of the hard working Londoners he was elected to serve until 2016."
Labour's candidate for the seat Chris Summers said: "The voters of Uxbridge and South Ruislip now have a very clear choice between a ruthlessly ambition career politician who sees them only as a convenient stepping stone, and a committed campaigner who seeks only to be a constituency MP and who would work tirelessly on casework and campaign for them on local causes such as HS2 without fearing it would impact on his loftier ambitions."