The woman who was born without a womb and had to have transplant has given birth, in a world first.
The 36-year-old Swedish woman, who learned she had no womb at 15 and later underwent the procedure, named her child Vincent, which means "to conquer".
"I was terribly sad when doctors told me I would never carry my own child," said the woman, who asked not to be identified.
The birth was announced on Friday night.
More than a decade after learning she had no womb, she heard about research led by Dr Mats Brannstrom, a professor of obstetrics and gynecology at the University of Gothenburg and Stockholm IVF, on transplanting wombs into women born without them.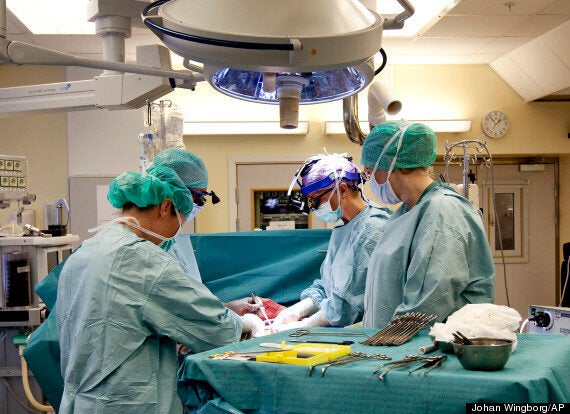 Doctors preparing to perform a womb transplant at the University of Gothenburg in Sweden
"Mats told us there were no guarantees, but my partner and I, maybe we like to take risks, we thought this was the perfect idea," she said.
The woman's mother wanted to be a donor but was not a match. Instead, she received her new womb from a 61-year-old family friend, who had previously had two sons.
"She is an amazing person and she will always be in our lives," the mother said. "And she has a very special connection to my son."
Dr Brannstrom said it was "a fantastic feeling" to know that his research had led to Vincent's birth.
Before this case proved the concept can work, some experts had questioned whether a transplanted womb could nourish a fetus.
Others have questioned whether such an extreme step — expensive and fraught with medical risks — would be a realistic option for many women.
Dr. Glenn Schattman, past president of the Society for Assisted Reproductive Technologies and a Cornell University fertility specialist, said womb transplants are likely to remain very uncommon.
"This would not be done unless there were no other options," he said. "It requires a very long surgery and not without risk and complications."
For the proud parents, the years of research and experimentation were well worth the wait.
"It was a pretty tough journey over the years, but we now have the most amazing baby," the father said in a telephone interview. "He is very, very cute, and he doesn't even scream, he just murmurs."
He said he and his wife, both competitive athletes, were convinced the procedure would work, despite its experimental nature.
Brannstrom and colleagues transplanted wombs into nine women over the last two years as part of a study, but complications forced removal of two of the organs. Earlier this year, Brannstrom began transferring embryos into the seven other women. He said there are two other pregnancies at least 25 weeks along.
Before these cases, there had been two attempts to transplant a womb — in Saudi Arabia and Turkey — but no live births resulted. Doctors in Britain, France, Japan, Turkey and elsewhere are planning to try similar operations, but using wombs from women who have just died instead of from live donors.
The Swedish woman had healthy ovaries, but she was born without a uterus — a syndrome seen in one girl in 4,500. The donor had gone through menopause after giving birth to two children.
Brannstrom said that he was surprised such an old uterus was so successful, but that the most important factor seemed to be that the womb was healthy.
The recipient has had to take three medicines to prevent her body from rejecting the new organ. About six weeks after the transplant, she got her menstrual period — a sign the womb was healthy.
"I have always had this large sorrow because I never thought I would be a mother," she said. "And now the impossible has become real."