The jury in the Luka Rocca Magnotta murder trial has been shown CCTV footage of the accused showing the victim into his apartment building.
Magnotta is accused of killing Jun Lin in May 2012 and posting four packages of body parts to schools and political parties.
The 32-year-old has admitted the killing but pleaded not guilty to charges which include first-degree murder, committing indignities to a body, broadcasting a video of the killing and posting severed body parts.
The jury were shown footage of Luka Rocca Magnotta showing Jun Lin into his apartment building
On Monday surveillance from Magnotta's Montreal apartment building was screened in a Quebec court.
It shows Magnotta holding open the door for Jun, 33, at 10.16pm on 24 May, 202.
Wearing a yellow t-shirt, shorts and a baseball cap, it is the last time Jun was seen alive.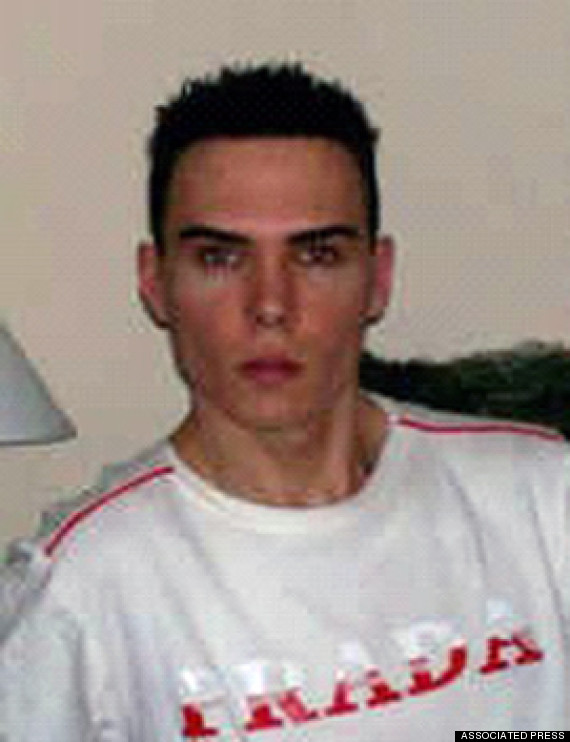 Luka Rocco Magnotta admits killing and dismembering his lover Jun Lin - but denies murder
A few hours later, Magnotta was filmed by the same cameras leaving the building – wearing Jun's yellow t-shirt and cap.
Magnotta was filmed several times putting rubbish bags in the basement of the building as well as carrying it outside over the next day, the Canadian Press writes.
He was filmed leaving the building for the last time on 26 May, carrying a suitcase and getting into a taxi visible in the glass front door of the building.
Jun's torso was found on 29 May 2012 in a suitcase behind the apartment building. Other parts were also discovered in the same area, while some were posted to schools and political parties.
Magnotta's lawyer Luc Leclair says his client is schizophrenic and thus not criminally responsible for the crimes.
Last week the jury was shown images of a bloody-stained fridge, an angle grinder and a blood-soaked mattress in Magnotta's apartment.
A rubbish bag containing a dead dog, a crumpled poster of Casablanca and various rambling notes posted on the walls of the apartment were also shown.
Jun was born in Wuhan, the capital of Hubei province. He had only been living in Canada since 2011, realising a long-standing dream by coming to Montreal.
At the time of his death, he was enrolled as a computer engineering student at Concordia University and worked as a part-time convenience store clerk in south-central Montreal.
Prosecutor Louis Bouthillier said he intended to prove Magnotta planned the murder.