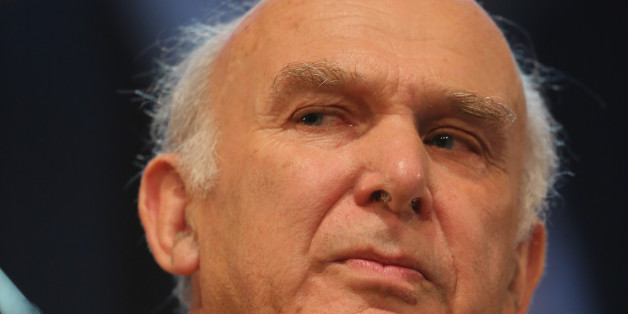 Christopher Furlong via Getty Images
Taxes should play a "significantly" larger role in paying down Britain's national deficit than envisaged by either Nick Clegg or the Conservative leadership, Business Secretary Vince Cable has suggested.
Chancellor George Osborne told last week's Conservative conference that a Tory Government could eliminate the deficit after the 2015 election without any new tax rises by allowing spending cuts to take all of the strain, while Mr Clegg has indicated that he would continue the approach of 20% tax rises and 80% spending cuts followed by the coalition during this parliament.
But Mr Cable said that it was "difficult to see" how Whitehall spending departments like his own Department for Business, Innovation and Skills could sustain further cuts on that scale. Asked whether he would rather see tax rises take 30% or 40% of the burden of deficit reduction, in order to relieve the pressure on public services like the police, armed services and local government, he told BBC2's Newsnight: "I wasn't naming a number but certainly directionally that's right'."
Mr Cable told Newsnight: "We did 80%/20% this time and the 20% was the Value Added Tax at the beginning and there have been some very difficult cuts since. I think it is highly probable we would want to rebalance that and have a better mixture of taxes as opposed to spending reductions, because we are in a difficult place at the moment.
"Quite apart from the areas I administer in government - and I have an unprotected department - there are areas like the armed services, the police, local government, which have really been squeezed very hard and it's difficult to see how you could repeat the cuts exercise we already had again. That speaks for a significantly greater mix of tax in the total."
Prime Minister David Cameron last week said he would protect spending on the NHS until 2020 if Tories win the election in May, and protections have also been offered for defence equipment spending, but it is not yet clear whether any further areas of public spending will enjoy a "ringfence" after 2015.
Vince Cable is being straight by saying we will need higher taxes. Nick Clegg promsed to cut taxes in 2016. #Newsnight

— Ⓑercows Ⓑig Ⓒhair (@BBCPropaganda) October 7, 2014
#newsnight wouldn't say Vince Cable is yesterday's man. He wasn't that relevant yesterday

— terry g (@happytantrum) October 7, 2014
somebody put Vince Cable in a village hall to talk about potholes and lamp posts. you had ur chance and u blew it mate #newsnight

— e.m.m.a. (@oiiiemma) October 7, 2014