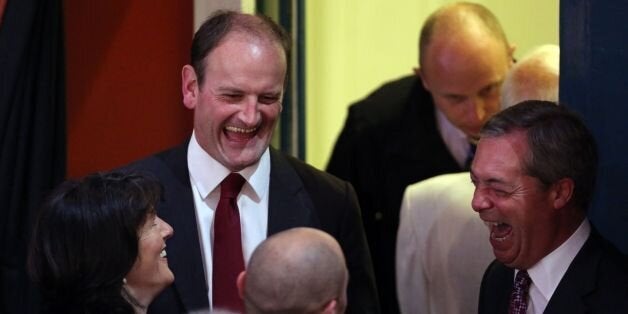 Ukip has its first elected MP after Douglas Carswell won the Clacton by-election today. Mr Carswell received 21,113 votes to secure the seat with a majority of 12,404, as he finished comfortably ahead of Conservative candidate Giles Watling.
Turnout was 51.2% with 35,386 ballot papers counted, a decrease from the 64.2% turnout out at the 2010 general election. Tory Mr Watling received 8,709 votes to finish second while Labour's Tim Young finished third with 3,957 votes. Ukip defector Mark Reckless, who has also triggered a by-election in Rochester and Strood, attended the count in Clacton's Princes Theatre.
Former Liberal Democrat MP Lembit Opik also made an appearance in support of independent candidate Charlotte Rose, who was campaigning for sexual freedom and finished in last place with 56 votes. Mr Carswell previously secured the Clacton seat in 2010 with a majority of 12,068 votes over Labour's Ivan Henderson, having first being elected to Parliament in 2005 in the Harwich seat.
In his acceptance speech Mr Carswell explained his decision to stand down after defecting from the Tories. "I resigned from Parliament to face this election because I answer first, foremost and last to you, you are my boss, I will not let you down," he said. Carswell speaks after securing Ukip's historic win
"To my new party I offer these thoughts: humility when we win, modesty when we are proved right. If we speak with passion, let it always be tempered by compassion. We must be a party for all Britain and all Britons: first and second generation as much as every other. Our strength must lie in our breadth.
"If we stay true to that there is nothing that we cannot achieve. Nothing we cannot achieve in Essex and East Anglia, in England and the whole country beyond."
Ukip's next target is Rochester and Strood, where Mr Carswell's fellow defector Mark Reckless is hoping to return to Parliament. Mr Carswell said: "In Rochester as in Clacton I believe voters will reject negative campaigns by old party machines."
Mr Watling said he wanted to stand as the Tory candidate at next year's general election. He said: "I intend to stand here next May at the general election when this country will face a clear choice of who they want to be the leader - David Cameron or Ed Miliband."
Labour's Mr Young said: "I would also like to thank Mr Carswell, who of course none of this would have been possible. I wish him well. Having been born in Clacton and brought up here I truly care about Clacton and we will always continue to hold you to account Douglas, but I congratulate you on your victory."
Howling Laud Hope, of the Official Monster Raving Looney Party, joked: "One little message for Mr Carswell, come seven months' time in May will you cross the floor and join the loonies?"
Douglas Carswell (UKIP) 21,113 (59.75%)
Giles Watling (C) 8,709 (24.64%, -28.38%)
Tim Young (Lab) 3,957 (11.20%, -13.84%)
Chris Southall (Green) 688 (1.95%, +0.71%)
Andy Graham (LD) 483 (1.37%, -11.57%)
Bruce Sizer (Ind) 205 (0.58%)
Howling Laud Hope (Loony) 127 (0.36%)
Charlotte Rose (Ind) 56 (0.16%)
Popular in the Community