If you're the kind of person who cuts mould off of out-of-date cheese and eats it anyway, then you're in luck - for a new café is set to cater to your eclectic taste, by serving food fresh out the bins.
But before you recoil in horror, Skipchen isn't a restaurant filled with fruit flies and mouldy apples.
Instead they serve everything from lobster to gorgonzola and for a fraction of the price, after all they didn't pay a penny for it.
Customers at Skipchen, which is part of the UK-wide The Real Junk Food Project (TRJFP), are not charged a set price for items on the menu but asked to "pay-as-you-feel" instead.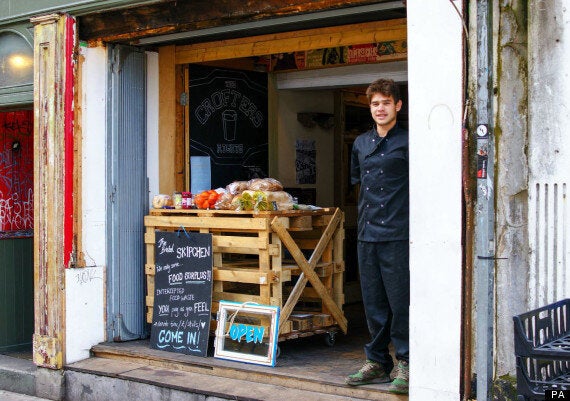 Sam Joseph, co-director of TRJFP
Every scrap of food served at the 20-seat eatery was due to be wasted, having reached its sell-by date or been surplus to the needs of restaurants and organisations.
A group of volunteers staff the not-for-profit café, in Stokes Croft, overseeing a menu which changes daily depending on what has been obtained.
Teams go out to supermarkets in the city each evening to go "skipping", pulling out from skips items that have been thrown away.
Skipchen, which opened on Monday, is already proving popular and is serving a range of meals.
Sam Joseph, 24, co-director of TRJFP that runs Skipchen, said he hoped to raise awareness of food waste in Britain.
"We take food that would otherwise go to waste," said Mr Joseph, who lives in Bristol. "Skips are thought of as a bit of a scandal but that's just one part of The Real Food Project - we get food from farms, small local businesses and families."
Donations come in from a range of sources from food banks to families who want to empty their fridge before going on holiday.
Speaking to The Huffington Post UK earlier this year about the project, Mr Joseph explained how TRJFP source their food.
"Often 'best before' dates are so arbitrary - who says that bang on 11:59pm some food is going to go off? In our eyes, if a vegetable is not mouldy, then it's fine to eat."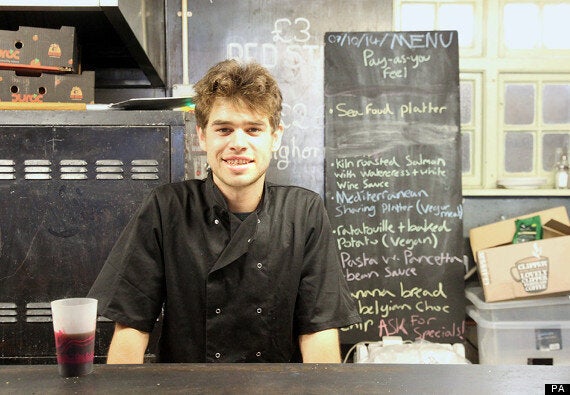 Seven "full-on" volunteers at the café are being supported by a team of 10 helpers, who offer their time and services through the café's Facebook page, The Bristol Skipchen.
The concept has already been popular in Leeds, where a TRJFP café opened nine months ago and has built up relationships with many local food providers.
"In Bristol we are relying on going to supermarket skips," Mr Joseph added. "I am really conscious of food safety and food hygiene.
"The way we do it when we go skipping is we do it as soon as they throw the food away. We see them do it and get the food out and into a refrigerator straight away."
The café has also formed a partnership with restaurant chain Nandos, which is supplying surplus chicken from its Bristol branches.
This weekend, volunteers will harvest unwanted apples from a farm in Gloucestershire through Gleaning Network, which saves unwanted fruit and vegetables from waste.
Skipchen is in The Crofter's Rights bar, which has provided its kitchen and is paying running costs such as electricity for the café.
"I think it would be completely unethical to charge for food that we have got for free so that's why we ask people to pay as they feel," Mr Joseph said.
"We have a real mix of people coming to the café and they sit on two long tables, so you could have a businessman sitting next to someone who is homeless one lunchtime.
"People sometimes think they will be taking food from the needy when they come to us but the truth is there is so much to go round.
"Our message is that it is really about eating it and not letting it go to waste."
Mr Joseph, originally from Somerset, is living off the £5,000 he saved from his student loan by not buying food over the past three years.
"My friends and I were living out of supermarket bins for years thinking it was crazy that we were able to survive without spending money," he said.
"The quantity of food we were getting was too much for myself and my friends to eat. It's crazy to think of it on a national scale."
Skipchen is open Monday to Friday between 9am and 3.30pm.