Jemima Khan's #wakeupcall selfie campaign for Unicef has reached over 300 million people, according to social marketing platform Spredfast, as more celebrities post bleary-eyed photos of themselves on social media.
Journalist and campaigner Khan posted a photo of herself after just waking up on Monday, with the hashtag #wakeupcall.
Her snap kicked off a social media campaign to encourage people to donate to Unicef's Wake Up Call campaign for the thousands of Syrian children who have fled from violence in their country.
The campaign has spawned 26,655 tweets since 3 October, according Spredfast.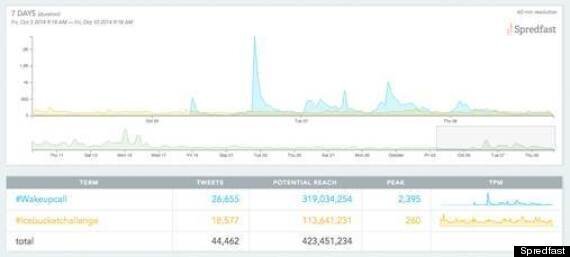 Khan told The Huffington Post UK that the campaign had raised tens of thousands of pounds from the UK alone by the end of Tuesday, and she suspected the worldwide total was even greater: "We don't have any idea how much we have made internationally yet, as each country has a separate Unicef donation line and we have no access to that yet."
The 40-year-old said: "I am so grateful for all the support. I hope more and more of the public will post their Wake Up Call photos and donate at wakeupcall.org.uk. £10,000 equips 3,700 kids to go to school with school materials in an emergency."
Khan's celebrity friends including Jeremy Clarkson, Harry Enfield, Natalie Imbruglia, Elle MacPherson and John Bishop have now posted photos with the hashtag.
But Khan stressed she hoped everyone would post photos of themselves, not just celebrities: "It won't work unless non-celebrities get involved too."
She is hoping that the campaign will rival the Ice Bucket Challenge, which raised more than $100 million for the previously little-known disease Amyotrophic Lateral Sclerosis (referred to as Motor Neurone Disease in the UK).
#Wakeupcall's 26,655 tweets since 3 October beat those of the Ice Bucket Challenge, which has had 18,577 tweets in the same time period, according to Spredfast. However, as the Ice Bucket Challenge has been taking place for months, its continued momentum is impressive.
Chris Kerns, director of analytics and research at Spredfast said it was too early to tell if #wakeupcall will be as big as the Ice Bucket stunt, but noted that it has many elements that could make it a good candidate.
"For example," he said. "It has clear celebrity involvement, it's an easy task to perform with more effort than just a hashtag and the challenge is passed along via nominations."
Although Harry Styles has not yet played ball, despite Khan imploring him on Twitter.
Popular in the Community