This is what Britain would look like if an Ebola outbreak occurred, with emergency services practicing how to cope if the deadly virus reached UK shores.
Medics took part in an eight-hour mock-up saw actors simulate Ebola symptoms while Government ministers joined dozens of medical professionals from hospitals, the ambulance service and Public Health England as they played through scenarios across the country.
In one case a person who collapsed in Gateshead shopping centre was placed in isolation at the Royal Victoria Infirmary in Newcastle after being assessed. Staff from North East Ambulance Service and the Royal Victoria Infirmary, Newcastle take part national exercise to test Britain's readiness for an Ebola outbreak
Samples were sent for urgent testing at the Porton Down government science laboratories for testing and, after returning an Ebola diagnosis, the patient was transferred to the Royal Free in London.
In a separate case, a patient turned up to the Hillingdon walk-in centre in London with flu-like symptoms after having recently returned from West Africa.
Blood tests were again sent to Porton Down, Wiltshire, and the patient was taken to the Royal Free after being diagnosed with the disease. Public Health England also began tracing the contacts of the people involved.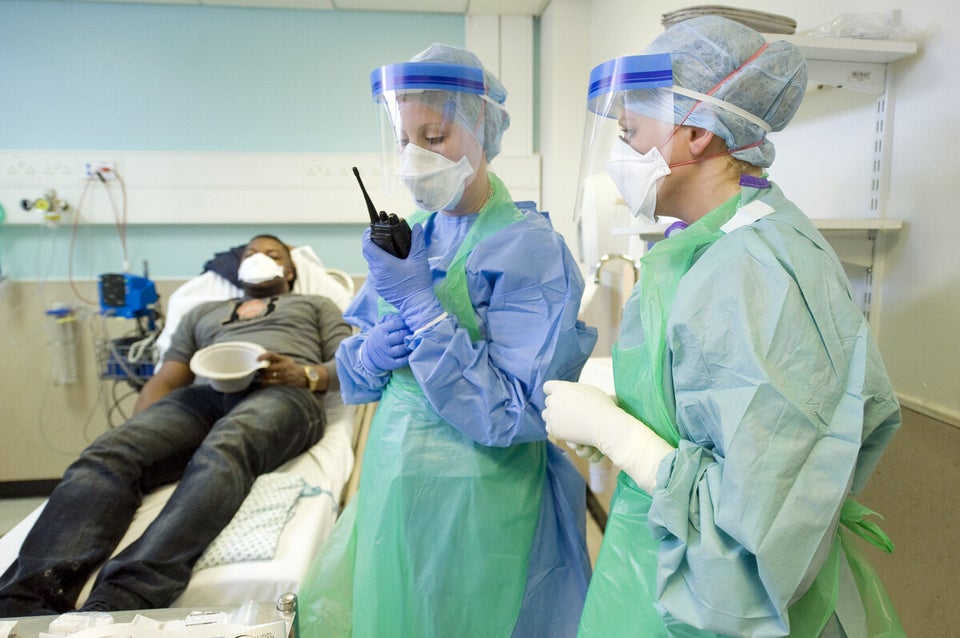 Ebola Outbreak in Britain
Health Secretary Jeremy Hunt chaired a simulated meeting of the emergency Cobra committee as part of the exercise.
He said: "This is an extremely useful exercise and I feel doubly reassured that we have robust plans in place in the event that we get an Ebola case in the UK.
"We will evaluate what went well and what we need to improve.
"This exercise is just one small part of our ongoing contingency plans for Ebola. It builds on activity we routinely practise for a wide variety of illnesses and other emergencies."
Chief Medical Officer Dame Sally Davies said: "This vitally important exercise gave a very realistic test of how prepared the system is to deal with a case of Ebola. Today has included a variety of scenarios involving personnel from hospitals, ambulance services and local authorities around the country."
Noreen Rice, Hillingdon Hospital emergency care services manager, said: "We have learned things from this experience today. The more you practise the better you get and it was really useful to help us test out just how prepared we are for dealing with an incident like this. I am confident that we can manage these situations."
The exercise was ordered by David Cameron as part of the UK's contingency plan against Ebola, which has killed more than 4,000 people in West Africa.
The Prime Minister has been forced to defend the decision to introduce enhanced screening for the virus at major airports and terminals, saying it had been taken on "medical advice".
Questions have been raised about the checks, which are to take place at Heathrow, Gatwick and Eurostar rail terminals, with a spokesman for Gatwick saying that the airport had not been given any instructions about how the screening should be carried out.
Popular in the Community