Government ministers will join dozens of medical professionals from hospitals, the ambulance service and Public Health England for the exercise in locations across the country.
Actors will simulate symptoms of the deadly virus to test the response of emergency services, while some staff will wear personal protective equipment.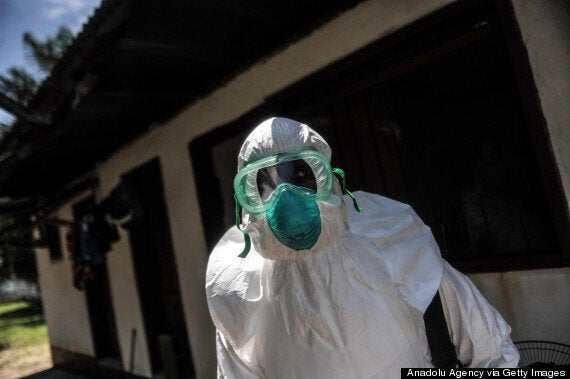 A Red Cross member wears special uniform before carrying the body of 36 aged Hanfen John who died due to the Ebola virus
A simulated meeting of the Government's Cobra emergency committee will also be held, chaired by Health Secretary Jeremy Hunt.
The exercise was ordered by David Cameron as part of the UK's contingency plan against Ebola, which has killed more than 4,000 people in West Africa.
It comes after the Prime Minister was forced to defend the decision to introduce enhanced screening for the virus at major airports and terminals, saying it had been taken on "medical advice".
Questions have been raised about the checks, which are to take place at Heathrow, Gatwick and Eurostar rail terminals,
with a spokesman for Gatwick saying that the airport had not been given any instructions about how the screening should be carried out.
The move was also criticised by health experts, with one describing it as a "complete waste of time", while Labour MP Keith Vaz said the lack of precise information available about the screening was "shambolic".
Cameron said: "What we do is listen to the medical advice and we act on that advice, and that's why we are introducing the screening processes at the appropriate ports and airports.
"What we are focusing on as a country is taking action right across the board to deal with this problem at source."
The Department of Health (DoH) has not revealed the locations of today's exercise.
A spokeswoman: "The public can be assured that we have been planning our response to an Ebola case in the UK for many months now since the outbreak started in West Africa. It is vital that we test these plans in as realistic a situation as possible - with real people.
"That will include a full COBRA meeting chaired by Health Secretary Jeremy Hunt to assess the outcome and learn any wider resilience lessons.
"It is important to remember that the overall risk to the public in the UK continues to be very low, and the UK has some of the best public health protection systems in the world with well-developed and well-tested systems for managing infectious disease."
A Number 10 spokeswoman said the decision to introduce enhanced screening for Ebola was based on advice from the Chief Medical Officer Dame Sally Davies.
"There won't be anyone coming from these (West African) countries because all direct flights have been cancelled," he said.
"Are they going to screen everyone from Brussels, Paris, Frankfurt and Amsterdam? That would lead to a lot of delays and disruption."
Children's charity Plan UK said the only "truly effective" way of preventing Ebola reaching Britain was to tackle the crisis in West Africa.
Chief executive Tanya Barron said: "As the Government introduces more measures to try and prevent the arrival of Ebola in this country, it would be fatal to forget that the best way to help the UK is to help West Africa.
"This is an outbreak that needs tackling at source, and in order to change the course of the crisis, we mustn't simply 'hunker down' in developed nations. Of course it is important for the UK government to protect people here, but the only truly effective way of doing so in the long-term is to bring this crisis under control in Sierra Leone, Liberia and Guinea. We must break the chain of infection."
More than 750 military personnel and the medical ship RFA Argus are being sent to West Africa to help in the efforts to contain the Ebola outbreak.
RFA Argus, which has a fully-equipped hospital including critical care and high-dependency units, arrived in Falmouth, Cornwall today for loading before it sails to Sierra Leone next week.
It will travel with three Merlin helicopters, aircrew and engineers to provide transport and support to medical teams and aid workers.
A stepped-up screening program that checks the temperature of travelers arriving from West Africa is starting at New York's Kennedy International Airport today, and will be expanded over the next week to Newark Liberty, Washington Dulles, Chicago O'Hare and Hartsfield-Jackson in Atlanta.
Customs officials say about 150 people travel daily from or through Liberia, Sierra Leone or Guinea to the United States, and nearly 95 percent of them land first at one of the five airports.
There are no direct flights to the US from the three countries, but Homeland Security officials said last week they can track passengers back to where their trips began, even if they make several stops. Airlines from Morocco, France and Belgium are still flying in and out of West Africa.
President Barack Obama said Wednesday that the new screening measures are "really just belt and suspenders" to support protections already in place. Border Patrol agents already look for people who are obviously ill, as do flight crews, and passengers departing from West Africa are being screened.
Public health workers at Kennedy Airport will use no-touch thermometers to take the temperatures of the travelers from the three Ebola-ravaged countries; those who have a fever will be interviewed to determine whether they may have had contact with someone infected with Ebola. There are quarantine areas at each of the five airports that can be used if necessary.
Health officials expect false alarms from travelers who have fever from other illnesses. Ebola isn't contagious until symptoms begin, and it spreads through direct contact with the bodily fluids of patients.
The extra screening at US airports probably wouldn't have identified Thomas Eric Duncan when he arrived from Liberia last month because he had no symptoms while traveling. Duncan, the first person to be diagnosed with Ebola in the US, died on Wednesday in Dallas.
Popular in the Community