David Cameron has been accused of making a PR blunder after posing for a picture with a group of backed-up Morris dancers.
Labour MP Mark Hendrick said the Prime Minister, who appeared in the picture with his daughter at the Banbury Folk Festival on Saturday, had associated himself with an "outdated form of entertainment".
He told the Mirror: "In the 21st century this is bordering on the ridiculous that people in the name of entertainment or fundraising still need to 'black up'."
But others defended Mr Cameron, saying the facepaint has no racist meaning and is simply a traditional part of the costume.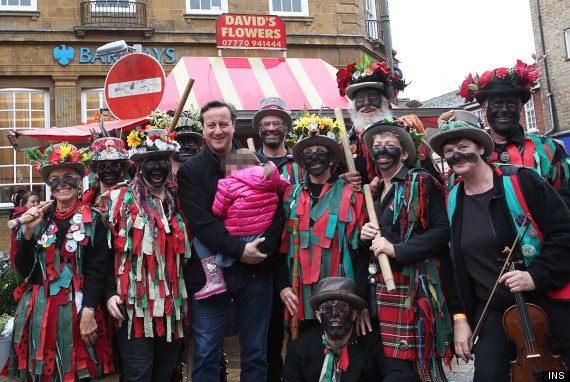 David Cameron poses with the Morris Dancers at the Banbury Folk Festival on Saturday
One person tweeted: "They aren't 'blacked up', its a non-racial folk tradition about hidden identity."
David Cameron poses with a group of blacked up white guys. What the hell did he think he was doing?

— Dan Hodges (@DPJHodges) October 13, 2014
David Cameron & blackface in Britain. Yes, This actually happened http://t.co/JO2R60l9dm pic.twitter.com/J5hlF7V0fm

— Mandy de Waal (@mandyldewaal) October 14, 2014
"Paging Mr Crosby. Mr Crosby, please call your office." http://t.co/KBu1af3JtR pic.twitter.com/c8AHzSnDcq

— Stephen Bush (@stephenkb) October 13, 2014
"Some of my best friends are blacked-up." http://t.co/0Y8JPCeDYW pic.twitter.com/MOlHVJBIzo

— Michael Deacon (@MichaelPDeacon) October 13, 2014
Forget the debates or Carswell, Cameron with some blacked-up morris dancers is about to be the political clip du jour http://t.co/BteC9srL1a

— Dylan Sharpe (@dylsharpe) October 13, 2014
The Morris Ring, the National Association of Men's Morris & Sword Dance Club, states on its website: "Dancers may have their faces blackened or otherwise disguised ... Disguising the face in this way is well-known in English social history: men wishing to pursue proscribed activities would black their faces to avoid recognition: such activities could include both smuggling and morris dancing."
Mr Cameron's awkward photo op came as the Prime Minster admitted he cannot refuse selfie snaps with voters, claiming it would be rude to turn down a request.
Explaining why he posed for the pictures, Mr Cameron said politicians were "in the business of trying to win people over".
Appearing on ITV's The Agenda, Mr Cameron also said he expected a large turnout in next year's general election because voters faced a "very big choice" between him and Ed Miliband.
READ MORE

Farage Invited To Take Part In TV Debates - But Will Cameron Agree?
He also poked fun at the Labour leader and Ukip's Nigel Farage by choosing an image of them in bed together for the mocked-up front page of a newspaper created as part of a feature on the show.
The Prime Minister warned in his conference speech that voters who "go to bed with Nigel Farage" will "wake up with Ed Miliband".
He said: "We've had the wake-up selfies with pictures of people that have just woken up - very brave. And I told you that if you go to bed with Nigel then you could wake up with Ed Miliband and so I've got the wake up selfie."
Mr Cameron has been criticised in the past for his readiness to pose for selfies - including a photograph taken by Danish counterpart Helle Thorning-Schmidt at the Nelson Mandela memorial event.
He told The Agenda: "I read this thing that 'he never says no to a selfie'. It's quite rude if someone asks you for a selfie and - you know, we politicians are in the business of trying to win people over - to say 'no you can't have one'."
Looking ahead to next May's general election, Mr Cameron said: "The difference between what Ed Miliband wants and what I want is quite profound and I think we will see a big turnout at the next election.
"I think there is a very big choice for Britain."