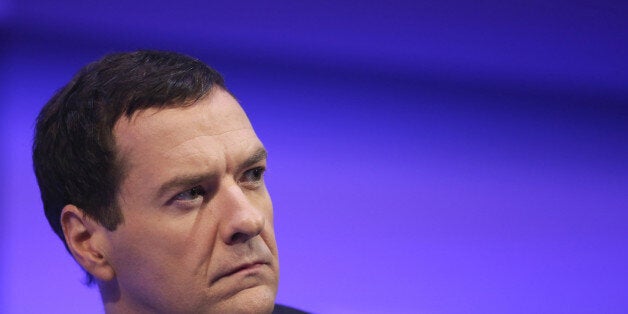 The pay squeeze is not yet over, despite the resurgent economy, as official figures show that inflation is continuing to eat into wages.
The Office for National Statistics revealed that the rate of inflation under the Consumer Price Index (CPI) fell to a five-year low in September of 1.2%, down from 1.5% in August, in welcome news that the cost of living is easing. However, this still means inflation is outpacing the rate of pay growth, so wages are still falling in real terms.
Meanwhile, the rate of Retail Price Index (RPI) inflation - which factors in housing costs - fell to 2.3% from 2.4% the previous month. The ONS also revealed that house prices across Britain rose by 11.7% over the year to a new record high of £274,000, as London led the way with a 19.6% surge.
Labour's shadow Treasury minister Catherine McKinnell warned that "the squeeze on working people continues despite this fall in the rate of inflation".
"Total pay is rising at just 0.6 per cent, which is half the rate of CPI inflation announced today," she added. "Working people whose real wages have fallen by £1,600 a year since 2010 face a further hit if the Tories win the election and cut tax credits again."
Howard Archer, chief UK economist at IHS Global Insight, said: "Earnings growth will likely strengthen only gradually over the coming months, owing to still-appreciable labour market slack."
"We expect earnings growth to gradually trend up over the coming months, with the gains accelerating as 2015 progresses - as sustained decent economic growth, easing slack in the labour market and optimism in the outlook causes a growing number of employers to lift pay."
The ONS last month noted that wages were still being eaten away by inflation as pay excluding bonuses grew by just 0.7%, the lowest on record, in the last year. "This reflects low pay growth across a wide range of industrial sectors," the statistics body concluded.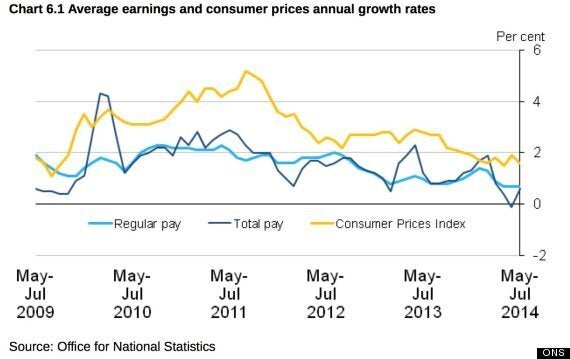 The ONS chart shows inflation is still eating away at your pay packet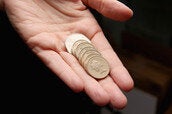 10 Facts George Osborne Wants You To Ignore Now The Great Depression Nears An End