The Islamic State group has substantially less support in Arab nations than it does in European countries, including Britain, according to a new report into attitudes towards the brutal jihadist group.
Just 3% of Egyptian expressed a positive opinion of the IS, only 5% of Saudis, and under 1% of Lebanese respondents showed any support for the group. It does not mean, the researchers point out, that there is absolutely no support for IS in those countries as the small percentages add up to around 1.5 million people in Egypt, 500,000 in Saudi Arabia, and a few thousand in Lebanon.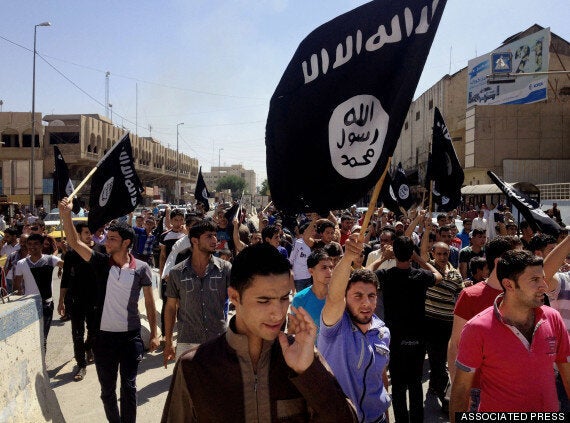 Demonstrators chant pro-Islamic State group slogans as they carry the group's flags in front of the provincial government headquarters in Mosul
But the report is in stark contrast with an August poll on the same topic for ICM, which found that 7% of citizens responded favourably to IS in Britain. To put that result in context, just 5% of the British population are Muslim, meaning a vast number of those surveyed feeling either "very" or "somewhat" favourably towards IS were not Muslim.
In France, the figure was dramatically higher, with 16% of French citizens saying they have a positive opinion of IS, spiking at 27% for those who are aged 18-24. In Germany, it was far lower, with around 3% expressing a positive view.
The timing of the surveys may go some way to explaining the gulf in support. The ICM survey took place this summer, and was conducted prior to some of the group's most high-profile atrocities like the beheading of Western journalists James Foley and Steven Sotloff, and aid workers David Haines and Alan Henning. The Washington Institute poll in the Arab nations took place in September.
The Washington Institute research said that other hardline Muslim groups had far greater support, with one third of Egyptians expressing support for Hamas, and more than half of all Saudis. But in Lebanon, only one-fourth have even a "fairly positive" view of the Palestinian movement.
In both Egypt and Saudi Arabia, "favourable attitudes toward either the Iranian or the Syrian government barely make it into double digits," the researchers said, though with the caveat that among Shiites in Lebanon,both the Iranian and even the Syrian governments have a 96-97% approval rating.
"Washington and its allies need not fear that ISIS might attract a mass following in these nearby Arab societies, or that a strong popular backlash might develop against US airstrikes, or against our other Arab allies in this fight," researcher David Pollock, Kaufman Fellow at The Washington Institute said.
"But the United States would be well advised to target its actions very narrowly against ISIS - not against other Islamist groups that have recently come under American fire, and could well add to their substantial popularity as a result.
"And third, any US overtures either to Assad or to Iran, as potential partners against ISIS, run a great risk both of further alienating the Egyptian and the Saudi public, and of further inflaming the dangerous sectarian polarisation among Lebanese at the same time."
The Washington Institute report surveyed 1,000 people in each country, discounting expats or refugees, the same number as ICM polled in the UK, France and Germany.
Britain is believed to account for about a quarter of all European fighters who have pledged support to IS, and has contributed at least 500 fighters in total, around 10% of them women. Other key regions that are believed to have many fighters in the field for IS include Chechnya, north Africa and the Gulf states.
At least 24 of the British jihadists have died fighting in Syria, according to research carried out by the International Centre for the Study of Radicalisation at King's College in London.
Shiraz Maher from the centre told the Daily Telegraph that figure is likely to be even higher. He warned that news of deaths in the war-torn region would not put would-be Islamic State fighters off travelling there as they "regard it as martyrdom and a victory".
The Foreign Office said it is difficult to confirm deaths as there are currently no consular services in Syria due to the conflict. A spokeswoman said: "We are aware of reports of the deaths of British Nationals in Syria. The UK has advised for some time against all travel to Syria, where all UK consular services are suspended. As we do not have any representation in Syria, it is extremely difficult to get any confirmation of deaths or injuries and our options for supporting British Nationals there are extremely limited."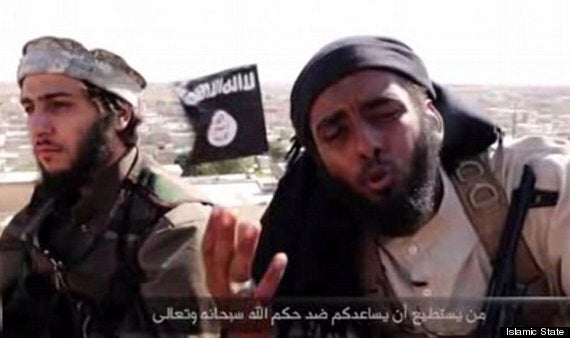 A British fighter has appeared in another video for Islamic State
A video recently released on social media shows three European fighters, British, French and German, boasting how they will "cut off the heads" of ground troops sent to fight them in Iraq, and taunting Barack Obama and David Cameron.
The man speaking in a southern English accent, and calling himself by the pseudonym Abu Abdullah al-Britani boasts: "We will take their weaponry as booty and these people will die. We will chop off the heads of the Americans, chop off the heads of the French, chop off the heads of whoever you may bring." The two other jihadists make similar boasts, in French and German respectively.
Despite various outlandish claims in the video, that "victory after victory Islamic State gains territory", in the last few days the group has lost significant ground to Kurdish fighters in the Syrian border town of Kobane, a few miles from Turkey. IS, which once controlled more than half of the city, has now lost much of the ground it took.
Pentagon Spokesman Read Admiral John Kirby said "hundreds" of IS militants have been killed by dozens of airstrikes.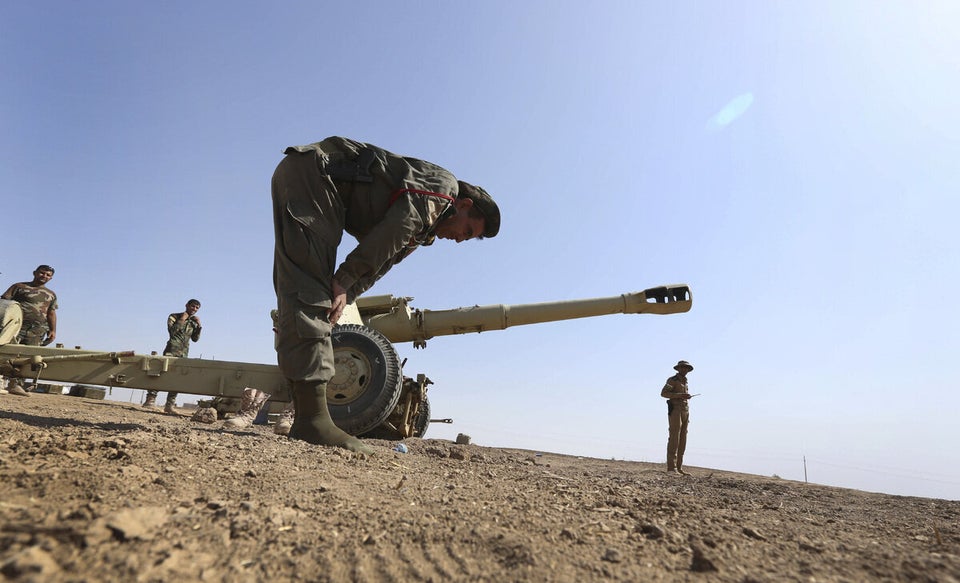 Kurds in Iraq
Related