A US governor refused to appear on stage for a debate last night... because his opponent had a fan and he didn't.
No, not a fan as in a supporter - a fan as in the electric device intended to cool you down.
The bitter battle over the small device took place at the Florida governor's race, which has already been branded one of the most negative in the state's history.
Rick Scott and Democrat Charlie Crist have fought over everything from self-defence laws and the economy to, now, the use of the fan.
The start of the second debate was delayed by about five minutes as confused audience members pointed out that neither candidate was on stage.
While the panelists chatted about the totally bizarre nature of the situation, many took to Twitter to lament the sad state of affairs:
Scott reportedly felt that the fan violated the rule prohibiting the use of electronic devices.
"That's the ultimate pleading of the Fifth I've ever heard in my life," Crist retorted.
Ultimately, the stubborn governor eventually walked on stage, and Crist kept his fan.
Before the debate was over, Crist's campaign had already begun fundraising off the "fangate" incident in an email to supporters: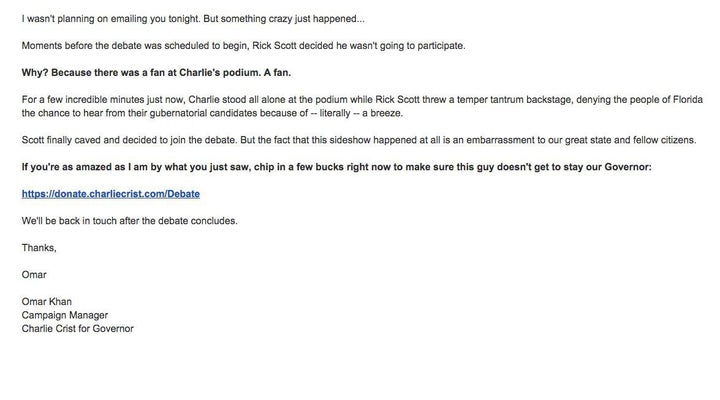 When asked for comment, the Scott campaign's deputy communications director, Greg Blair, referred The Huffington Post to a copy of the debate rules, which specified that candidates "may not bring electronic devices (including fans)" to the debate.
Kevin Cate, a Crist adviser, countered with this: