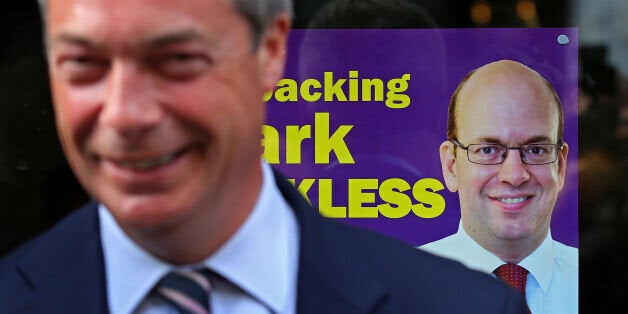 The Farage show hit the Rochester and Strood constituency today, where voters will go to the polls next month after the defection of Tory MP Mark Reckless, in what the Ukip leader has termed "high noon for David Cameron."
Farage joined Reckless on the campaign trail ahead of the election on November 20, claiming that the forthcoming poll is "the most important by-election for 30 years".
The Ukip, speaking on a visit to the Kent constituency said: "This is a very serious, important by-election.
"I think it's the most important by-election in British politics in over 30 years.
"The result of this matters a lot and that's why the Prime Minister was saying things yesterday we haven't heard him say in the nine years he has led the Conservative Party."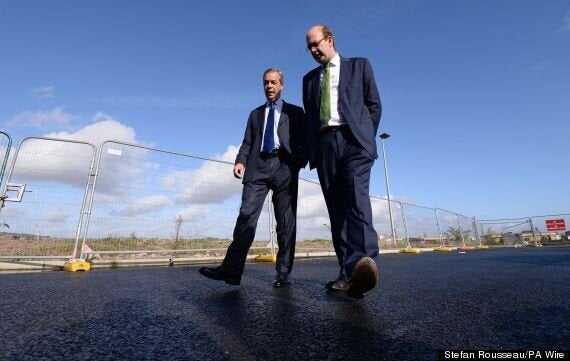 Ukip leader Nigel Farage (left) walks around Rochester in Kent with Mark Reckless
The eurosceptic party leader was surrounded by fans during his walkabout, while Reckless was left relatively in the shadows, reporters at the scene described.
"I feel like I'm famous," said one woman as she and two friends posed giddily for a photograph with Farage as though they had chanced upon a music or film star on the local high street.
The by-election comes hot on the heels of Ukip's spectacular victory in Clacton on October 9, when Douglas Carswell became the party's first elected MP after defecting from Tories and standing down to fight the seat for the eurosceptic party.
Serial rebel Reckless sent shockwaves through the Conservative Party's annual conference when he followed Carswell in switching to Ukip and resigning his seat on September 27 to force a by-election.
David Cameron has signalled his determination to halt the Ukip bandwagon at Rochester and has ordered all Tory MPs to make at least three campaign visits to the Kent constituency - and Cabinet ministers at least five.
But Farage has said "Rochester is high noon for Cameron," adding that "he'll face a leadership challenge if he loses."
Writing in the Daily Express, the Ukip leader said if Rochester "were to turn purple, the PM may well be handed 46 backbench signatures tolling the end of his political career.
"It really is an existential by-election, both in the sense of a catalytic schism that could break UK politics in two but also in pitching performance politics against politics proper."
The Prime Minister made his first campaign visit yesterday, addressing a town hall meeting in Strood.
In a clear pitch for eurosceptic voters who might be tempted to join Farage's "people's army", Cameron insisted that only he could deliver an in/out referendum on Britain's EU membership after having "one last go" at negotiating a better deal for the UK.
Farage said it was the most crucial by-election since Roy Jenkins fought for Hillhead, Glasgow, in 1982.
"It's important because for Ukip we've got momentum and we want to keep it going," he said. "This seat is apparently the 271st most winnable seat for us so if we can win...wow...we are in a very different place."
He praised Reckless for resigning his seat "as a matter of honour and principle".
He said: "We don't see this in modern politics...he's resigned his seat and said, 'you make the decision'.
"If people don't like what Reckless has done they haven't got to vote for him. But I think a lot of people will respect him for putting his career on the line."
Farage said he thought Ukip have a "very good chance" of winning the by-election. But he said he was braced for "a hell of a fight" and acknowledged that the Tories "are going to throw the kitchen sink at it".
He added: "Let's not get carried away with this. (We are) not going to count any chickens until they are hatched."
As Reckless and Farage made their way along Rochester High Street in the shadow of the town's famous Cathedral, Reckless didn't have a prayer of competing.
As Farage and his entourage made their way down the road it was clear who the star of this show was, and it was not the man who wants locals' votes in the by-election next month.
"Go on Ukip," shouted one man from a pub as he spotted the party leader and avowed smoker whose distinctive throaty laugh announced his arrival to those gathered ahead.
Farage chatted with diners sat outside cafes while pedestrians stopped him to chat.
One man appeared set to engage him in serious discourse when he shouted "Nigel".
But when the politician turned round to shake his hand, the man moved his thumb to his nose and his pinky finger in the air in a derisive gesture. Farage took the joke in good humour.
Finally the pair arrived at campaign headquarters at the other end of the High Street. There Ukippers were preparing busily while two elderly men discussed the forthcoming poll animatedly outside.
Not all of Rochester was gripped by Farage fever, however. One local trudged wearily into a cafe, rolled his eyes and said simply "Farage" when a member of staff inquired. "We've got weeks more of this," added another diner.
Earlier, as Farage toured a local cab firm next to Rochester rail station, two young men were smoking as they waited for their train and asked members of he media what the commotion was about. When told Farage was in town, one replied: "Who's that?"
But Reckless' defection has got many people in the town talking politics.
"It's political war here," said Steven Filmore, a 53-year-old grocery shop worker who has lived in Kent all his life.
"Everyone wants everyone else's votes. They are bending over backwards.
"Reckless has caused havoc. It (the defection) is a big mistake, I think. It will be a close run thing."
Whether they joined in or not, locals could not miss the attention Farage attracts.
Lawrence Grima, 58, who runs Carter's gift shop, said: "I think it's got to be the celebrity thing. He's very clever. He's got a big personality."
Away from the Farage bandwagon in the town centre, one local said Ukip were his tip as he waited for a bus.
The man, who did not wish to be named, said: "I think Ukip will get in. I hope so. I would come out of Europe."
People are "fed up" with the main parties, he said, adding that he did not think the electorate would be bothered by Mr Reckless's defection.
"I've never voted Tory in my life," he said. "If I did vote it would be Ukip."
Asked about David Cameron joining the campaign trail in the constituency, he said: "That's only because he's worried about losing it."
Popular in the Community