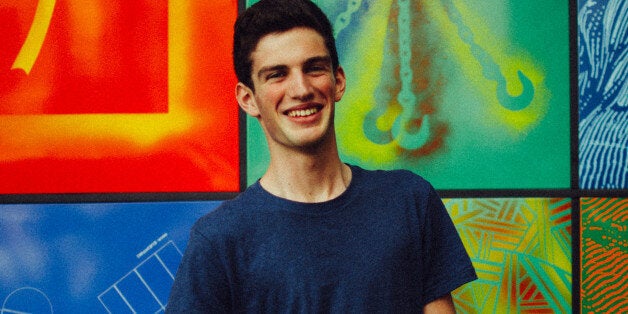 Ed Hardy, 17, was inspired by a love of skiing to go into business with his friend, Kit Logan, setting up an app that they bill as the "ultimate mountain companion app".
The pair's app, Edge, can track your performance along mountain routes using GPS and allows you to challenge friends. The app is intended to make money through resorts and venue operators paying for the data it collects, and by hosting sponsored challenges.
The program, which launched for skiers last year, has already attracted big name investors, like Frank Meehan, the venture capitalist who backed Nick D'Aloisio, the schoolboy who sold its news-summary app Summly to Yahoo for an estimated £20 million in March.
With plans already to expand Edge beyond skiing and into other sports, HuffPost UK caught up with Hardy to find out how he has got into business and more about his ambitions.
When did you first get the bug for business?
I've always liked solving practical problems and understanding why something doesn't work. Since the age of eight I have spent a fair share of my time tinkering on various projects, none of which were particularly successful but all contributed in teaching me how to go about things before embarking on my first 'proper' startup.
Reading has also played a considerable role in first getting that bug. My bedside has always been littered with books from prominent business people and I have gone on to be fortunate to witness many of these people speak in person. As I have increasingly found out, learning from others who have been successful is one of the most constructive things you can do as an entrepreneur. Appreciating the passion and dedication that invigorated other entrepreneurs is critical to even getting going yourself.
How did you go about setting up your business?
I started Edge with my co-founder, Kit Logan. We set out with the ambition of unlocking the vast amounts of data behind action sports and making them accessible to enthusiasts world wide. It was a broad ambition but one, with focus, we are starting to achieve. We launched for skiers and snowboarders last winter and over the course of the season tracked over 550,000km of skiing, and the equivalent of 100 Everest's in vertical descent from a fantastic community of users.
What did you learn in the early days?
It's arguably a cliche now among startup founders but we have genuinely learnt the most from our failings. You never learn until you get past the fear of failure; that way you can frequently push the business and achieve things that would otherwise seem impossible. We've screwed up countless things from our tax return through to core logic behind some of our algorithms. However, as long as we move on quickly and learn that isn't a problem. Our users are on our side, make sure you share the journey with them and they won't mind when you run into difficulties.
The business is doing well. Last season saw us grow into one of the largest snow-sports communities in Europe. However, we've still got a lot to achieve. We are only just starting to capture the ski industry and next summer we aim to expand into other sports. Edge is still pre-revenue as we focus on building up our user base and making the key partnerships that will enable the business to succeed.
What/who inspires you in business?
I'm continually inspired by the people around the business. We are extremely fortunate to have a fantastic advisory body and an exceptional group of investors, all of whom in their own right are inspirational. However, if we worked to what our investors wanted all of the time then we wouldn't have the users that we do. Our users are undeniably the most inspiring thing about driving Edge forward. There is nothing better than getting a call or email from someone describing how much fun they had with Edge or suggesting new features. A large part of our summer was spent talking with users about how we could improve the app. The process was exceptionally rewarding and their passion for something that the team has built is very rewarding.
The first time I saw someone else use Edge on the mountains has stuck with me throughout the development of the business. Unfortunately my German wasn't quite up to engaging the people on the bubble in conversation but it was an undeniably proud moment.
We're only a short way down the road of making people understand the data behind action sports. The sector has really come alive over the last couple of months, particularly with the increasing prominence of wearable technology and the GoPro IPO [Initial Public Offering]. Maintaining focus on the end goal while incorporating these new technologies is going to be critical as we move forward. Watch the next twelve to eighteen months; hopefully there'll be a few product launches on the way.