Significant travel disruption and dangerous driving conditions are expected on Tuesday as the remains of Hurricane Gonzalo reach Britain's shores, the Met Office has warned.
A low level "yellow" weather warning covering much of the UK has been issued by the forecaster for Tuesday, when the worst of the storm will be felt following its predicted arrival on Monday night.
Strong gales of up to 60mph and heavy rain will sweep west to east for around 24 hours, particularly affecting Northern Ireland, Northern England, North Wales, Southern and Eastern Scotland.
The Met Office said: "The remains of Hurricane Gonzalo will move in to the Atlantic in the next few days and then run eastwards across the UK on Monday night.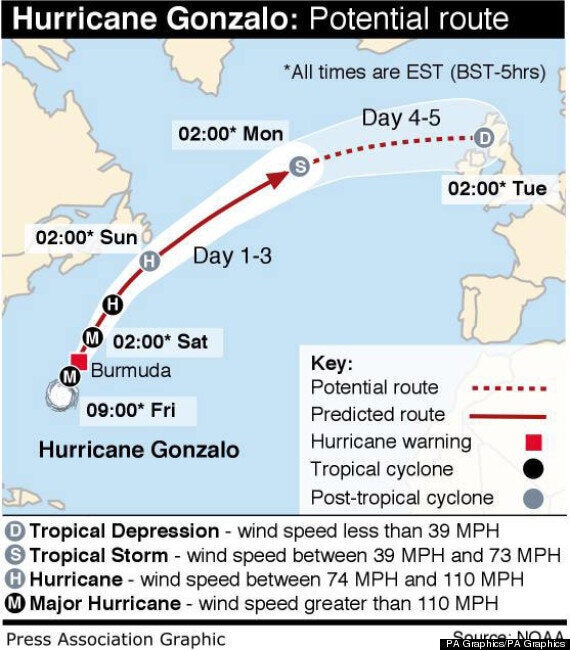 Hurricane Gonzalo has caused widespread damage and a power blackout in much of Bermuda
"Whilst this will no longer be hurricane strength it still looks likely to bring a period of very strong winds and heavy rain to the UK with the strongest winds on Tuesday as the low pressure clears eastwards.
"With the energy in this system and the complex nature of its transition from Hurricane to mid-latitude system some uncertainty remains in the track and intensity.
"However, there is the potential for some significant disruption to travel from the very strong winds on Tuesday, particularly as the strongest winds will coincide with rush-hour in places.
"Difficult driving conditions are also expected thanks to large amounts of spray on the roads and potential for wind-blown debris."
Hurricane Gonzalo has caused widespread damage and a power blackout in much of Bermuda, with the tiny territory braced for significant flooding as a result of storm surges.
The Bermuda weather service had warned residents not to go outside when the storm's calm eye moved in, but some ventured out any way to do quick damage assessments, noting that porches were destroyed and power lines were downed.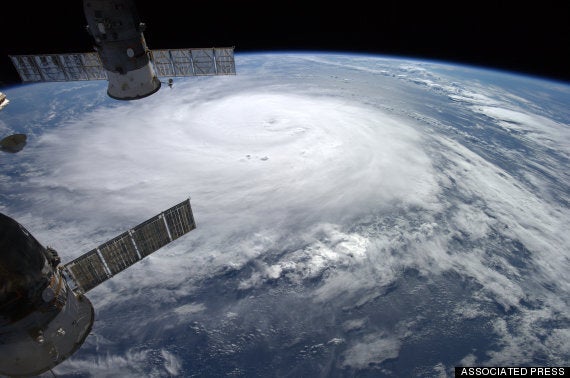 Hurricane Gonzalo as seen from the International Space Station on Friday
Before the storm's arrival, the UK will be unseasonably mild, with temperatures expected to reach 20 degrees but punctuated by showers and gusts of between 40 mph and 50 mph.
Today temperatures could reach 20 degrees before peaking at 21 degrees tomorrow, which the Met Office described as "unseasonably mild" for October.
However, the weather will remain unsettled with intermittent showers, mainly across the west, and winds of between 40 and 50mph.
The Royal Navy frigate HMS Argyll is approaching Bermuda to assist in the relief effort if required, the Ministry of Defence (MoD) said.
The vessel is equipped with a helicopter and a number of small boats to help with reconnaissance and transport, and is also able to assist with power generation, communication and water supplies.
Defence Secretary Michael Fallon said: "Royal Navy personnel are trained to respond to situations such as this and HMS Argyll is well resourced and ready to provide assistance to the people of Bermuda."
Related