Vandals have attacked the controversial new 'Tree' artwork in Paris after many had complained that it looked far more like a... well, just look at it.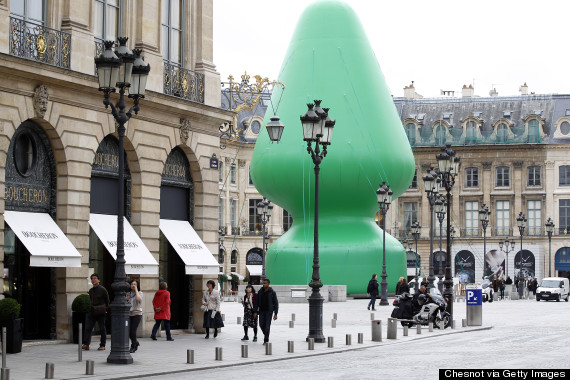 The giant inflatable sculpture by Paul McCarthy in Place Vendôme had caused a global frenzy after being installed prompting the hashtag #PlugGate.
But tragedy struck late on Friday night when the ambiguous structure was attacked.
Jeudi:

Un plug anal géant de 24 m de haut vient d'être installé place Vendôme !

Place #Vendome défigurée !

Paris humilié ! pic.twitter.com/vv7fzZWC62

— Printemps Français (@nelachonsrien) 16 Octobre 2014

Friday night:

Place Vendôme : L'installation de Paul McCarthy saccagée cette nuit. pic.twitter.com/MgTIvYCn18 via @Flosh

— Mathieu Delahousse (@Math_Delahousse) 18 Octobre 2014

Saturday morning:

Le plug a fait pshit ! pic.twitter.com/N4ww9I8kCM

— ArnaudF (@nalan2000) 18 Octobre 2014
A police spokesman said: "Individuals have severed the cables that hold the sculpture in place, taking advantage of a momentary lack of a security guard."
"Investigations are ongoing."
Farnce's Minister of Culture, Fleur Pellerin, called the vandalism "an attack on creative freedom" as well as a physical attack on the artist himself.
Paul McCarthy has a history of fairly provocative artwork having previously displayed a pair of sculptures of George W Bush having sex and a Christmas dwarf holding a tree that looked like, yes you've guessed it, a butt plug.