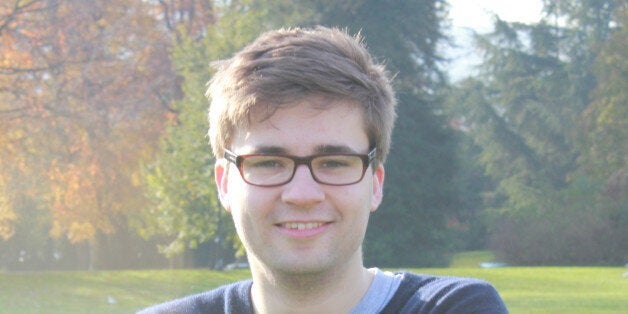 Giles Mitchell, 23, was inspired to start a business by his grumbly tummy, after one too many trips to the vending machine to get a standard chocolate bar.
Office Pantry is backed by Virgin Startup, and now delivers to top firms like BT and Deutsche Bank, but Mitchell is still hungry for further business success.
HuffPostUK caught up with him to find out how he started out and what his ambitions are.
How did you get into business?
I was that kid that sold sweets out of the locker at school, although I preferred to call it a tuck box as it sounded more fantastical. I figured that the other kids never had time to find something to eat during break time or in the five minutes between lessons, so my friend and I started buying sweets at weekends. It was founded on a need for convenience, and the fact that I got to buy sweets in bulk, which meant my habit was subsidised too. Win: win.
How did you get your business idea?
I get quite a grumbly tummy. I would inevitably trudge to the vending machine, hit a number-letter combo and receive my prize...a generic chocolate bar.
One mouthful in and I would always chastise my stomach for not being stronger willed and tut myself for not having planned ahead with something healthier.
So where did the idea for Office Pantry come from? Right there, sat at my desk in the office. Knowing that there must be a way to eat better in a more convenient way, whatever time I wanted it.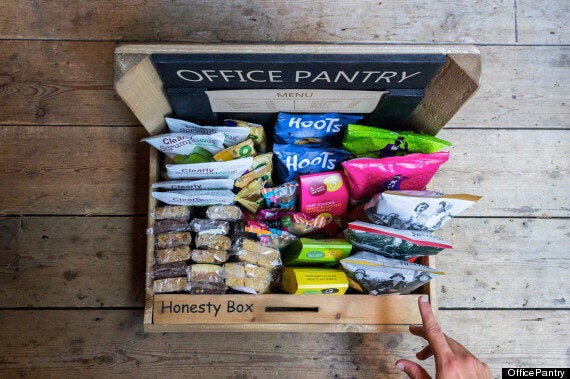 How did you get it set up?
Well fortunately for me, two of my friends at university and now fellow co-founders, Charles & Joe, felt exactly the same about food in the office. So we hatched our plan to deliver food to offices and have been doing that ever since.
To set up, we got ourselves some reclaimed wood, 22 nails, a saw, a hammer and in both Charles and my cases, a bruised thumb, and made our first box. Next we went to a food market and gathered up the most delicious looking foods we could find to put in the box.
At the same time, we wanted to test out the office appetite for such a service, so we also made an honesty box which fit inside the box. This allowed us to knock on our first office, a certain Mr B & Friends, and drop off the box for free, with the honesty box paying for the contents.
It went down surprisingly well, so we made another box and delivered to the office next door too. Today, we are still doing exactly that, making more boxes and delivering to more offices, although I like to think that my thumbs aren't quite so bruised these days.
How's business going now?
Business is going really well. Since starting we have created the brand behind our business, Office Pantry, which we think is a name that makes you think of your grandparents and their pantry. You always knew that there was going to be a treasure trove of treats in there, you just had to pick your favourite.
We have adapted our business model from the early days too. You see as we deliver right across the country, from Edinburgh to Exeter, we couldn't possibly collect the money from all of those honesty boxes. Now we take payment from the offices with each delivery. They tell us what snacks they like, and we deliver them their tailored Office Pantry.
We keep the number of offices that we deliver to very close to our chest, but I can say that we deliver not only nationwide, but also to some big companies. We deliver to Deutsche Bank and BT, as well as a whole host of smaller businesses such as Sports Interactive - for those Football Manager fans out there - and Lovehoney. The best bit is that it goes down really well.
What/who are your inspirations?
I have always been inspired by Sir Richard Branson's brashness. Some of his PR stunts have been so beautifully well timed and executed that you just have to applaud the man. Ever since then that sense of naughtiness has stayed with me. Last February we actually went out and received support from Virgin StartUp for our venture, and they have been incredibly helpful to us.
What's your ambition as an entrepreneur?
My ambition is to have enough freedom to enable me to travel the world and to see everything this wonderful planet has to offer.
If I can do that whilst making other people's lives better, so that they can have more freedom with what they do, then that would be fantastic. I'm a big believer in serendipity you see, which is one of the reasons that we make the Office Pantry as healthy as possible. If we can enable people to eat better then maybe they will be that little bit healthier, and the world that little bit better.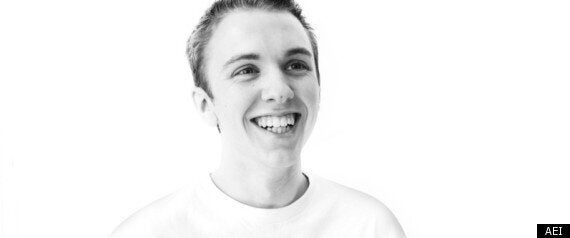 Young Entrepreneurs Who Make You Feel Ashamed