These brutal images show the destruction of an Islamic State flag by an American airstrike on a hill near the Syrian town of Kobani. The pictures show militants planting the flag on Tilsehir hill just moments before an airstrike devastates the area close to the Turkish border.
Since they began last month, US-led coalition airstrikes on Syria have killed more than 500 people, mainly Islamic militants, activists said Thursday. The Britain-based Syrian Observatory for Human Rights, which relies on a network of activists on the ground, said 553 people have been killed since the airstrikes began on Sept. 23, including 32 civilians. The civilians included six children and five women.
The group said it has documented the deaths of 464 fighters with the Islamic State group, adding that the real number could be much higher. Another 57 fighters with the al-Qaida-linked Nusra Front were killed in airstrikes on the northern province of Aleppo and Idlib, the Observatory said.
Many of the Islamic State fighters have been killed in or near Kobani, the target of a massive jihadi offensive since mid-September. IS fighters have captured dozens of surrounding Kurdish villages and forced more than 200,000 people to flee for safety in neighboring Turkey.
Earlier this week, the US Central Command said its forces had conducted more than 135 airstrikes against Islamic State militants in and around Kobani, killing hundreds of fighters.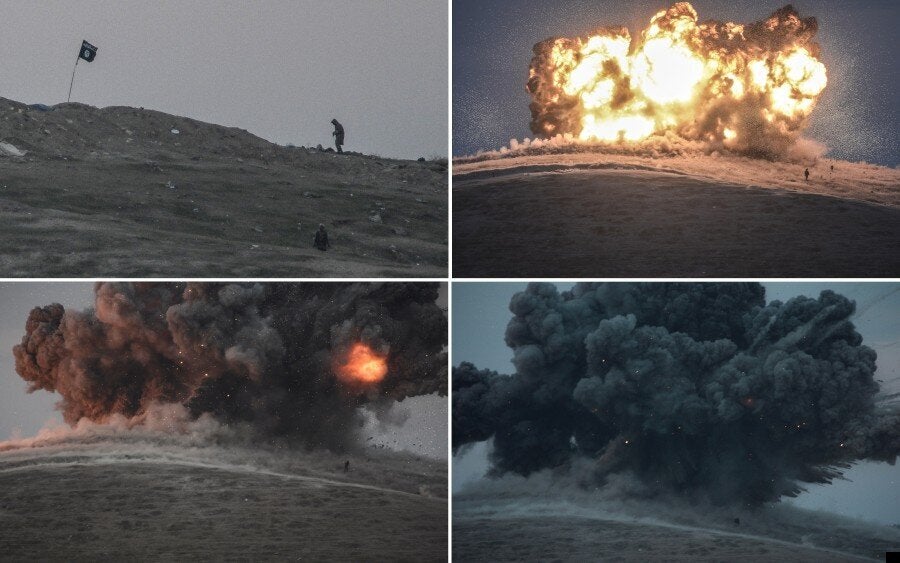 An airstrike blasts a hill near Kobani
"Combined with continued resistance to IS on the ground, indications are that these strikes have slowed ISIL advances into the city, killed hundreds of their fighters and destroyed or damaged scores of pieces of IS combat equipment and fighting positions," Central Command said in a statement.
Also Thursday, Fuad Hussein, the chief of staff for Kurdish regional President Massoud Barzani, told The Associated Press that the Kurdish regional government plans to send some 150 peshmerga fighters to Kobani through Turkey over the next few days to support Syrian Kurds there defending against Islamic State militants.
Hussein said they will be taking light weapons and rocket-propelled grenades, and that they will bring their weapons back with them once the operation is over.
"The fight in Kobani is very important to us," he said. "We are fighting the same enemy. These are also Kurdish people in Syria. If Kobani gets taken by ISIS, then they will also take other Kurdish towns and areas close to the border."
Hussein's comments came a day after lawmakers in Iraq's largely autonomous Kurdish region authorised the deployment of peshmerga forces to neighboring Syria.
An Associated Press journalist on the Turkish side of the border said heavy machine gun fire could be heard from Kobani, which is also known as Ayn Arab, on Thursday.
"The fighting has been ongoing since last night on the eastern and southern fronts. It is some of the longest clashes in Kobani," said Kurdish activist Farhad Shami by telephone from the town.
Shami said the Islamic State group launched an attack from three fronts late Wednesday but failed to advance. Still he said that Kurdish fighters withdrew from the Tilsehir hill that overlooks parts of Kobani.
The Observatory said Islamic State fighters captured the hill, closing in on the town from the west. It said Islamic State fighters are also trying to advance from the eastern side of the town, saying there were casualties on both sides.
The hill was captured by the Kurds from Islamic state fighters earlier this month.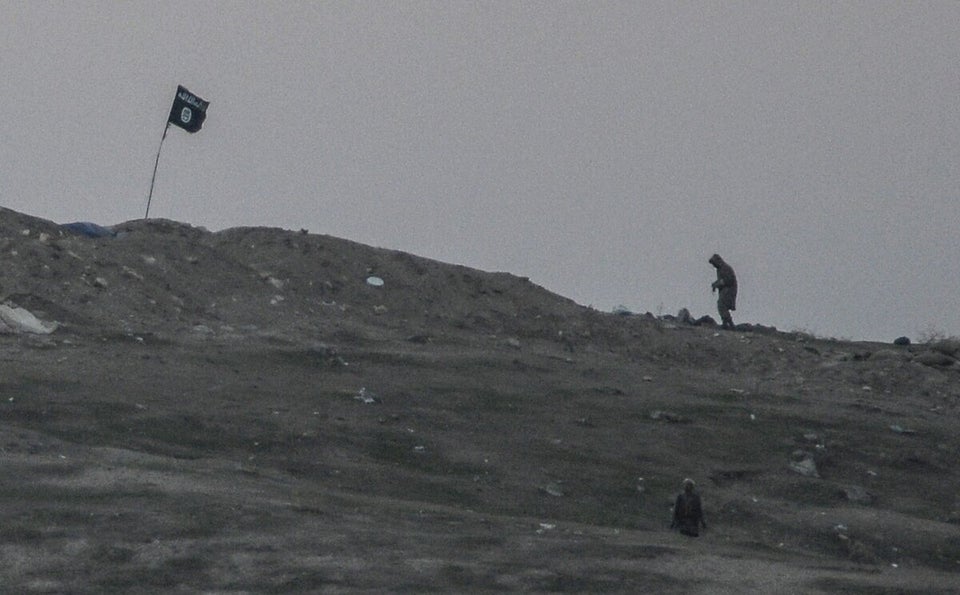 US Airstrike On Kobani Hill
Idris Nassan, deputy minister for foreign affairs in a Kurdish civil administration controlling Kobani, said that although Islamic State fighters moved onto Tilsehir hill, the heavy fighting there was ongoing.
"Kobani has been witnessing fierce clashes since last night. It was one of the bad nights," Nassan said.
Capturing Kobani would give the Islamic State group, which already rules a huge stretch of territory spanning the Syria-Iraq border, a direct link between its positions in the Syrian province of Aleppo and its stronghold of Raqqa, to the east. It would also give the group full control of a large stretch of the Turkish-Syrian border.
NATO's supreme military commander, US Air Force Gen. Philip Breedlove, said in Turkey on Thursday that the alliance is ready to come to Turkey's defense if the situation on its border with Syria deteriorates and it seeks help from the organisation.
He said that NATO had already provided Turkey will a Patriot missile defense system that it had deployed on the border with Syria and was ready to help it face the Islamic State group if needed.
"If Turkey sees the need for NATO to be more involved in the land sense and comes to NATO and asks for those, NATO is ready," Breedlove said in an interview with the AP. "We will work together to face this challenge that we see on the border."
Lt. Gen. Frederick Hodges, the outgoing commander of NATO's Land Command in Izmir, Turkey said returning fighters from Western Europe and North America pose a threat back home.
He said "thousands of these radicalized young men are coming from the United States and Canada as well as almost every country in Europe" to Syria to join the Islamic State group and get experienced.
"They bring that experience. That is a serious threat and I think every nation in the alliance is worried about that. It is something that needs to be dealt with," Hodges said.
The Observatory meanwhile reported four coalition airstrikes on oil wells in the Jafra field in the eastern Syrian province of Deir el-Zour late Wednesday. The Local Coordination Committees, an activist group, also reported the airstrikes in areas held by the Islamic State group.
The US-led coalition has aggressively targeted IS-held oil facilities in Syria, which provide a key source of income for the militants. But such strikes also endanger civilians, which could undermine long-term efforts to destroy the militant group.
The attacks on the oil industry, including refineries, have also led to a sharp rise in the price of oil products in rebel-held areas of Syria.
Central Command said American forces conducted six airstrikes in Syria since Wednesday. It said four airstrikes near Kobani destroyed IS fighting positions and a vehicle as well as a command and control center. Two others destroyed Islamic State oil-holding tanks.
Popular in the Community