When Tamara Hill-Norton opened her first Sweaty Betty shop in 1998 aged just 26, she had no idea that one day her fitness clothing would be worn by women all over the world.
A pioneer in stylish activewear, she is now committed to bringing free, community-based fitness classes to women both in store and online.
She cycles 10 miles per day in rain or snow and is hooked on yoga, running, sailing and skiing. In short, she's every inch the fitness fanatic you hoped she would be.
A wife and mother of three (not counting her beloved dog, Ennis), she is as busy at home as she is at the helm of one the most covetable fitness brands this side of the Atlantic.
So how does she balance work, life and lunging? We talk to her to find out...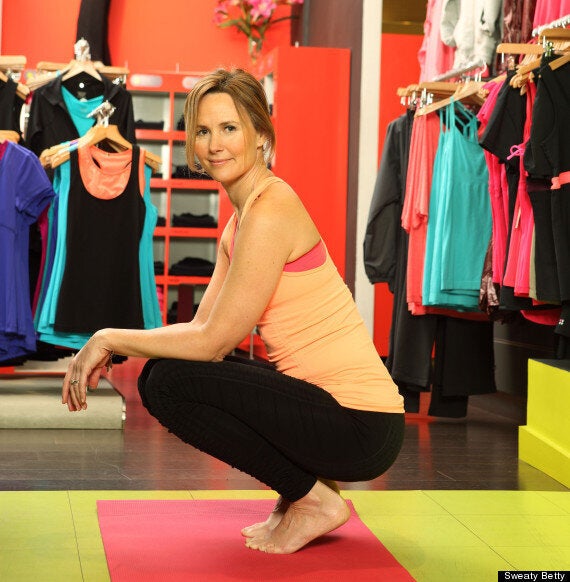 Why you decide to set up Sweaty Betty?
I've always had an active lifestyle. As a family we did lots of watersports and skiing, so it's in my blood.
Then when I moved to London from university and wanted to continue this way of life, but I realised that there wasn't much catering to women.
It a very bleak landscape for women's activewear (there was nothing on the high street, apart from a little patronising women's section at the back of men's sports shops). And there were hardly an independent fitness studios, it was mainly masculine gym chains - full of men grunting over weights.
I wanted to reach out to women who had an active lifestyle. Whether yoga, skiing, swimming or running, I wanted to provide products that could be part of every woman's wardrobe.
I worked for a sports store called, Knickerbox, who had started their own sports range. So I built on my knowledge from there.
I opened the first Sweaty Betty shop in 1998 in Notting Hill. We started selling other brands, such as Nike and Adidas, but after seven years, we decided to create our own label and that's all we stock.
What was your biggest challenge in setting up your business?
The beginning was stressful, I lost a lot of weight. I opened the first shop in November and my only staff member decided to quit, so I was left to run the entire store on my own over Christmas.
I was working seven days per week and put myself under enormous pressure to deal with any problems on my own, without help. I was very proud and passionate, the business was my baby and I wanted to do everything independently.
In hindsight, it was a great experience being on the shop floor: I learned a lot about the customer. But it was hard.
After about a year I took up yoga and started running to keep me. At the time, I exercised at weekends, because during the week all I could think about was work. But now I exercise throughout the week and have learnt to switch off.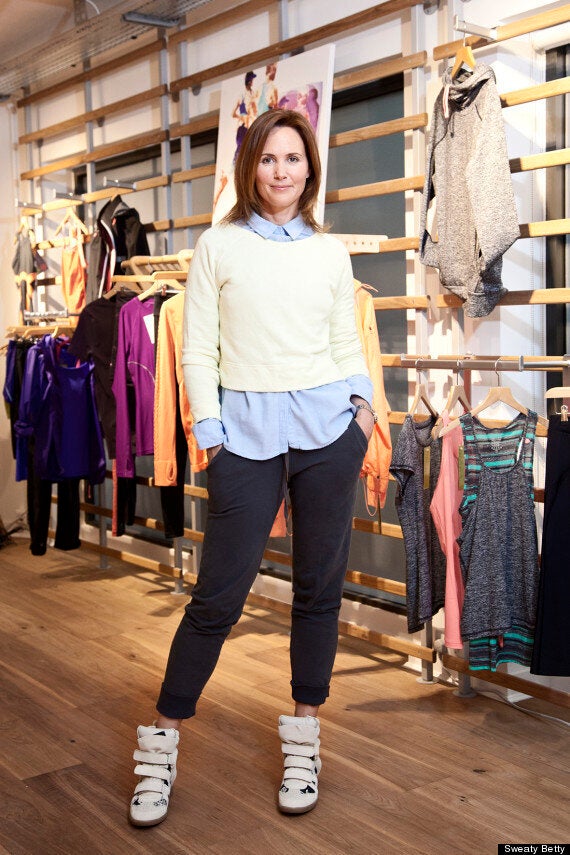 You offer fitness classes to your customers. Why is that important in the evolving - and now somewhat crowded - women's fitness market?
Our mantra is to empower women through fitness, to help women in their journey to getting fit.
We run free fitness classes 2-3 times per week in our 40 stores. And twice per year, we hold month-long campaigns, where we collaborate with experts in industry to bring something different to our customer.
For example with ballet fitness, it teaches them how strong, but graceful and feminine.
We also want to offer more than just fitness. For September's 30-day sweat challenge, we brought our customer meditation, health and nutrition, which offers an insight into the whole wellness package.
Your husband is CEO of Sweaty Betty, how do you find working together?
We're quite a typical couple in retail, Simon is the business and finance brain, while I'm brand and product.
It's always been a good split, we complement each other and respect our different skill sets. The last 16 years have been fun.
We're both really passionate about our work and could talk for hours and hours when we get in at night, but the kids help keep us grounded and maintain a good work-life balance.
He's also on a different floor from me in the office, which helps.
Describe a typical day in your life
I'm very grumpy in the morning. So after we had our third child, my husband and I came to an agreement: he wakes up to do breakfast with the kids and I come down later.
We normally have chia seed breakfast pudding or a green smoothie with coconut water and avocado for breakfast. The kids love it.
I leave the house at around 8:30am and cycle to work along the river. We live in Acton and the office is in Putney Bridge, so it's a good five mile bike ride.
Monday is a very typical day, as I'm in the office. I spend the day catching up with various teams on everything from new product launches and weekly trade, to my blog and new catalogues.
At 6pm the team goes for a run led by one of our ambassadors, ultra marathon runner Annie Fouldes, and then we have a body conditioning class.
When I get home I flop down on the sofa. We usually try to have supper as a family and then I'll catch up with some emails before bed.
How do you let off steam and relax?
We recently bought a house by the beach in West Wittering, Sussex. We spend every weekend there as a family, doing the place up and spending time as a family.
I love waking up and going for a run with the dog on the beach. She's named Ennis, after Jess Ennis, because she was born during the Olympics. She's a Lucas Terrier, and so isn't long-legged or super lean, but she is a keen runner.
As a family we do watersports, cycling, walking, we're very family-focussed. Simon and I want our kids to be brought up with an active lifestyle, it's really important to us as a family.
Related