Scottish Labour's executive committee is due to meet later today to discuss the process and timetable for selecting a new leader after the resignation of Johann Lamont.
The Glasgow MSP resigned as party chief on Friday, launching an attack on senior colleagues at Westminster who she accused of treating Scotland as a "branch office".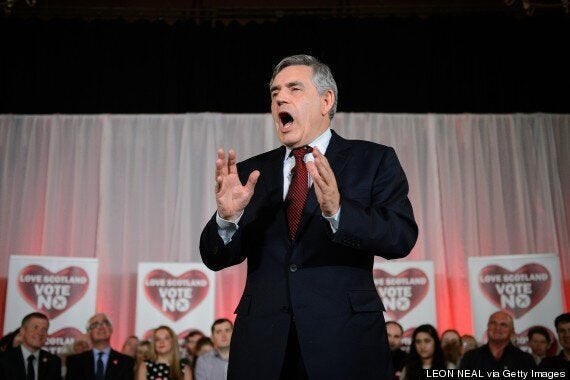 Former British Prime Minister Gordon Brown hosts a rally in Glasgow, Scotland
Among those tipped for the leadership are Jim Murphy MP, interim leader Anas Sarwar MP and several prominent MSPs including Kezia Dugdale, Jenny Marra and Neil Findlay.
Sarwar is expected to set out an agreed timetable for electing the next leader of the party following today's meeting. Lamont stood down claiming her position had been made "untenable" and called for greater autonomy for the party north of the border.
Writing in today's Sunday Times, former Labour first minister Henry McLeish said the party must change, or the result could be Scottish independence.
The Smith Commission, set up by Prime Minister David Cameron following the No vote on Scottish independence last month, is currently considering what further powers should be devolved to the Scottish Parliament.
McLeish said Labour was trailing Scottish public opinion in its thinking on further powers for Holyrood. He said: "For the first time in a generation, people are no longer willing to accept that Labour continues to look at further devolution through the Westminster prism and appears grudging in the concessions it is willing to make post the referendum.
"Electors are unwilling to vote the same way as previous generations. The power of Labour is diminishing and will continue to do so. The Scottish people seem to be further ahead in their constitutional thinking than Labour. This process of timidity and ambivalence may keep Westminster intact but will eventually destroy the Union as Scotland is pushed out on a limb until the branch breaks and Scotland is on its own."
Scotland's First Minister Alex Salmond accused UK Labour leader Ed Miliband of being responsible for the ''meltdown'' of Scottish Labour.
Former Labour first minister Lord McConnell said Ms Lamont had been "fatally undermined" by Mr Miliband.
Referring to the authority of the Scottish Labour leader, he told the Sunday Herald: "It's quite clear from what Johann has said that the issue remains unresolved, and in fact she has been fatally undermined by Ed Miliband and others who have taken action on the organisation without her involvement."
Lord McConnell said the question of where ultimate authority for the organisation of the Scottish party lies must be answered before a new leader is elected.
He told Sky News' Murnaghan programme: "It cannot lie with the leader of the UK party. In the new, modern Scotland it has to lie with the leader of the Scottish Labour Party.
"I am calling on Labour's Scottish executive committee, that meets this afternoon to discuss the way in which to prepare for a leadership election, to suspend that process until this point is clarified.
"There's no point electing that leader if that leader does not have the authority they need to carry out the job."
He said the party was in danger of squandering the opportunity presented by the No vote against independence.
"This should have been an amazing opportunity for Scottish Labour to set out its vision and values for Scotland.
"We are in serious danger of snatching defeat from the jaws of that victory and it really is time for all of those in positions of responsibility to get a grip, to sort out this issue of authority once and for all and then for us to have a debate and the election of a new leader who can take us forward, not thinking about the internal workings of the Labour party, but with a vision to be First Minister of Scotland and help change this country for the better."
Senior Labour backbencher Malcolm Chisholm MSP said it was untenable for Labour to have a Westminster MP as the next leader of the party in Scotland, and to do so would turn a "crisis into a catastrophe".
Asked if he intends to stand for the leadership, Sarwar told the BBC's Sunday Politics Scotland programme: "I want to keep that option open, I want to think it through, but I think it's right that I deal with my responsibility and my responsibility is to keep the Labour family together, to make sure we have a quick process to elect a new leader and we reflect the priorities that Scotland has. That's my only focus today."
He said Lamont's statement that Westminster colleagues treated the party in Scotland as a "branch office" was "not a reflection of how I view it".
Commenting on her claim that Scottish Labour general secretary Ian Price had been removed without her consultation, he said Price had resigned from the position.
Sarwar said he also did not agree with her description of some Scottish Labour MPs as "dinosaurs".
A new group of Labour activists want the party north of the border to make radical changes, such as changing the name to the Independent Labour Party and becoming fully autonomous from Labour's London leadership.
The Labour for Scotland group also supports Holyrood being given full control over income tax as well as complete responsibility for welfare - a position which goes further than Labour's existing plans for further devolution.
Co-organiser councillor Jon Findlay said: "Johann Lamont's resignation has revealed a democratic deficit in the Labour Party.
"Her mandate to lead came from the members who elected her and she deserved respect and support.
"The defining issue of the leadership contest will now be the freedom of Scottish Labour to set its own policies and priorities without Westminster interference.
"This is different from any previous leadership election because we are not just choosing a new leader, we also have to decide what the job really means. This debate must involve everyone in the party from the grassroots upwards.
"The leader must come from the Scottish Parliament and it should be someone from a new generation."
The Scottish National Party has barely conceleaed their delight at the crisis in their rival party. MSP Stewart Maxwell, said: "Ed Miliband and his Westminster coterie apparently had plenty to say behind Johann Lamont's back as they undermined her leadership, but now he must respond publicly to Johann Lamont's resignation.
"Johann Lamont's resignation has lifted the lid on the scale of the infighting between Labour in Scotland and Labour at Westminster and has exposed the shambles that the Labour Party is for all to see – and people understand that the blame lies squarely at the door of Ed Miliband.
"The London-based leadership is pulling the party's strings in Scotland, and Labour campaigning side-by-side the Tories in the referendum, has proved a deeply corrosive combination which is causing Labour support to plummet in Scotland.
"Labour were already a party in crisis, and Johann Lamont's resignation - caused by infighting and deep division - has plunged them to a new low."