South Africa has been plunged into grief and anger after its international team's goalkeeper Senzo Meyiwa was shot dead.
Two gunmen entered a house in Vosloorus township, near Johannesburg, while an accomplice waited outside, before fleeing on foot after the 27-year-old had been shot.
He was later declared dead.
The South African Police Service (SAPS) confirmed this on its Twitter account, breaking its normal protocol.
Its series of tweets read: "We have to brake (sic) normal protocol. We can confirm that Bucs keeper Senzo Meyiwa has been shot and sadly declared dead on arrival at hospital.
"Info at this stage is that 7 men entered the house. There was an altercation. #SenzoMeyiwa was shot. Suspects fled on foot.
"The incident happened at around 20h00, Zamo Section in Vosloorus. Reward of up to R150 000 is on offer 4 any info that can lead to arrest."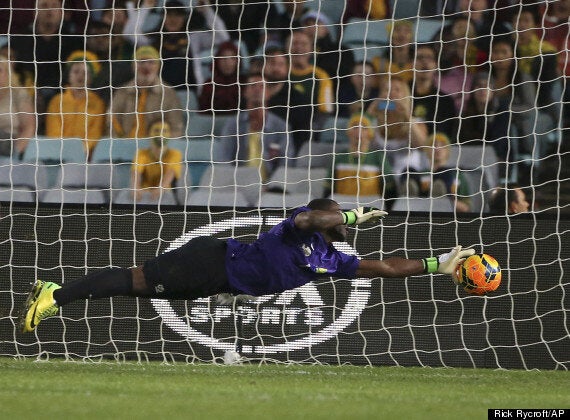 Meyiwa, pictued playing against Australia in May, was declared dead at hospital
The national force said a reward of 150,000 rand, around £8,500, had been offered for any information leading to an arrest.
His club, Orlando Pirates, for whom Meyiwa played on Saturday, then said: "The @Orlando_Pirates family has learned with sadness of the untimely death of our number 1 keeper & captain Senzo Meyiwa."
Club chairman Dr Irvin Khoza added: "This is a sad loss to Senzo's family especially his children, to Orlando Pirates & the nation."
Dean Furman, one of Meyiwa's teammates, tweeted: "Beyond devastated at the loss of our captain & friend Senzo Meyiwa. Thoughts & prayers are with his family & friends at this terrible time."
On Saturday, Meyiwa played for the Pirates in a 4-1 win over Ajax Cape Town, while he captained the national side in its four qualifiers for the African Cup of Nations this year.
Former Tottenham and Portsmouth midfielder and Ghana international Kevin Prince Boateng tweeted: "TRAGEDY!!!! R.I.P. Senzo Meyiwa. My condolences to his family&friends."
South African cricketer Vernon Philander said on Twitter: "My thoughts and prayers goes out the family of Senzo Meyiwa. May you find the comfort in the Lord during this difficult time. RIP."
The killing comes days after Oscar Pistorius was sentenced to prison for shooting his girlfriend Reeva Steenkamp to death - a case that highlighted the country's high gun crime.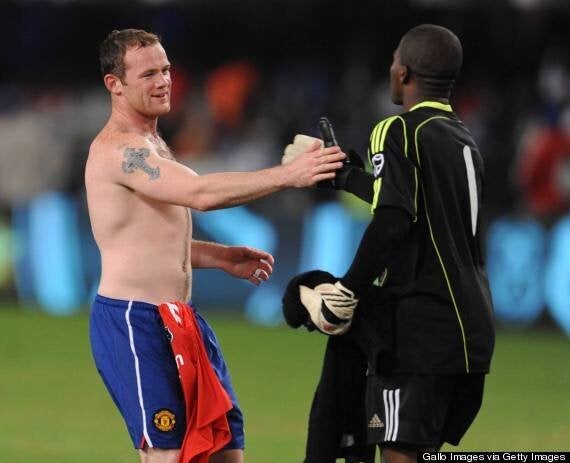 Wayne Rooney with Meyiwa during a match between the Orlando Pirates and Manchester United in July, 2008
It the second death to hit South African sports in three days, as former 800-meter world champion Mbulaeni Mulaudzi was killed in a car crash on Friday. At the time, President Jacob Zuma said "the nation has lost a true hero."
Early Monday local time, the youth league of South Africa's ruling party sent condolences to the families of Meyiwa and Mulaudzi, saying "their premature passing is indeed a great loss to the country and sporting nation."
His girlfriend, pop star Kelly Khumalo,, posted a photo of them together on Instagram yesterday, shortly before he was killed.
She was photographed on Monday morning arrived back at her home, where the crime took place.
Related