Bejay Mulenga, 20, went down a storm when he spoke about his journey as an entrepreneur at the Tory party conference in Birmingham this year.
The young entrepreneur spoke of how he changed from being on the verge of expulsion at school at the age of 12, to making £15,000 selling sweets when he was only 14. After securing financial support and mentoring from government business schemes, Mulenga managed to build a social enterprise - Supa Tuck - which grew to be worth £200,000 by the time he hit 18.
George Osborne later wrote to Mulenga, praising him as an "inspiration" who was "a better advertiser for our start-up loans scheme than any boring government publication". The Londoner has also been dubbed part of the "Generators Z" by the Lucozade Energy drink.
HuffPostUK caught up with the young businessman to find out more about how he got into business, and where he is planning to go next.
When did you first get the bug for business?
I got my first bug for business aged 13, I was given the responsibility of running a talent show for the young creatives in my local youth centre. The organisation who funded the project fully supported and encouraged me to work independently, this enabled me to recruit and manage a small team of young people; they handled front of house, stage management, backstage management, light and sound engineering. I was also responsible for selecting contestants/judges and managing the overall budget of the project; I had to complete a financial report of money made on the night to the supporting organisation.
The whole process game me a buzz to run more events and projects. Still aged 13, I fundraised £35,000 from the local council to rebuild derelict studio and rehearsal space at the youth centre. Whilst at school aged 14, I managed to set up and run my schools first tuck shop, which turned over £15,000 by the end of that academic year. My bug for business continued to grow over the forth coming years and led me to work on several campaigns with marketing agency Livity, some of their clients included Nike and Google.
How did you go about setting up your business?
My first company, Supa Tuck, was set up when I was 16, the company goal was to have trading tuck shops in all schools across the UK within 5 years. I knew my tuck shop model worked and had proven its success over and over again, especially with the lower years that I taught during my first year of trading. However, I quickly recognised the challenges of building a tuck shop franchise whilst still studying for my A- Levels.
The different elements that were required was, different packages for teachers as not every school would want tuck shop for a whole year, having to create lesson plans and understand what outcomes came from my workshops and company programme. Although I owned my own business at 16, I was unable to open a business account.
How is your business doing now?
Supa Tuck has done amazing these past few years with us being able to reach 5,000 young people these past 3 years. We have recently been celebrated for our work in a report called "Enterprise for All" by David Cameron's enterprise advisor, Lord Young, for our effective work with young people.
We are also growing as a brand and have created Supa Academy, a platform teaching young people entrepreneurial skills via workshops, mobile tools and events. The story has reached government and I was invited to speak before the chancellor at this year's Conservative party conference.
Did you enjoy speaking at the Tory conference? Any plans to go into politics?
It felt amazing to share my story, I always love speaking. I do have a keen eye on politics especially when it comes to things that will affect my future, but it's too early to say whether I would formally go into it.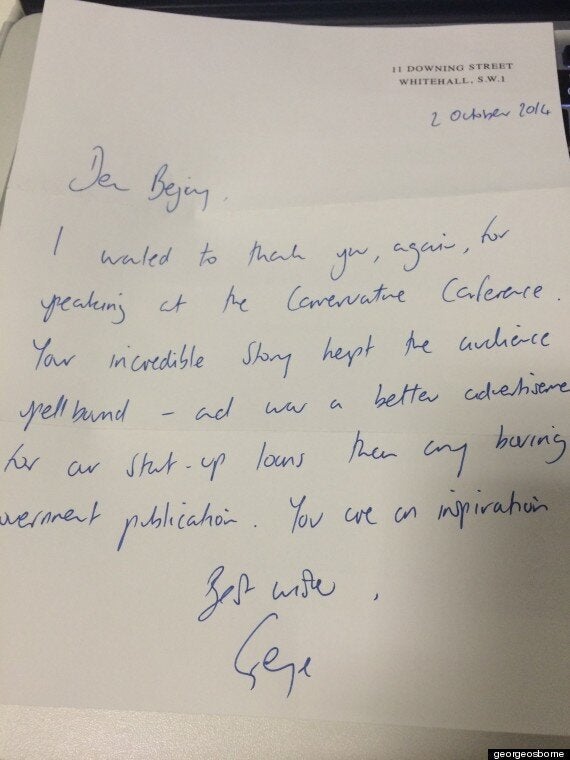 The letter Mulenga received from George Osborne
Who or what inspires you in business?
I would say stories of people overcoming adversity to create businesses that work for them always inspire me. Usually a local entrepreneur with a shop or service business that is providing them a livelihood give me the most inspiration.
I have been inspired by stories of company founders who have put the quality of the product, its innovation and its customers first - people like Elon Musk and Steve Jobs.
What are your ambitions as a young entrepreneur?
My current ambition is to create more exciting ideas and to travel, meeting as many young entrepreneurs and inspiring speakers as possible along the way.
I'm working towards the creation of a huge event where young people over the course of a weekend can learn about business from experts, get to co-create in teams of 10 and make money from live trade. Supa Academy will be launching this concept as the "Retail Hack". 500 young people spread across 50 teams consisting of 10 in each, over three days, learning about starting a business over the first two days and running a retail business on the final day, keeping the money they make at the end.
I'm excited by the prospect of Supa Academy building a mobile app for entrepreneurs in the future and also my other business venture which is going to be distributing content and entertainment in China from 2015 with my business partner Liam Tootill.
In the longer term, I am interested in working across developing countries and attempting to create localised learning for the young people who lack access to education. This would be housed under my charity Supa Garage and I see it being where I spend a huge part of my career, as there is no monetary value that can replace the feeling you get from really helping some one achieve something.
Social entrepreneurship is the future for my generation of businessmen and women, a lot of my peers and myself personally actually have passion behind what they do, as working for money solely simply isn't enough to keep us going when times get tough.