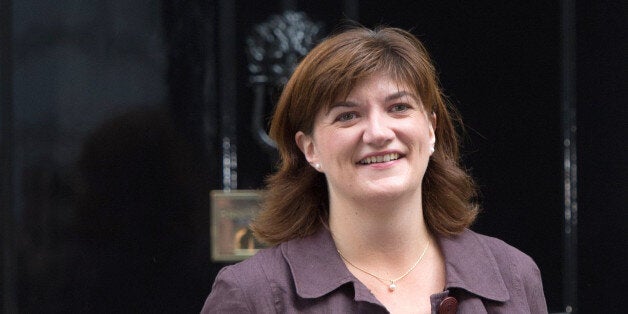 Education Secretary Nicky Morgan, who is also Equalities Minister, has said she would now vote in favour of gay marriage, having previously opposed its introduction in Parliament.
In May 2013 Morgan was one of 133 Tory MPs to vote against the coalition's gay marriage bill. "Marriage, to me, is between a man and a woman," Morgan explained to the Leicester Mercury at the time. "There have been plenty of little changes down the years but what's never been changed is that the fact that marriage is between a man and a woman."
Her opposition to equal marriage meant her appointment as equalities minister by David Cameron earlier this year was met with confusion. Labour described the move as "pretty strange". The prime minister had to move quickly to dampen the brewing row by handing responsibility for implementing gay marriage to skills minister Nick Boles.
But speaking to BBC Radio 4's Today programme this morning Morgan indicated she believed her vote had been a mistake. Asked if she would vote in favour of allowing same-sex couples to wed were the vote held again today, she said: "I think I probably would."
"We're all as Members of Parliament, we're here to represent, to listen, to change minds," she said.
Morgan added she had voted against the legislation due to the number of letters she had received from constituents asking her to reject the change in the law: "At the end of the day as a Member of Parliament I am obviously here to represent my constituents. I had a request of 10-to-one in favour of me to vote against it."
However she said since then a large number of people had contacted her to express support for gay marriage: "I wish that people had come forward earlier to say that 'Actually, we'd like you to support it'. I suppose for some people it was, perhaps, obvious but I think it was something we needed to discuss and debate."
"I have certainly learnt a lot in this job," she said. "I particularly welcome that 1,400 couple's have entered into same sex marriages since we legislated this year."
In an interview with Pink News today, Morgan said she understood the row caused by her appointment. "I do understand why people would think 'hang on a second, she's voted this way on this, which is an important piece of legislation for me, and how is she going to do the job?" she said.
"I think people should judge me by actions and deeds, and not just on the basis of one vote. I think that's what saddens me. It's on the basis of one particular vote. People make an assumption about how I must be. I hope people would find me not to be like that at all."
Perhaps conscious of lingering suspicion about her commitment to tackling homophobia, Morgan appointed Luke Tryl, Stonewall's former head of education, as one of her new special advisers after being promoted to the cabinet.
Morgan was grilled on her gay marriage vote as she announced a new fund to tackle homophobic bullying which she said was "particularly pernicious" and needed to be "eradicated".