In November last year, the then Treasury minister Nicky Morgan was giving a talk at a local school about what it was that politicians actually did. She looked up at her audience of around 100 children dressed in onesies and pyjamas in honour of Children in Need, to see her six-year-old son Alex drawing his hand repeatedly across his neck in a cutting motion. When she asked him afterwards what he had been so desperately trying to communicate to her, he replied: "Mum, you were being really, really boring."
Nine months on, Morgan's landed a job that is far from "boring".
Appointed education secretary by David Cameron on 15 July, Morgan was part of a small handful of female Tory MPs promoted in the reshuffle - and dubbed by the Daily Mail as the Downing Street "catwalk". Despite securing a plum position in the cabinet, however, it was the employment minister Esther McVey who dominated the front pages and the airwaves while the Westminster chatter focused on the surprise demotion of Michael Gove, rather than the woman who replaced him.
That will have suited Morgan just fine. Beneath the radar, with little public fuss, the 41-year-old lawyer has risen from newly-elected backbencher to secretary of state in the space of just four years.
Her appointment was met with a collective scratching of heads. The Daily Mirror rattled out a 'Who is Nicky Morgan? 9 things you need to know' list. While The Times Higher Education Supplement asked simply" 'Who is Nicky Morgan?' And The Guardian's tongue-in-cheek Pass Notes column went for 'Who is Nicky Morgan? Well, at least she isn't Michael Gove.'
Yet despite her lack of public profile, her impressive ascent was not unexpected in some quarters. "It was pretty obvious she was going to rise meteorically through the ranks," one Tory MP observes, pointing out her close ties to both Cameron and George Osborne, the chancellor. "She is one of DC's favourites."
The former City lawyer was seemingly picked out as a star early on. Cameron visited her Loughborough constituency three or four times during the 2010 campaign, recording a personal video endorsement along the way. These days, a Whitehall source relays, Morgan "has been seeing the prime minister regularly as minister for women and has had lots of personal access. She's a great communicator, she has handled briefs before and she is going to play a big part".
With an overall Tory majority still something of a long-shot, leadership gossip is never hard to stumble upon. Osborne, the Cameron-continuity candidate, sees his fortunes tied to the prime minister's. London mayor Boris Johnson appears to be forever vacillating over whether to return to the Commons. And Theresa May, while remarkably having only grown in stature rather than be buried by the Home Office, is seen by some as lacking in charm and charisma.
"I genuinely think she could be leader," well-connected Tory blogger and LBC host Iain Dale says of Morgan. After all, she would not be the first female Conservative education secretary to make a unexpected but successful pitch for the top job.
Back in January of this year, when she was still a mere junior minister at the Treasury, Morgan was invited to address a handful of young Tory modernisers in the bar of Westminster's InterContinental Hotel. The gathering was billed as chance to meet, network, have a beer and share ideas.
The low-key affair ended up propelling Morgan's name, for the first time, onto the front pages. Her warning to her audience of activists that the Conservative Party needed to needed to "hate" less if it wanted to win in 2015, first revealed by The Huffington Post, was an unexpected divergence from the loyalist script. Coming at the height of the Tory panic over Ukip, it triggered a debate about the (reactionary) direction the party seemed to be taking.
The remark was a 2014 echo of Theresa May's famous 2002 warning that voters saw the Tories as the "nasty party". As Channel 4 News told it, the newcomer "steps into Theresa May's shoes with a plea for positivity". Conservative Home editor Paul Goodman told Tory MPs that, whether they liked it or not, "Nicky Morgan has a point".
Setting out her stall to those party activists, Morgan said the party needed to take a "positive message" to the country in 2015. She claimed that too often the Tory message was "we're against this, we're anti-that, we don't like them, we don't want them here, we don't want them doing this".
"We've got to think about what motivates us to announce our policies. Are we motivated to announce policies because we hate the person we are announcing about? Or are we announcing it because we are on the side of the person we are announcing about."
May's "nasty party" speech was a deliberate intervention made from a conference stage and intended to jolt the party out of complacency about how it was seen by voters. By contrast, Morgan's informal words, made as a handful of activists topped up their wine glasses, were not designed as a grand statement of ideas or issued as a challenge to her colleagues.
In fact, her softly-softly approach hasn't gone down so well with some veteran MPs. "She hasn't done anything has she?" says one Tory backbencher. "She's kept her nose clean. Can you tell me an original thought she has had on policy or a great speech she has given?"
He is a rare critic of Morgan; it is difficult to find Tories who have a bad word to say about her. A pleasant and calm manner is a theme that is repeated when Westminster types are asked about the new secretary of state. "She's very polite, effective and good at getting everyone around the room together. She's got no airs and graces and cuts right down to the issue," a Treasury source says. "She's very bright, decent, open and affable. Her private office all really liked her."
Her friendliness and charm appear to extend up and down the ranks. "She always says 'hi' when you pass by her in the corridors," says a junior aide to a Tory MP who worked next door to Morgan in the Commons.
And another MP describes her as "highly personable" and "someone people will warm to and like and that is her big wow factor". The backbencher adds: "Teachers will find it difficult to hate her in the way they did Gove. If I had to list her qualities I would say she is clever, accomplished, principled, diligent, wise and lovely."
"Not only is Nicky a nice person, there is something deeper about her. She doesn't follow the pack and has an intelligence and maturity which enables her to respect principle, unlike the Osbornites," says another Tory, disputing the 'Osbornite' label that is often tagged to the new education secretary.
Morgan is said to be good friends not just with Osborne but with Tory chairman Grant Shapps as well, and the frequency with which she was sent out with Shapps to take part in media appearances in the wake of May's local elections didn't go unnoticed. A Tory source concludes, when asked about her value to the party, "she is good news, in my opinion."
Another MP agrees that Mogan's promotion is a regrettable, but perhaps necessary, strategic shift from policy to presentation. "Government strategy is finished. We are not governing any more. We are running into the election. This is all about putting soothing oils on troubled water. Would you change Gove for Morgan if you were going to implement new policy? You wouldn't."
It's a presentational role Morgan seems more than happy with. She once observed: "The tone and the language is important. It's 80% how you say something and only a tiny percentage is about what you actually say."
For Morgan, the messenger is as important as the message. "Empathy, emotional intelligence are absolutely critical," she volunteered to those activists in the InterContinental Hotel. "It's not so much what they [voters] want to hear from us, It's will they want to hear from us. We've got to spend the next 16 months demonstrating we have have something to say. But the way that we say it as just important. We have got to earn the right to be heard."
On the afternoon of 22 July, Morgan was sitting in her new office at the Department of Education on Great Smith Street, in her first full week as secretary of state.
One of Morgan's first duties that day had been to respond to the controversial allegations of a 'Trojan Horse' Islamist plot to take over Birmingham schools. She gave her statement to the Commons while her predecessor, now chief whip, sat by her side "like a boy on the naughty step," recalls one Tory frontbencher.
The change in tone was instantly apparent to all present. "What has been so upsetting about the history in this small handful of schools is that the success of efforts to encourage more British Muslims to take up governing roles has been damaged," Morgan told MPs, eschewing the provocative, 'draining the swamp' rhetoric of Gove.
A cabinet colleague observes of Morgan's approach to the row over Muslims and schools: "She brings sanity not sensationalism to a serious subject." Liberals agree. The Guardian parliamentary sketch of the occasion noted, Morgan "soothed" the House.
Love him or loathe him however, Gove is a hard act to follow. But a former Conservative cabinet minister believes "Nicky has already stamped her own mark."
"I am sure that she will be looking for ways to work closely with teachers and governors to get the best for children at school." Gove brought "passion and total focus on the highest standards in British education" the ex-minister stresses, but adds: "Nicky will want to win the hearts and minds of the profession."
Winning 'hearts and minds', of course, was not Gove's style; he was more 'shock and awe'.
Returning to her office from the Commons chamber, Morgan instructed aides to place a call to the National Union of Teachers (NUT), which, like other teaching unions, had been derisively dismissed by her predecessor as part of a backwards-looking and unreconstructed education 'Blob'. She wanted to reach out to the teachers - and sooner rather than later.
Deputy general secretary Kevin Courtney, standing in for NUT general secretary Christine Blower, who was out of the country, says his conversation with Morgan was "pleasant" and that he got a clear sense that "she wants to be education secretary in a different way".
"Different way" is perhaps an understatement. The new education secretary, in her very first conversation with a union official, agreed to meet with the teaching unions in September to discuss their concerns over teacher workloads and performance-related pay. "It took Michael Gove around six months to get to that position," says Courtney, adding archly: "The fact that she is not Michael Gove will help her."
Courtney believes Cameron has told her to "calm things down [in education] and not be so aggressive. We were pleased to see Michael Gove gone," explains Courtney, "but we obviously want to see his policies moved too."
He may be disappointed. Morgan went to great lengths to praise the work of her predecessor, telling the Commons "the programme of reform goes on".
Gove, agree Tory sources, wasn't removed from the Department of Education because the prime minister stopped supporting his reforms but because Gove himself had become a damaging and divisive figure in the eyes of both teachers and parents. Morgan, they say, was brought in to be more conciliatory and charming without performing any fundamental U-turns on academies, free schools and the rest.
Thus the big question for Morgan boosters is: can the new education secretary pull off the seemingly impossible task of appeasing the teaching unions while sticking to her Govian guns on schools policy?
The NUT's Courtney suggests "if there isn't movement by the end of next term [on the talks] then that will indicate no more movement is possible" and, therefore, further strikes could then be on the horizon.
It's a scenario that Morgan, the un-Gove, the trained advocate, will be be keen to avoid.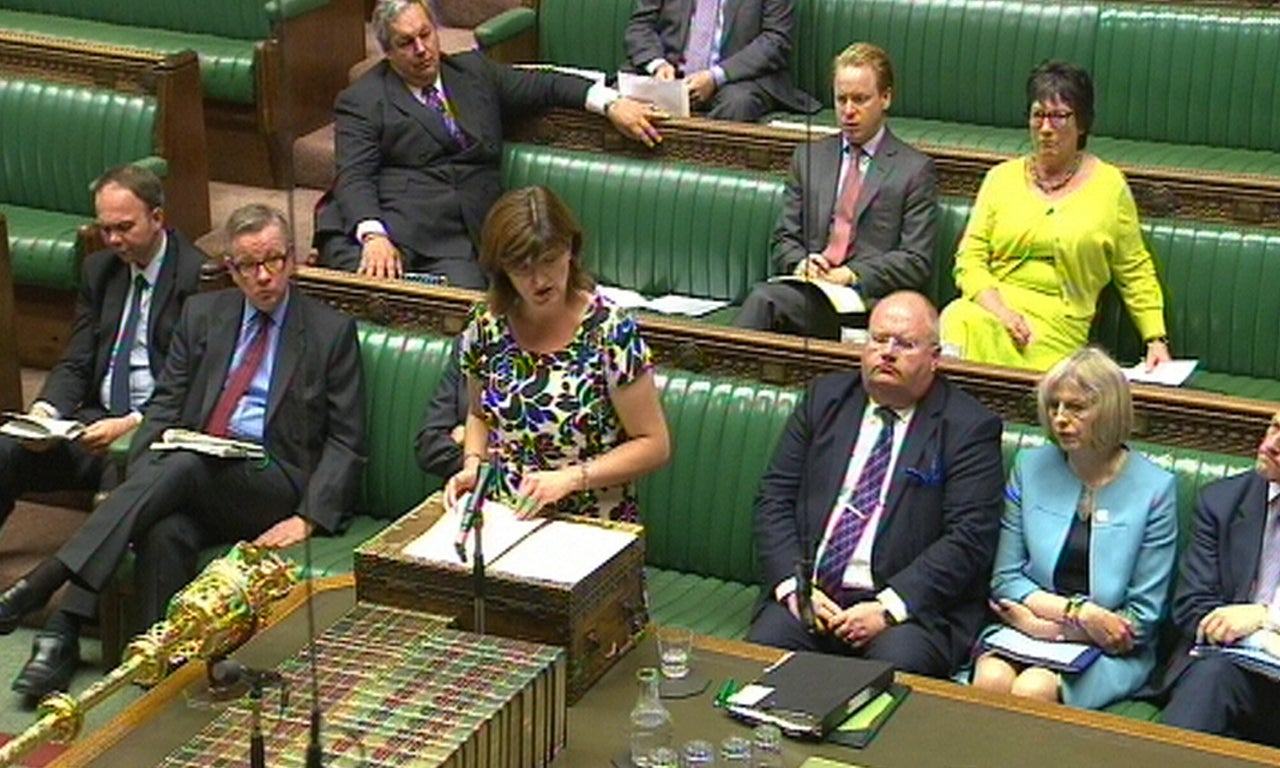 Born in 1972, Nicola Griffith grew up in Kingston upon Thames on the leafy South London-Surrey border, the daughter of Peter Griffith, a local Tory councillor. She went to a nearby private secondary school, Surbiton High School, where she became head girl and went on to read Jurisprudence at St Hugh's College, Oxford.
After qualifying as a solicitor she worked in corporate law in the City, specialising in mergers and acquisitions. In the eight years leading up to her election, Morgan worked for Travers Smith, one of London's oldest and most prestigious law firms. She married architect and local Tory councillor Jonathan Morgan in 2000. In February 2008, Morgan gave birth to her son, Alex, who she describes as "great on the campaign trail" (even if he does find her occasionally "boring"). She is currently one of only two mums in the coalition cabinet - the other is fellow frontbench newbie, the environment secretary Liz Truss.
Unlike the prime minister, who shunned student politics, Morgan was no latecomer to the Conservative Party. She joined the in 1989 at the age of 16 and went on to chair Wessex Young Conservatives. In 2001, she was selected to fight the then Labour culture secretary, Chris Smith, for his Islington South and Finsbury seat. Unsurprisingly, she didn't win. But she was then handed the more marginal Loughbourgh constituency in 2005. After cutting Labour's majority in that election, she returned for a second attempt in 2010 and was finally elected to parliament.
Within weeks, she secured a place on the business, innovation and skills (BIS) select committee. Tory MP Brian Binley has warm words for his former committee colleague. "She was thoughtful; she had the courage to probe."
Morgan did not stay a backbencher for long. She was quickly made PPS to universities minister David Willetts. In 2012, she was appointed a Tory whip in and, in 2013, promoted to economic secretary in Osborne's Treasury. In April 2014, the mini-reshuffle caused by the downfall of culture secretary Maria Miller saw Morgn promoted yet again to financial secretary and women's minister. Just three months later she found herself at the door of No.10 with a beaming smile having just been appointed education secretary by the prime minister. She is one of only three MPs from the 2010 intake - the others being Truss (at Environment) and Sajid Javid (at Culture) - to have reached the cabinet in this parliament.
The message is clear: this is a politician who won't be easily cowed and isn't afraid to take people on.
Most MPs don't do God. Morgan is one of the exceptions. She cites her Christianity as a "reason for doing all these things" in politics. A life long Christian, she "renewed" her faith in 2004 when she was selected to fight Loughborough. "That was a moment to say, not just to sort of be a quiet Christian, but to step up up and say publicly I was Christian involved in politics," she said recently. "Sometimes in public life we haven't give enough thought to the contribution the Churches make."
Morgan takes an active role in parliament's vibrant religious life, including singing as a member of the parliamentary choir. "She did a solo one Christmas, I think in 2011, and sang with gusto," recalls one source.
Despite a Whitehall source insisting he has "never come across any kind of faith [on Morgan's part] coming into it in terms of discussion [of] policy", her religiosity was in fact the trigger for one of the more farcical aspects of Cameron's big reshuffle earlier this month.
In May 2013 the Commons passed the coalition's gay marriage bill. But the legislation triggered a deep split in the Conservative Party. Morgan, despite her closeness to Cameron and Osborne, was one of the 133 Tory MPs to vote against allowing same-sex couples to wed.
"Marriage, to me, is between a man and a woman," Morgan explained to the Leicester Mercury at the time. Citing her Christian faith, she added: "There have been plenty of little changes down the years but what's never been changed is that the fact that marriage is between a man and a woman."
The prime minister's decision to appoint her equalities minister a year later was therefore met with confusion. How could someone who voted against equal marriage be charged with ensuring equal rights? Downing Street reacted by hastily shifted the job of overseeing its flagship gay marriage legislation to another Tory minister, Nick Boles.
Labour, meanwhile, greeted Morgan's appointment as "pretty strange". Shadow women and equalities minister Gloria De Piero said "many lesbian and gay couples will be wondering whether they have a champion in the new equalities minister".
Liberal Tories, however, appear to be ready to let the matter of Morgan's resistance rest. "It's a battle won and the law of the land. No minister has the ability to change that," says the chair of the LGBT Tory group Colm-Howard Lloyd.
And Stonewall is also adopting a wait and see approach. "The previous secretary of state for education was crystal clear that tackling homophobic bullying in Britain's schools was a priority. We very much hope and expect to see this leadership continue under Nicky Morgan and look forward to working closely with her," says Richard Lane, the gay rights campaign group's media officer.
Morgan has also, perhaps conscious of lingering suspicion about her commitment to tackling homophobia, appointed Luke Tryl, Stonewall's former head of education, as one of her new special advisers.
Morgan's appointment as women's minister earlier in the year also worried pro-choice advocates, as she backed a 2011 backbench attempt to change the law so that independent advice be made available to women requesting an abortion. That amendment to the Health and Social Care Bill was seen as an attempt to restrict abortion in Britain, and the then shadow public health minister, Diane Abbott, accused its backers of trying to "import American sensationalism" to the abortion debate.
So is Morgan a culture warrior, a Christian conservative? Perhaps not - some observers point to the cold electoral calculus at work in her decision to oppose gay marriage. "She's got quite a big Catholic vote up there," says a well-informed Tory backbencher.
Morgan won Loughborough on a 4% swing from Labour. Her 3,744 majority will be a prime target for Ed Milband in 2015. But Conservative Campaign Headquarters (CCHQ), by all accounts, will not give her up without a fight. "The party is going to protect her at all costs," a MP predicts.
However some Tories grumble that Morgan would have secured a bigger majority had she spent more time in the constituency and less time courting the party leadership in London.
Morgan will inevitably see her rise measured against that of Margaret Thatcher - the former Tory prime minister that the new education secretary cites as a "great inspiration". And of course Morgan may simply have no interest in No.10. "I don't see that she's that way inclined," a long-serving Tory MP says.
But not everyone is convinced Morgan's career will peak at the Department for Education. And any leadership tussle she decided to get involved in would almost certainly see 'less hate' Morgan face off against the cabinet's most powerful woman, 'no more nasty party' Theresa May.
"She has to really prove herself as education secretary in the next nine months or so," says Conservative blogger and broadcaster Iain Dale, who has known Morgan for the past decade. "I don't see it as only one woman having a chance. I'm sure she and Theresa May could both run.
"Theresa's chances are limited because she has no real Commons following but Nicky has time to build that. She is well liked and is much more clubbable than Theresa. I suppose there are analogies to be drawn if she does go from education secretary to being Tory leader, but she is a very different character to Margaret Thatcher. She has a well-developed sense of humour for one thing."
The education secretary could end up being the less divisive and more unifying candidate in a future Tory leadership race. "While she's not an uber-moderniser she's certainly no headbanger. In short, she's a communicator and she's level-headed and moderate - at least in Tory terms," says professor Tim Bale, a leading historian of the Conservative Party.
In April 2013, Morgan became the first female Tory MP to run the London marathon. She compared the long slog around London to life in Westminster. "A marathon is as much mental as it is physical and think that is true," she said. "You do have a couple of miles in the middle when you have to dig deep. Politics can be a bit like that. It is a bit of a long haul. You've got to dig in for the long haul."
Asked why she had decided to take part in such a gruelling race against more experienced athletes, her reply offers an insight into what her political future may hold: "It's a challenge and it's there."
Mehdi Hasan and Asa Bennett contributed to this report