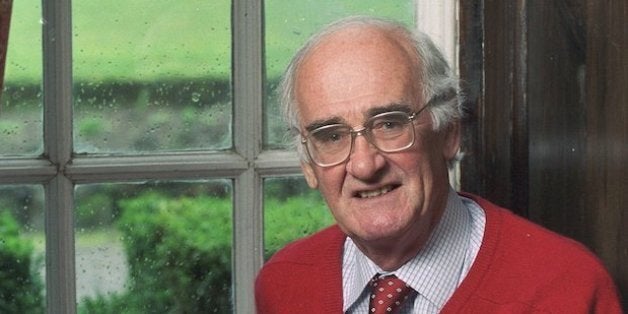 A senior member of Margaret Thatcher's cabinet has revealed he voted for Ukip at the last European elections.
Sir John Nott, the former Conservative MP who served as defence secretary during the 1982 Falklands War, told The Huffington Post on Tuesday he voted for Nigel Farage's eurosceptic party in May.
The lifelong Tory was MP for St Ives from 1966 until June 1983. He divides his time between West London and the South West of England. His son-in-law is Hugo Swire, the Conservative Foreign Office minister.
According to one senior Ukip source, Sir John, now 82, dropped into the party's Rochester by-election headquarters on Friday, but insisted he was not about to join the party, telling activists: "I'm not defecting. I'm not defecting."
Another party source in Rochester said Sir John "looked around and took a few leaflets" and spent ten minutes in the HQ's "backroom" with party officials. The source added: "He told us he voted Ukip in the Euro elections."
Asked whether it was true Sir John, who also served as trade secretary under Thatcher, told HuffPost from his Chelsea home: "Yes, I did."
Sir John said he had voted Ukip in the European elections but would not be doing so at the general election.
Earlier this year he told the Daily Mail that he admired Farage's achievements. "Singlehandedly he's threatening the oldest political party in the country," he said. "Though I don't like their immigration policy. The Poles have saved this country. If you want a plumber, you have to find a Pole. And you can't go anywhere in London without being served by a lovely Polish girl.
In 1999, the then Conservative leader, William Hague, appointed Sir John to head a commission tasked with opposing Britain's membership of the single European currency. Tony Blair, then prime minister, was advocating Britain's membership of the euro.
The by-election in Rochester was triggered when Tory MP Mark Reckless defected to Ukip. Polls suggest he is on course to capture the seat, handing Ukip its second ever elected MP. A Ukip win in Rochester would spread panic through the Tory benches and trigger fears in Downing Street that other Conservative MPs may choose to jump ship to Farage's party.
The Conservatives are throwing the kitchen sink at the constituency, in an attempt to ensure its candidate Kelly Tolhurst is elected and the Ukip bandwagon is stopped in its tracks.