Sexual exploitation of children has become "normal" on some streets and estates in Greater Manchester, according to a new report described as "alarming" by Home Secretary Theresa May.
And the inquiry, led by MP Ann Coffey, suggests child sex abuse may have been fuelled by the increased sexualisation of youngsters through explicit music videos and so-called "sexting", selfies and Instagram.
The independent report from the Labour MP for Stockport was commissioned by Tony Lloyd, the Greater Manchester Police and Crime Commissioner, to see what has changed since the Rochdale case in 2012 when nine Asian men were jailed for grooming girls with alcohol, drugs and gifts before forcing them to have sex with multiple men.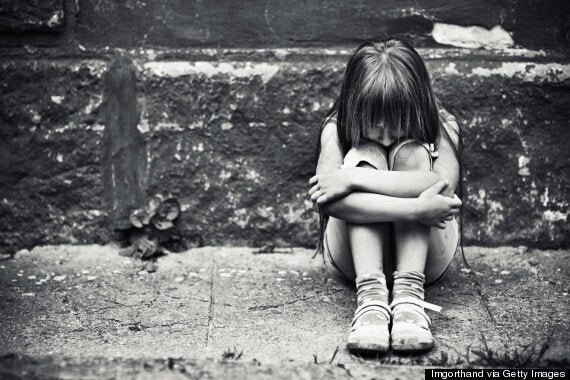 Child grooming has become a 'social norm' in Greater Manchester neighbourhoods, the report said
Ms Coffey said: "My observations will make painful reading for those who hoped that Rochdale was an isolated case. This is a real and ongoing problem.
"I have been concerned about the number of people who have told me that in some neighbourhoods child sexual exploitation had become the new social norm.
"This social norm has perhaps been fuelled by the increased sexualisation of children and young people and an explosion of explicit music videos and the normalisation of quasi-pornographic images.
"Sexting, selfies, Instagram and the like have given rise to new social norms and changed expectations of sexual entitlement, and with it a confused understanding of what constitutes consent."
Some schoolgirls told her they were regularly approached by older men in the street and urged to get into cars on their way home from school.
Such approaches were "part of everyday life" because it had become normalised.
The report also showed that more than 3,000 children under the age of 18 have been reported missing in Greater Manchester this year.
One in five children and young people who go missing from home or care is at risk of serious harm, with "major concerns" about the links between children running away and the risks of child sexual exploitation, it said.
Figures prepared for the report by Greater Manchester Police (GMP) showed that 3,242 under-18s went missing from January to September 17 this year, generating 9,789 reports. Of those, 539 were children looked after by the local authority, generating 4,520 reports - almost half of all incidents.
The report recommends "spot checks" on children's homes to see if they are adhering to the new government guidance.
Home Secretary Theresa May said: "This is yet another disturbing report which highlights unacceptable failings by authorities at a local level to ensure the protection of children.
"The report's findings about the scale of child sexual exploitation and attitudes towards it are particularly alarming."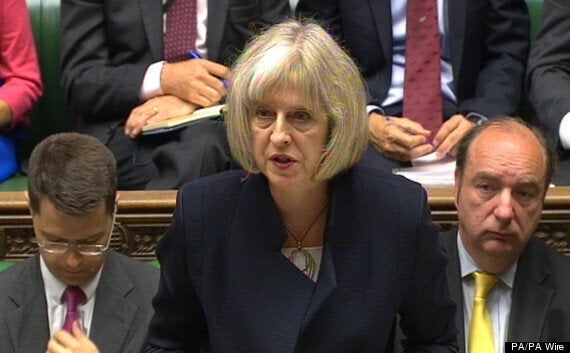 Theresa May said the report was 'disturbing'
The Home Secretary has already announced an independent inquiry into child sexual abuse in public bodies and yesterday said a public consultation will be held on whether teachers, doctors and other officials should be under a duty to report any suspicions - or face the law.
She added: "But with every report published, it becomes clearer still that the operational response of the police, children's services and other local agencies has not been good enough. We must never accept a situation where police forces and local authorities fail in their fundamental duty of care towards vulnerable children."
Ms Coffey's report said the problem will not be tackled unless there is a "sea change" in public attitudes away from a culture of blaming children and young people for bringing about their own sexual exploitation.
Ms Coffey said: "Young people are still too often being blamed for being a victim. We need to get across the key message that whatever young people wear and however sexualised they appear, they are still children and need our protection.
"Unless we get a change in public attitudes it will be difficult to protect children."
The central recommendation of the 148-page report, titled Real Voices - Child Sexual Exploitation In Greater Manchester, is to adopt a radical new approach to tackling the problem led by young people, which recognises that the police, justice system and children's services alone cannot succeed in protecting children.
Ms Coffey said: "Police, social workers, prosecutors and juries made up of ordinary people, all carry attitudes around with them. This could go some way to explain why in the past six years in Greater Manchester there have only been about 1,000 convictions out of 13,000 reported cases of serious sexual offences against under 16-year-olds."
In one case, the Crown Prosecution Service highlighted that a victim wore cropped tops and in another had been described as a "slag" by her father.
Both cases were declared "No Further Action".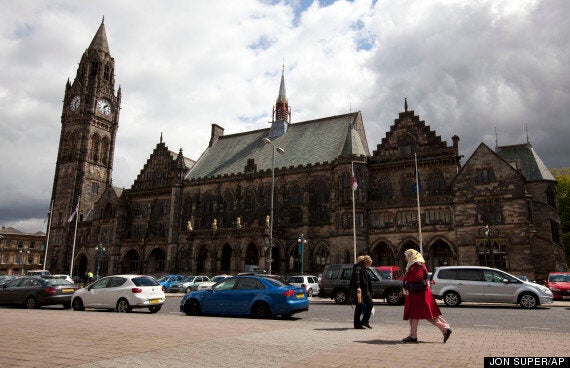 The report was commissioned after an appalling abuse scandal in Rochdale, Greater Manchester
Figures obtained from GMP as part of the inquiry reveal there are 260 ongoing police investigations into child sexual exploitation. This includes 174 recorded crimes, of which 18 involve multiple perpetrators.
GMP also received 2,286 pieces of intelligence relating to child sexual exploitation in the nine months between March 2013 and January 2014.
But Simon Danczuk, Rochdale's MP, said he failed to recognise the report's claim that GMP had made progress on child sexual exploitation since the high-profile case in the town in 2012.
He said the report "lacks the independence needed to confront the deep problems in GMP that have allowed far too many paedophiles to get away with terrible crimes".
He added: "The report recognises 'positive changes' by GMP post Rochdale but fails to acknowledge that GMP are subject to more investigations into alleged mishandling of rape cases by the IPCC than any other police force in the country.
"It fails to acknowledge that Her Majesty's Inspectorate of Constabulary currently have 'significant concerns' about the way GMP deal with vulnerable rape victims.
"And it fails to challenge GMP on the lack of progress made in Rochdale on Operation Doublet, a major operation into child sexual exploitation that's been running over two years now.
"These are all huge issues and I'm not confident that we're really seeing the clear change in culture that's needed. This is the only report suggesting the police are making progress and it's the first report commissioned by GMP.
"All other reports have been critical and argue there is still an enormous amount of work to be done. I readily accept that other agencies must improve and that GMP can't solve everything on their own.
"But the police are the most important agency in tackling child abuse. They're the people that victims look to in order to put offenders behind bars and make the streets safer.
"That's why we cannot be complacent about progress. We need to keep a very close eye on how the police approach this crime."
Bernadette Oxley, NSPCC Regional Head of Service for the North West, said: "It's deeply worrying that sexual exploitation has now become so common in some areas that children see it as part of normal life. And it's even more disturbing they feel they have no way of protecting themselves from this insidious type of abuse.
"There seems little doubt that the growing sexualisation of children is helping feed this dreadful abuse which leaves some of its victims in fear of their lives and suffering mental health issues.
"Ann Coffey is absolutely right that we must listen to children, especially those at risk of becoming enmeshed in the terrifying web of sexual exploitation which they can find so difficult to escape."
The scandal in Rotherham was just on of several in recent years, with similar cases in Oxford and Rotherham.
What the report on the Rotherham child abuse scandal actually said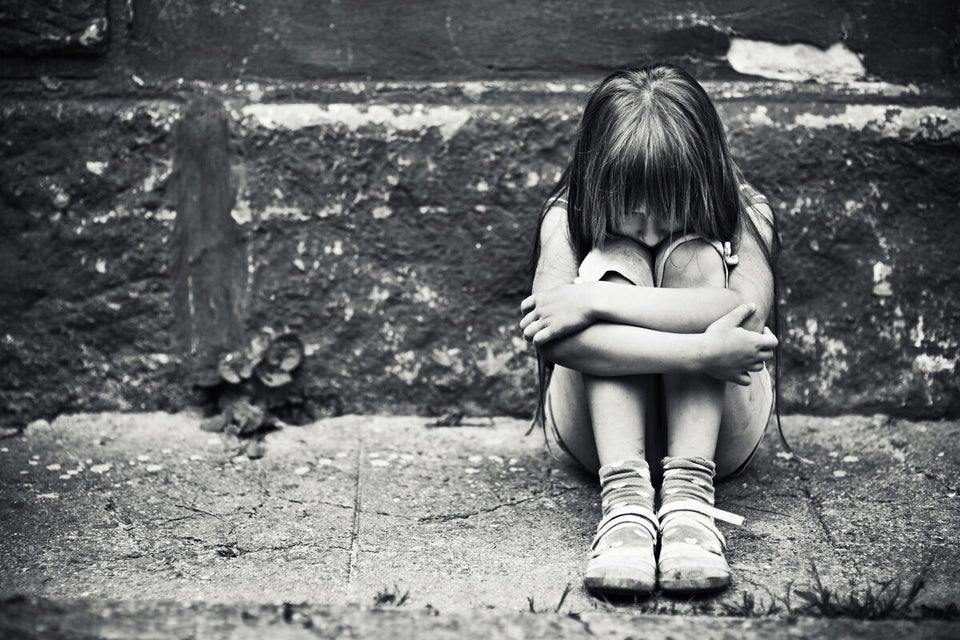 What the Rotherham abuse report actually says
Popular in the Community