We all love a fright at Halloween, and we particularly love a fright involving creepy dolls, demonic possession and children.
So suggests the list of the most-shared horror movie trailers of all time, compiled for The Huffington Post UK by social video company Unruly.
It reveals the most-shared trailers globally across Facebook, Twitter and blogs, since YouTube launched. Some have been shared more than two million times.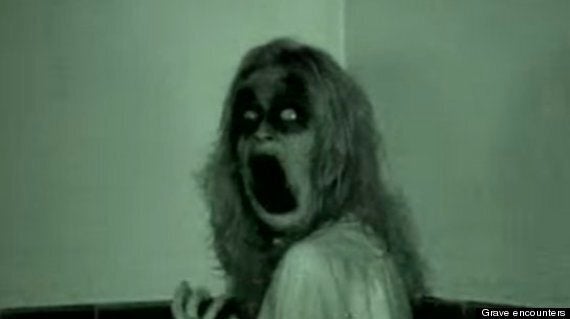 The terrifying trailer for the 2011 film Grave Encounters makes the list
A robot demon baby on a rampage and a telekinesis incident in a coffee shop top the list: suggesting that stunts designed to go viral could take over from traditional trailers, made from a compilation of clips from a film.
David Waterhouse, head of content for Unruly, said: "Telekinetic Coffee Shop Surprise and Devil Baby Attack perform well because they manage to boil a feature-length film to a catchy, shareable visual device."
Just your average day in a coffee shop. This clever ad for the remake of telekinesis thriller Carrie has been shared 2,357,040 times.
An animatronic "devil baby" goes for a ride through New York in a remote controlled buggy. The stunt went viral - with 2,148,112 shares - and probably horrified some people out of having children for a while.
3) Grave Encounters (2011)
A ghost hunting reality TV show goes horribly wrong, and of course it's all captured on camera. This video has been shared 1,842,021 time.
A film released for Halloween 2014 makes it to the fourth spot. Before "The Conjuring," there was Annabelle - and she was a very, very frightening doll. Annabelle's official trailer has racked up 675,125 shares.
5) Annabelle teaser trailer (2014)
Another hit for Annabelle - the two-minute teaser trailer for this year's film has been shared 525,340 times. It shows the scene where John gives a vintage doll to his pregnant wife Mia. Their home is then invaded by members of a satanic cult, and things don't get much better.
6) The Devil Inside (2012)
This demonic possession trailer has been shared 515,979 times. A woman witnesses a series of exorcisms to find out what happened to her mother, who allegedly murdered three people during her own exorcism.
Guillermo Del Toro's disturbingly surreal horror movie is the story of young girls who supposedly lived alone in a forest for five years after a tragedy. The dark fantasy trailer has been shared 296,867 times.
A strong 257,466 shares for this story of a cursed child possessed by an ancient spirit, which her father battles to free her from.
Don't mess with a Ouija board is the lesson from this new film - but its characters don't follow that advice. 154,489 shares puts this trailer at number nine on our list.
10) Paranormal Activity 4 (2012)
Five years after a woman killed her boyfriend, sister and husband and disappeared with their child, weird events start happening. The trailer for the fourth in the Paranormal Activity series has now had 135,808 shares.