Throughout November, The Huffington Post UK is running its Beyond Belief series, chronicling the remarkable lives of Britons who've taken on their faith to create a force for change.

"Disaster." When you've just applied to be the first ever imam for the British armed forces, at a time when it's fighting two wars in Muslim majority countries, that's not an encouraging word to hear from one of your peers. Especially when it's the only word he says.
But Asim Hafiz is not the sort of man who is easily deterred. At the time he was a full-time Muslim chaplain in the Prison Service, one of the first, and he saw a half-page advert in the Muslim News asking for people to apply to become an imam for the armed forces.
"I thought 'wow! I could do that'," he says of the advert. It was 2005, the Iraq War was raging, and in the next year British forces would enter Helmand in Afghanistan and begin to suffer serious casualties. Hafiz had no previous connection with the British military. And what followed was a painful initiation into military life.
"There was a lot of sensitivity in the community at that time. I sort of asked around, I asked my peers, saying 'we should apply for this post because it's unique and it's important that someone who's capable gets it because it's possible this could go horribly wrong'. Everyone said to me, 'no, no, no, you can't work for the armed forces'. They didn't understand what the armed forces were about."
Did that view hold any sway with him? "I've always been a bit of a rebel," he laughs. "When people tell me to go that way," he gestured in one direction, "I go that way," he says, gesturing in another.
A natural contrarian, opposition from his friends actually strengthened his desire to do the job, he says. "I felt a sense of calling, a sense of duty, to apply for this post because it was very important. I prayed about it, it took me a little bit of time to fill in the application because I was still a bit unsure, but eventually I did. I haven't really looked back. I wouldn't exchange it for everything else."
The decision took remarkable fortitude, not least because of what two of his peers said. One imam, on hearing Hafiz was going to work with the military, "basically froze". "The only word that came out of his mouth was 'disaster'," Hafiz says. "As if I'd sold my soul to the devil or something." Another imam, whom he knew from his Prison Service days, went up to him and said: "I really feel sorry for you because you work in a very hostile environment. You work with people who are trained to kill."
Nine years later, we meet on the eighth floor of the Ministry of Defence's Whitehall headquarters. And despite objections and opposition from fellow Muslims, he has no regrets, and is convinced Britain's Muslims are coming around to his point of view.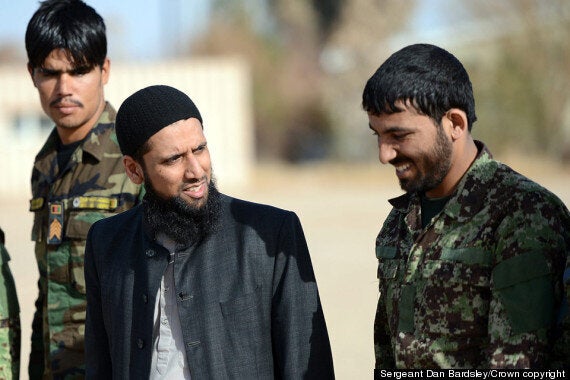 Hafiz meeting Afghan troops at Camp Shorabak in Helmand province
"They were not pleased," he says when asked what his friends and colleagues who had advised him against applying for the job thought when he went through with it. "There wasn't the understanding of what the armed forces were about. The challenge was - they mixed up politics with the role. The role is about supporting Muslims serving in the military, but also providing guidance to the chain of command. Just because someone joins the military, that doesn't mean they lose their soul. Culturally and religiously, they need to be cared for the way the military was already looking after the spiritual needs of Christians and Jews."
He draws an analogy about how chaplains give pastoral care for prisoners without condoning what they have done when debating the matter with his former colleague from the Prison Service: "It wasn't about condoning violence or war, it was far from that. It was about educating, supporting, about being a representative of my faith," he says. "It's been nine years now, I think people have appreciated through that engagement with them, through building bridges… people have appreciated what the role was about."
The decision to originally become an imam was strongly influenced by his father, both in spirit and name. Hafiz was born in east London in 1976 and grew up in a religious household, where his Indian-born dad was an formative influence. He was a Hafiz - someone who committed to memorising the Quran in its entirety, lead prayers and take on duties in the mosque. "That generally inspired me and nurtured me to look to the same path," he says.
At 13, he went to Islamic boarding school where he studied for 10 years, qualifying as an imam at 23. Appointments at two east London mosques soon followed, along with part time employment as an NHS chaplain, and it was inside the walls of a hospital that Hafiz realised working at a mosque was "preaching to the converted"
"I realised there was a lot more out there, in terms of supporting people in different situations, that's when I started to explore chaplaincy role a bit more." He soon left the mosque to become the first full-time imam at Wandsworth Prison, as part of an early recruitment scheme by the Prison Service.
Even with the hands on experience of working within the grueling and combative environment of the Prison Service, there was very little to prepare Hafiz for the grim realities of war. But his most memorable success with the armed forces, also serves to underline the even starker differences being a military imam and working in a mosque.
On July 1, 2006, just months after Hafiz became a military imam, 24-year-old Lance Corporal Jabron Hashmi was killed in Afghanistan. Out of 632 Britons killed in Iraq and Afghanistan, he was the only one who was Muslim. Hafiz sighed when he began describing the case and was hesitant. "It was only six months after I had taken on the role. If I were go to my spiritual side, why was I recruited six months beforehand? ...I feel that, maybe at that time, that's why I was recruited - for that particular purpose.
"Why did God want me around at that time? And that particular role in supporting his family, for them to know the armed forces had provided someone who would make sure their son is looked after religiously, properly, that the family has someone to turn to."
He attended a joint memorial service held for Hashmi, and a colleague killed in the same attack, representing the Muslims present. He says his time with the NHS and in prisons helped inform him how to be a chaplain but he added: "Nothing prepared me really for Jabron's death."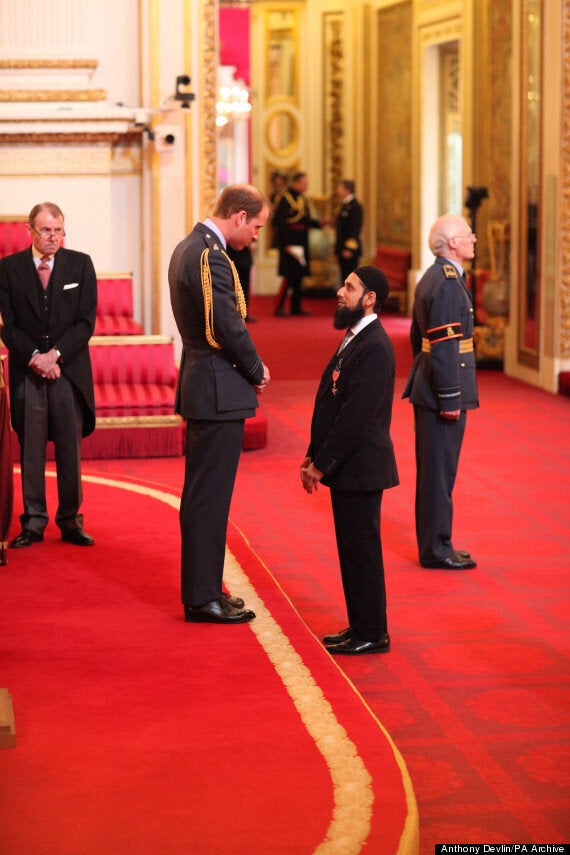 Hafiz receiving his OBE from Prince William this year
In 2010, he went to Afghanistan for the first time, meeting with the locals.
"They had a certain perception about Britain and the armed forces. But when I walked into a tent with around 20 Afghan mullahs and engaged with them, their view about Britain and the British military was totally shattered. That was another defining moment for me. I was able to build that bridge, in a very small way, between the population and the British military. They realised there's an imam in the forces, they have Muslims in the British military, there are mosques in the UK."
He returned home at the end of the two-week trip and immediately found an email that said: "No need to unpack." So commenced a series of of visits to Afghanistan that culminated in a seven-month deployment in 2012. His activities included lobbying for Muslim facilities at Camp Bastion, from prayer rooms and halal food, to ensuring the commanders knew what events in the Muslim calendar the locals were celebrating. He has been back three times since then, most recently in January, when he was made an OBE.
What issues does he bring to commanders' attention on behalf of Muslim soldiers? "It can range from one wanting to keep a beard, wanting to fast and the chain of command not really understanding and are asking them to do PT (physical training). Someone might want to pray on a Friday."
Before Hafiz's time, Muslim soldiers struggled to even get halal meat rations in the field. Does he fight with the senior command to bring about such change? "I don't talk about battle. I talk about advocacy," he says, smiling. "It could range from meeting with policymakers, to meeting with a senior NCO [non commissioned officer] on the ground 'Do you know that this policy exists? And that you should be catering for these needs?' A lot of the time it's just about having a conversation. Things have changed and improved drastically."
Hafiz is nothing if not contemplative. He is not afraid - he even appears to relish - mulling over a question before giving an answer. But he is nervous. Throughout the interview, he cleared his throat while contemplating what to say and appeared to rephrase how to put something mid-sentence. He gives the impression of someone who's used to public attention but not wholly welcoming it - feeling the need to be a spokesman, but preferring it were not necessary. He is very softly spoken. In the recording of his interview with HuffPost UK, his voice competes for volume with a relatively high-pitch noise emanating from the room.
Several years ago, he moved from London to Leicester ("I regret it now, London's home to me. I miss it quite a bit," he adds), where his wife of 15 years is originally from. He commutes several times a week to Whitehall, where he has a role as Islamic religious advisor. He and his wife live with their two sons and daughter. When asked how old they are, he simply said: "Young."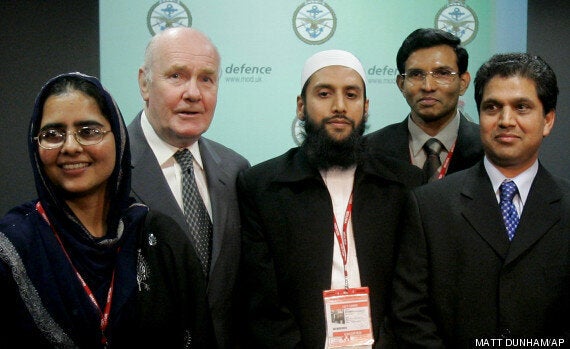 Hafiz on his appointment in 2005 with then-Defence Secretary John Reid (second left) and the newly appointed Sikh, Muslim, Buddhist and Hindu chaplains for the armed forces
Back home, he says the initial reaction from Muslims is shock that such a role even exists: "Then I tell them there are Muslims serving in the military and that's a surprise to them because, in their view, there aren't any. They're quite surprised about that. From being surprised and shocked, they get very interested in my role.
"Sometimes, it can get challenging, because the role will be politicised. 'What about Iraq? What about Afghanistan? Isn't this particular conflict against Muslims?' I'm able to say, from my first hand experience of serving with the military for nine years, I've never known the military to go off and do a particular thing based on someone's faith, it's based on government decisions and defending the country and its people."
He added this was another benefit of his post, saying this type of debate "didn't really exist" among Muslims before. "People are a lot more informed about the military. Nine years ago there wasn't much. The reaction could be hostile in the early days. It's been nine years now. It's become part of the furniture. It still raises eyebrows but it's rare now."
He sees no contradiction between the teaching of the Quran and military service. "Islam's not necessarily a pacifist religion. It accepts that unfortunate use of violence sometimes, justly, for the protection and greater good of society."
Hafiz estimates there are between 600 and 700 Muslims serving in the British military. Earlier this year, Labour MP Khalid Mahmood said there were more believed to be fighting with the Islamic State (IS). Numbers for the numbers of Brits who have travelled to fight with them are hard to confirm, but estimated to be well into the hundreds.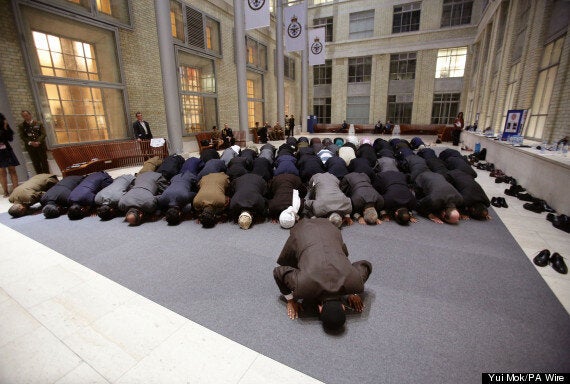 Asim Hafiz (front) leading the Maghrib prayer at the Ministry of Defence in Whitehall, London
Hafiz's answer seems evasive. He condemned IS, saying he's not "comfortable with the comparison" of joining the military and joining IS, also known ISIS or ISIL.
"99.9% of British muslims are not concerned with going out there to fight and are going about their daily lives, working, contributing to society. That's the number that I'd like to focus on. The vast majority are law-abiding citizens who are against terrorism and extremism."
But why are so few joining the British military? The most recent census showed around 4.4% of Britons are muslims, which makes 600 to 700 - out of a total military of around 200,000 - proportionately very small.
His answer is complicated. This a sensitive topic, but Hafiz answered quickly as if he had thought about this before. "We're still on a journey," he began. "There's still a lot more we can do to raise awareness about what the British military is about and how it operates and that's going to take a generation before we're able to do that. We talk about the British muslim population as if it's been here for hundreds of years. Actually it hasn't, it's still in its infancy.
"I speak Gujrati which is the language my parents spoke in India and speak with each other but my son doesn't speak a word. We can see a process of integration taking place. I think once we pass a second generation and we have a third generation grown up, I'm more than sure we'll see a lot more people joining the armed forces.
He added: "The first generation came here for economic betterment. They still had connections with their countries of origin, which were stable or not stable and there were particular perceptions about what the military represents there. When they've come to the UK and they're thinking about careers for their children, they're thinking about lawyers, dentist, doctor or a businessman. The idea of talking about military career is not on the list at the moment."
He said British muslims were increasingly thinking of themselves as "British". "That's the journey. The first generation was split between Britain and another identity. As we move into the second and third - we're a generation 2.5 now - we're no longer having that discussion."
What about Britons fighting for Islamic State who want to return? In recent months, our impression of British Muslims fighting for IS has shifted from blood-thirsty nihilists like 'Jihadi John' to vulnerable young men who make a bad a choice they quickly regret. What should we do with those who go to fight IS but want to come back?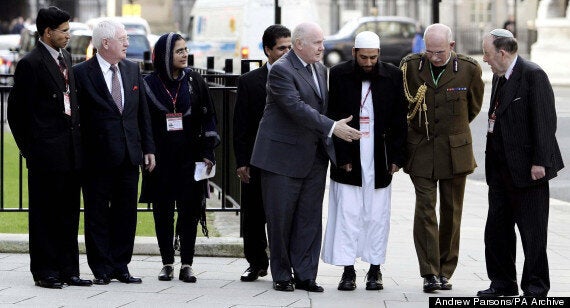 Hafiz (third from right) walking around London after his appointment in November 2005 with new Buddhist, Hindu and Sikh chaplains, as well as the chaplain general and the Jewish honourary officiating chaplain
The atmosphere changed. The silence may have been because a sensitive, complicated question has been asked, or the fact Hafiz was waiting for one of the MoD employees in the room to stop his phone going off, or, most likely, both.
He spoke about "challenging any form of extremism" and British people "working together" to do this, adding that he saw "no justification" in joining IS. The MoD employee interjects, describing this matter as "a government decision". But what does Islam teach Hafiz about this?
"I think it should be dealt with like any other crime. If an individual shows remorse and regret that doesn't necessarily mean they are off the hook in terms of the law," he said, adding a reformed jihadi could be "provided with the opportunity to show he's changed". "British values and Islamic values are very much partners in that particular process where, if an individual shows remorse and regret, they should be given a chance to prove themselves. But that's not at the expense of ensuring the law isn't fully applied."
Hafiz disagrees that Muslims are under particular pressure to honour Britain's war dead. "We need to show we're just as British as everyone else," he said. "I think it's a great thing that there are Muslims out there trying to get their voices heard and if poppies represent this new-found identity, then I think it should be celebrated."
Through the interview, the position Hafiz returns to is the certainty he has that performing his role is morally right and he can talk people who disagree around to his point of view. But what about people closer to home? What about the man who memorised the Quran and inspired him to head down this path when he was just 13? What does his father think about what he does?
Here is the longest pause of the interview. "That's a good question," he said, before laughing and then answering with confidence. "I think initially, he didn't think much of it. He just thought 'well, he's on this journey, he's done healthcare chaplaincy and prison service chaplaincy and now he's going to be doing chaplaincy in the armed forces.
He paused again. "But I think after I started the role, he sort of realised the sensitivity of the role and he was, up to a certain extent, quite proud of the fact that I was the first imam to the forces and that I was trying to do the right thing and a good job in a very difficult environment, in a military environment where religion might not be the first thing people think about."
As part of the Huffington Post Beyond Belief series we want to know how your religion goes beyond just a faith in a God or Gods, or a cultural association. How do you incorporate or use faith in modern life? Tweet us with the hashtag #HPBeyondBelief to tell us in 140 characters and we'll feature the best contributions.