Professor Stephen Hawking is one of the most revered scientists of our age - famous for his enormous brain making sense of the planets and telling us about them in his bestseller 'A Brief History of Time' - and celebrated too for his triumph over adversity with his incapacitating illness that means he is in a wheelchair, and speaking only with the aid of a computer.
But relatively little is known about his early days at Cambridge, and particularly his life-changing romance with fellow student Jane Wilde. The pair met and danced on the quads of the campus... until Stephen was diagnosed with motor neurone disease and given only two years to live.
WATCH our Exclusive Clip above as Jane helps Stephen with one of his mind-boggling calculations about time
'The Theory of Everything' sees Eddie Redmayne in a career-changing portrayal of the professor as he gradually succumbs to his illness, first pushing Jane away and then becoming gradually dependent on her.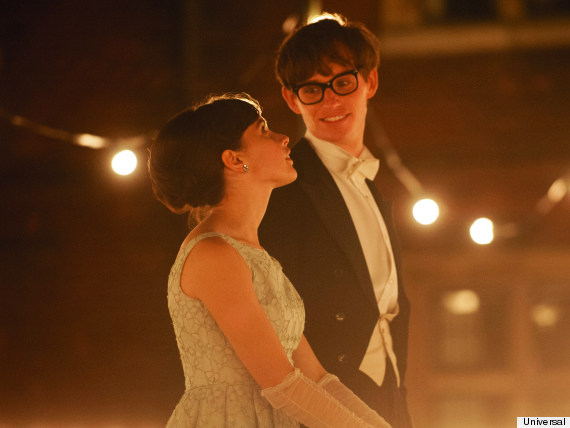 Eddie Redmayne and Felicity Jones star in 'The Theory Of Everything'
Felicity Jones is equally convincing as the determined Jane who, despite her commitment to Stephen and their family, discovers that, with all the challenges of her husband's illness, his growing fame and different interpretation of the world, sometimes love is not enough.
'The Theory of Everything' is in UK cinemas from 1 January 2015. Watch the trailer below...
LIKE US ON FACEBOOK | FOLLOW US ON TWITTER