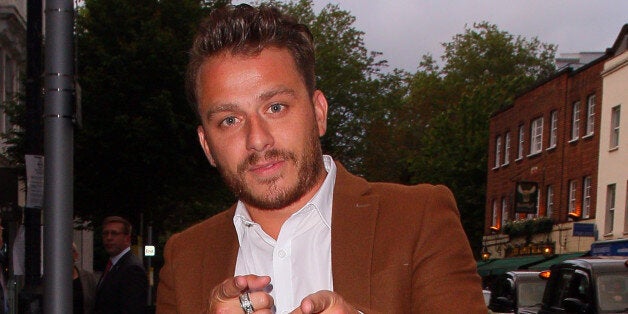 Dapper Laughs has been perfectly picked to shreds in an article that has highlighted exactly why you should not purchase, or even listen to, his new "charity" album.
The "lad comedian" who has been accused of trivialising rape and encouraging gross misogyny with "banter-based cretinism", has released a Christmas Album including tracks about a urinary tract infection and featuring Brian from Westlife.
One chart-flopping disaster, called "Proper Moist," contains pearls of wisdom with lyrics such as "I'll track ya down right / I'll fuck your mum" and "If she's looking at you and playing with her hair by the end of the night she'll need a wheelchair".
Us Vs Them highlighted that if you play the album on Spotify, each stream earns about $0.007 per play - less than half a penny, or £0.004.
Horrified by the accusation that they could be hindering homeless people, the website set out to justify why you should not listen to Dapper's album this Christmas, even if it meant money would be donated to charity.
Firstly, it's worth noting that in his efforts to help homeless people, the album features a song where Dapper shouts at a 'tramp' "you smell like shit".
Secondly, Us Vs Them point out, in the "unlikely event" that the general public were to listen to 10,000 Dapper Laughs songs – the cash raised would only be £40.
The editor of the website aptly responded by personally donating £14 to Homeless charity Shelter, or "£1 for every crap track on Dapper's album" - and the equivalent of listening to the album 250 times.
The publication then encouraged their readers to do the same saying: "Why not donate £1 to Shelter for every track you don't listen to from Dapper's album?"

The controversial "Cockney" (he comes from Woking in Surrey) and proud star of ITV 2's 'On The Pull', then encouraged his followers to target the Us Vs Them journalist behind his album review and tell the publication to "fuck off".
So here, just to give you an idea of the kind of people Dapper is supported by, are some examples of how his fans responded, by calling the author a "slag" and a "whore."
In short, he wrote, the entire oeuvre of Dapper Laughs "represents an avalanche of brainlessness bilging over 21st Century culture like a soft wave of WKD-infused phlegm. His belligerent sexism and veneration of anti-intellectualism is the clarion call of a people shovelling themselves into the excrement of history."
The strongly-worded blog shamed ITV2 by stating that in producing such work "you despise your mums. You despise your daughters. You despise your sisters. You despise your wives. You despise women everywhere if you have helped play a part in allowing this rat-tousled, fuck-spiv to have a platform to pump shit into British society.
"If I could sum everything up in one go it would be this: We don't work in an industry that is somehow separate from reality. What we do is not 'just telly'. We are helping to shape the reality we live in. What we put on the screen has a real world effect. And this show contributes to a culture of abuse that degrades us all - men and women - boys and girls."
Writing in the Telegraph, TV critic Michael Hogan also criticised Dapper's approach: "He's also downright dangerous: legitimising cat-calling, street harassment, manipulative 'pick-up artist' misogyny and the predatory pursuit of 'banging fit birds' to 'ruin them'.
"Dapper's no laughing matter. He's deeply offensive to women and doing all men a disservice."
More recently the comedian was banned from performing at Cardiff University following a petition by students to cancel his gig.
Student Vicky Chandler set up a petition to get the comedian's gig cancelled, and it has since been signed by more than 700 people.
Chandler wrote on change.org: "As a woman of Cardiff University, I cannot believe a man whose jokes centre around the trivialisation of rape, unprotected sex and dehumanising women, is allowed a soap box for his misogyny inside the walls of an academic establishment that claims to protect the rights of its students.
"Misogynistic humour should not be supported by an organisation that stands for equality."
Cardiff University Students' Union president Elliot Howells told Wales Online: "Over the last few days we have been canvassing students views on this issues and they have overwhelmingly told us they don't want him here.
"It was always my personal view that this gig shouldn't go ahead. This gig will not go ahead and similar performers will not be welcomed at our venues.
"We have looked at our policies and will make sure this kind of thing doesn't happen again.
"The views of Dapper Laughs go against our policies and everything we stand for."