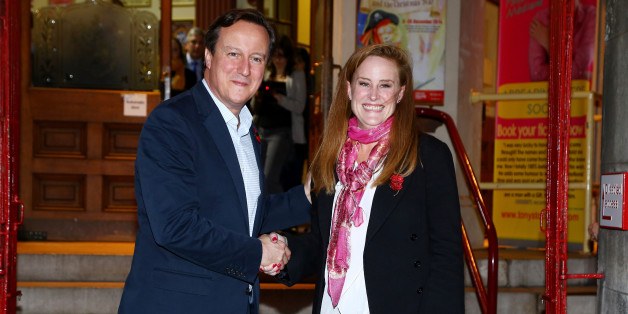 Gareth Fuller/PA Wire
Mark Reckless, the Ukip candidate in the high-stakes Rochester by-election has been accused of being "scared" of women, after he failed to show up to debate his Conservative rival.
The Tory candidate, Kelly Tolhurst, also said if elected she would be "pushing David Cameron for action" to cut "uncontrolled immigration" from Europe.
The by-election, to be held on November 20, was trigged by Reckless when he dramatically defected from the Conservative Party a month ago. And he is on track to become Ukip's second ever elected MP. the Conservatives had initially been confident of defeating Nigel Farage's insurgent party in the Kent constituency, however polls suggest Reckless may win by as much as 15 points.
The Conservative, Labour, Lib Dem and Green candidates took part in a by-election hustings held in the town on Thursday evening. However Reckless, despite being invited, was a no-show. The organisers left an empty chair in front of his name card to emphasise the point.
Tolhurst took a swipe at her absent Ukip rival. "I think Mark Reckless hasn't turned up today because he heard that the candidate for the Conservatives and the candidate for Labour are two strong women and that's what he is scared of," she said.
Tolhurst was responding to a question from an audience member who said Reckless "hasn't even had the courage" to listen to the voters. "Why is the elephant in the room not in the room?" the Rochester voter asked to laughter and applause.
The news that Reckless would not be turning up to the first hustings of the campaign was met with jeers from the audience and a few shouts of "chicken".
Reckless took part in a public meeting with Nigel Farage in Rochester on Tuesday evening. And during Thursday's event he tweeted that he was taking part in three candidate debates and hustings between now and polling day.

Despite Reckless' absence, immigration dominated the hustings. "What I want to take action on is this uncontrolled immigration from Europe," Tolhurst said. "I'm local, I have seen the impact on our services, we do have pressures on our local schools. I've seen pressures on people's wages locally, I am listening to the people of Rochester and Strood, and they want this tackled."
She added: "We've got a hospital that is bursting at the seems, dealing with numbers, we've got roads that are clogged up, we have got pressures."
Tolhurst said the "vast majority" of immigrants who come to the UK "contribute to our economy", but she added: "I want action and I will be pushing David Cameron for action." The Conservative also attacked Labour's candidate Naushabah Khan for the previous government's record on migration. "It was your government that oversaw the expansion of the EU and gave away our borders in Europe," she said.
Labour came second in Rochester at the 2010 election. However the party appears to have given up on the fight this time around. One Labour MP, who has been campaigning in the seat, told The Huffington Post it had "inevitably become a choice the two front-runners". The MP also said Labour voters in Rochester were "going to vote Tory to stop Ukip".
"People do feel marginalised and excluded and ignored, certainly in the Labour Party we need to take note of that and listen to what the public is saying," the MP said, when asked how the party should fight Farage. "Rochester is only 30 miles from London. It might as well be on the other side of the Moon as far as the media is concerned."
Ukip is increasingly confident that it will be able to snatch Rochester from the Tories. However Conservative campaigners have not given up entirely. Party sources insist that with 14 days to go the Ukip bandwagon can be stopped and heavyweight Conservatives are still being sent to the town to campaign. Education secretary Nicky Morgan, development secretary Justine Greening and foreign secretary Philip Hammond were all despatched to canvass on behalf of Tolhurst on Thursday.