Hot on the heels of charity campaigns such as #NoMakeUpSelfie and #IceBucketChallenge, comes the latest hashtag to harness social media for the greater good: #WallOfSilence.
The campaign hopes to break the silence around domestic violence and is a partnership between Refuge, Women's Aid, Glamour magazine and Avon.
The way it works is simple. Participants take a selfie with their finger against their lips (known as a #shhhselfie), and post it online using the hashtag #WallOfSilence.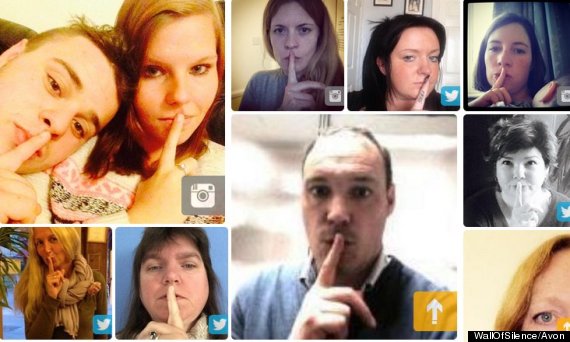 The posts are pulled together in a wall-like format on Avon's website, with each photograph acting as a 'brick'. And for each post Avon have pledged to donate £1 to Women's Aid and Refuge.
So far, celebrities to pledge their support include in Fearne Cotton, Caroline Flack and Dawn O'Porter.
Don't forget: Tweet a 'shhh!' selfie with the hashtag #wallofsilence, and Avon will give £1 to Refuge and @womensaid! pic.twitter.com/FpaLtyNYq1

— Refuge (@RefugeCharity) November 5, 2014
Charli Bailey, who came up with the idea, explains the premise of the campaign: "My Wall of Silence campaign is about everyone in society coming together and taking a stand not only against domestic violence but the fact that we are not talking enough about a crime that kills two women in the UK every week.
"I hope you will show your support by uploading your picture and joining us in standing up for women everywhere. Women like me. Women like you."
SEE ALSO:

What Is The Reality Of Being In A 'Psychologically Abusive' Relationship?

Domestic Violence Against Men Is Not About Weakness And Isn't A Joke
We've pledged our support, have you?