The former finance student left his family home in Saltdean, near Brighton, East Sussex, earlier this year with his brothers Jaffar and Abdullah in a bid to overthrow dictator Bashar Assad's government. Abdullah, 18, died in Latakia province in April after reportedly taking up arms with Jabhat al-Nusra, an al Qaida-affiliated group.
The Deghayes family discovered that Jaffar, 17, had met the same fate as his older brother when he was shot by Assad's forces near the city of Aleppo last month. Amer, who has previously said that he is willing to suffer the same fate as his younger brothers, told the BBC: "If I want to, I can come back to the UK. If they (his family) want me to come back I will come back for them."
When asked whether he had killed anybody, Amer replied: "I would prefer not to say." He continued: "Allah has given me the chance to be in the pinnacle of worship which is jihad and I have tasted its sweetness." He went on: "There is no sweetness in wars that are fought for other intentions than to spread justice and to support Islam."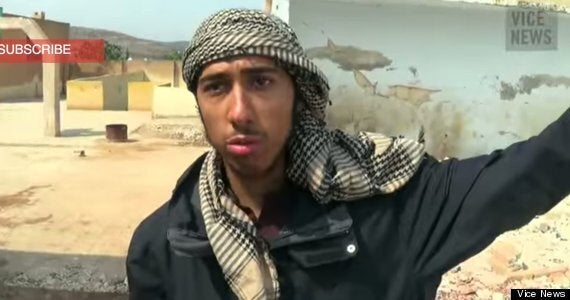 Amer Deghayes appearing in a report for Vice News
But Amer's father, Abubaker Deghayes, said he believes his eldest son's judgment has been clouded by his brothers' deaths. In an interview on BBC radio, he said: "What he went through, two brothers have been killed. "This affects him and affects his decisions."
But Amer has said he does not feel responsible for his brothers' deaths. He said: "The responsibility that I feel is the hope I get rewarded for helping them." Their father has claimed that the Government's strategy to deal with Britons who travel to Syria is "criminalising" young people and must be changed.
Mr Deghayes has also appealed to all young Muslims who are thinking of travelling to Syria not to go and not to put their families through "what we are going through". The Deghayes brothers are the nephews of Omar Deghayes, who was held by the United States as an enemy combatant at Guantanamo Bay detention camp between 2002 and 2007 after he was arrested in Pakistan.
Following the death of Abdullah earlier this year, counter-terrorism officers raided the Deghayes's family home in May and seized material after a warrant was issued under the Terrorism Act 2000.